Micro & Nano Engineering
Micro and Nano Engineering encompasses fabrication, characterization, design and modeling of small structures and devices, and their integration into engineered systems. When dimensions shrink unique properties can result such that the fundamentals of thermo-physical processes deviate from traditional macroscopic behavior.
The Mission of the Group is to create new engineering knowledge and products at the nano- and microscale. The focus of efforts is to explore new nano- and micromanufacturing methods and new material and system properties enabled by nano- and microscale phenomena, educate students about micro- and nanotechnology and identify important problems that can benefit from micro- and nanoengineering.
The research interests of the group are broad including thermal and physical properties of nanostructures (e.g., nanowires, nanotubes, nanoparticles etc.), scalable nanomanufacturing, sensors, fuel cells, thermoelectrics, power systems, microscale medical ultrasound imaging systems, CMOS-MEMS integration, wireless MEMS devices, acoustic and opto-acoustic sensors, nanomechanical devices, biosensors, microfluidics, thermal management of electronics, ion sources for mass spectrometry and scanning probes, and focused electron beam induced deposition for additive nanomanufacturing.
Laboratory facilities include electrochemical synthesis and characterization, chemical vapor deposition, transient and steady-state thermal metrology, RAMAN microscope, impedance spectroscopy, nanoporous materials characterization, Agilent fast GC, Parylene deposition system, sensor characterization tools and AFM microscopes.
Many faculty in the group have joint appointments in the School of Biomedical Engineering, School of Materials Science and Engineering, School of Electrical and Computer Engineering, and in the Petit Institute of Bioengineering and Biosciences.

Research Area Group Chair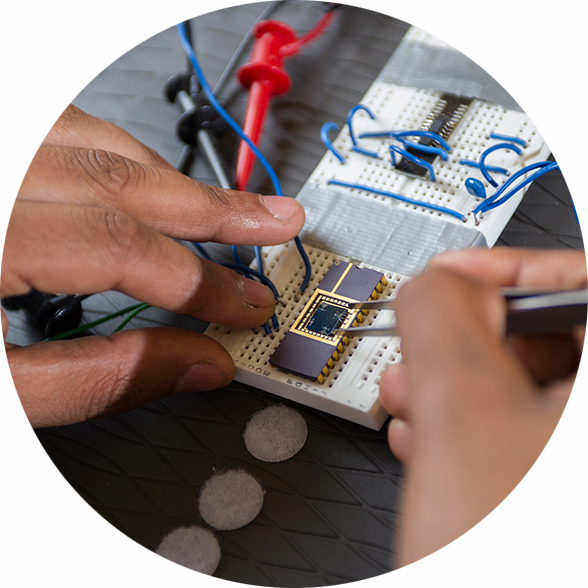 Graduate Embedded Certificate in Micro Electro Mechanical Systems
The faculty of the Micro and Nano Engineering research group support the Graduate Embedded Certificate in Micro Electro Mechanical Systems. Micro Electro Mechanical Systems (MEMS) is an interdisciplinary field related to technologies used to fabricate nano to microscale devices and system-on-a-chip. The MEMS devices and systems embed electrical, mechanical, chemical, and hybrid mechanisms to realize devices and systems for a broad array of applications such as physical sensors, biomedical systems, and complex multi-functional nano-micro systems. MEMS combine expertise from many disciplines, including but not limited to all fields of engineering, biology, chemistry, informatics, medicine, and physics. Typical MEMS devices combine sensing, processing and/or actuating functions. They typically combine two or more electrical, mechanical, biological, magnetic, optical orchemical properties on a single microchip.
The objective of the program is to provide a means for graduate students interested in this interdisciplinary field a mechanism to obtain a concentration in MEMS and to gain acknowledgement for this achievement.
Research Facilities
Clean room for MEMS Fabrication
J. Erskine Love Jr. Manufacturing Building (Faculty and graduate student offices and labs)
Laboratory for the Modification of Nanostructured Interfaces
Microelectronics Research Center
Nanoscale Thermal Measurement and Manufacturing Laboratory