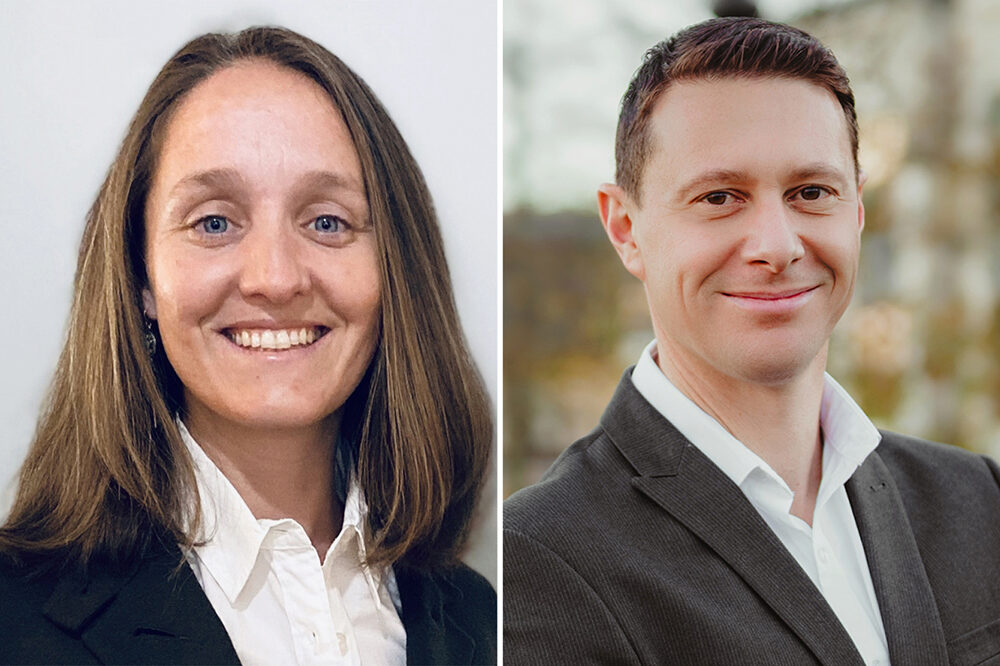 Pictured left to right: Associate Professor Marta Hatzell, Assistant Professor Dan Kotlyar
The Year Ahead, According to Engineers
December 21, 2022
By Jason Maderer
Experts from the Georgia Tech College of Engineering, including Associate Professor Marta Hatzell and Assistant Professor Dan Kotlyar, give their predictions and expectations for 2023.
 
Associate Professor
George W. Woodruff School of Mechanical Engineering
Marta Hatzell's research focuses on electrochemical energy conversion, generation, and storage, primarily exploring sustainable catalysis and separations. Her lab's work has applications spanning from solar energy conversion to desalination. 
In 2022, we saw the single largest investment in climate and energy in American history with the passing of the Inflation Reduction Act (IRA). This investment will touch nearly all industrial sectors, but some emerging areas include renewable energy, hydrogen production, electric vehicles, and recycling. 
From a practical perspective, we will see a larger number of electric vehicles on the streets, and a rapid growth in renewable energy infrastructure. From a research perspective, I am most excited to follow how the IRA creates a step function in decarbonizing some traditionally harder-to-abate industries, such as cement, fertilizers, and steal production. I am also excited to see how this will inspire younger generations to explore professions related to energy and climate.
Assistant Professor
George W. Woodruff School of Mechanical Engineering
Dan Kotlyar develops efficient computational tools to model new kinds of advanced nuclear reactor designs. His lab also works to design advanced nuclear systems for conventional and special purpose applications, including space travel.
During the past few years, we have seen a strong push to promote the nuclear thermal propulsion (NTP) as a potential technology for future crewed missions to Mars. This technology is expected to enable reduced interplanetary travel times, which could increase the crew's safety by reducing exposure to cosmic radiation and other hazards of deep space travel. There are ongoing activities by NASA and the Department of Defense, and supported by multiple industry partners and national labs, to demonstrate this technology in the near decade.  
I am very excited to support such activities in 2023 by leveraging the high-fidelity computational tools developed by my group in the past five years. Our in-house computational capabilities will allow us to better understand the dynamics and safety margins of proposed NTP systems and could be adopted to optimize their architecture. 
---
Content is taken from the original story posted by the College of Engineering.