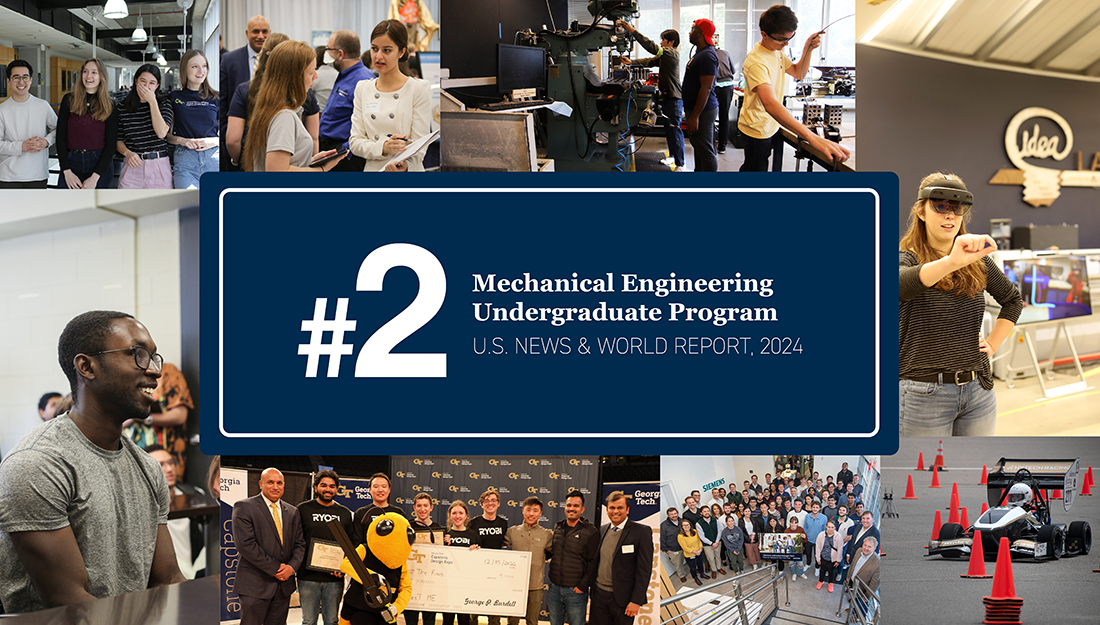 Woodruff School Ranked No.2 in 2024 Undergraduate Rankings
September 18, 2023
The George W. Woodruff School of Mechanical Engineering is ranked No. 2 in the nation, according to the 2024 U.S. News & World Report Best Colleges rankings of undergraduate mechanical engineering programs. The position is unchanged from last year, and once again places the Woodruff School first among public universities.
We are proud to once again be ranked as the top public mechanical engineering program in the nation and No. 2 overall," said Devesh Ranjan, Eugene C. Gwaltney, Jr. School Chair. "This ranking confirms that the Woodruff School is achieving its vision of being a student-centered, research-focused, and service-oriented community recognized for its outstanding education, the development of leaders, and the creation of innovative technological solutions that improve society and the human condition. It's an honor to work alongside members of the Woodruff School community — remarkable students, faculty, staff, alumni, and friends — who make this all possible. Together, we will continue to strengthen our impact as we achieve a culture of Inclusive Excellence.
Georgia Tech's College of Engineering has risen to No. 3 in the nation among undergraduate programs. The College moved up one spot on the 2024 Best Colleges list. It's the highest ranking since 1996.
In addition, all 10 of the College's undergraduate programs are ranked in the top six nationally.
Meanwhile, Georgia Tech climbed 11 spots in the overall national rankings to No. 33. Tech is 10th among public universities.
Individual engineering discipline rankings are based solely on surveys of deans and faculty members at other universities. The U.S. News rankings are one indicator of the quality of an institution and can influence undergraduates, professors, prospective students, peer institutions, and the media.
U.S. News' graduate program rankings are released each spring. The Woodruff School's mechanical engineering graduate program is ranked No. 5 in the most recent edition, and Georgia Tech's nuclear engineering program, which is housed in the Woodruff School, is ranked No. 8 in the nation.