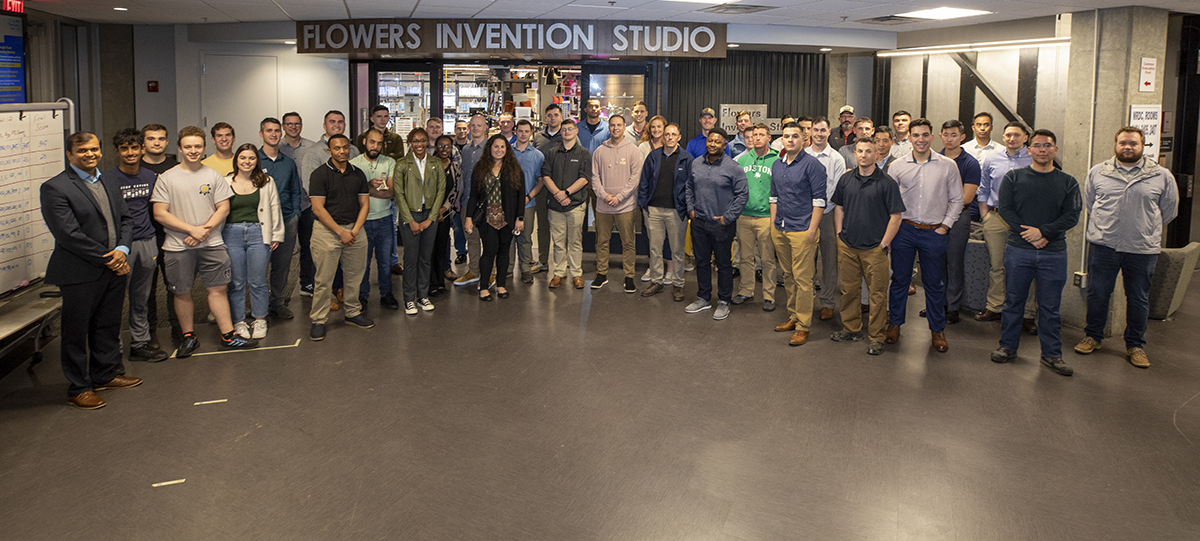 Group photo with the attendees of the Marne Innovation Workshop. (Photo Credit: Sean McNeil
Woodruff School, GTRI, Army Team Up for Decoy Hackathon
January 18, 2023
By Katrina Heitz | Photography by Sean McNeil
The Georgia Tech Research Institute (GTRI) kicked off 2023 with the second annual Marne Innovation Workshop – a weekend of collaboration and innovation. Over a 36-hour period, participants at this decoy hackathon developed a real-world solution that the 3rd Infantry Division (3ID), based at Fort Stewart, Georgia, can implement into its organization.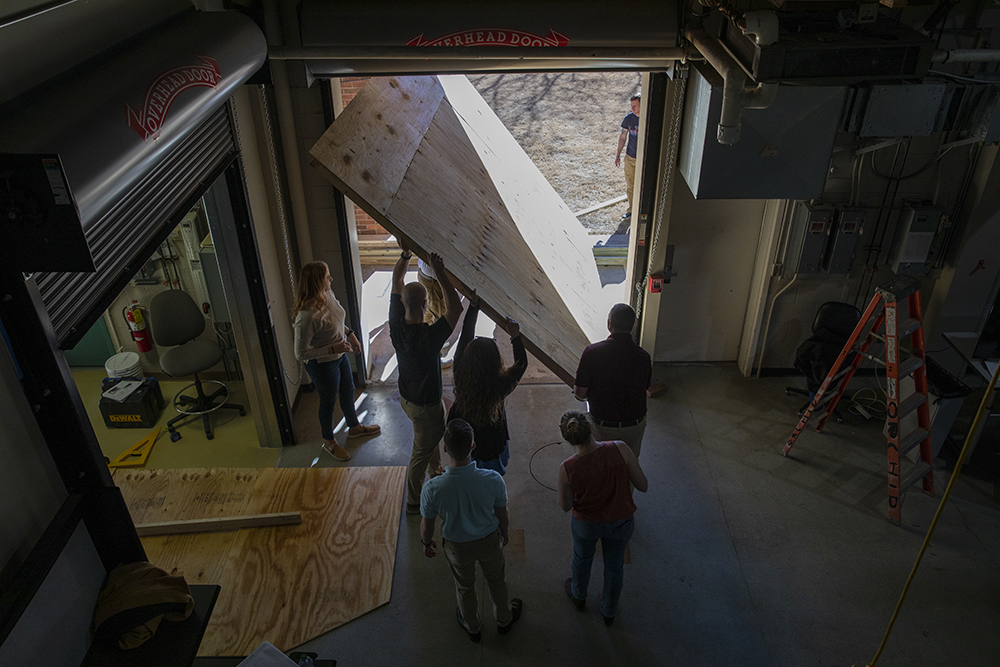 A group of participants carry a piece of wood out of the workshop to work on their decoy. (Credit: Sean McNeil)
"This collaboration between warfighters and innovators is invaluable," said Andrew Chang, the lead GTRI planner and coordinator for the workshop. "Georgia Tech and 3ID have been building a strong relationship since the signing of the Educational Partnership Agreement in 2021."
The Prompt and Resources
Decoys could help shape the battlefield by influencing enemy troops' movements or drawing fire, revealing their positions.
"The goal of this event is to source real-world tactical problems facing our front-line warfighters with 3ID and work on those problems through a collaboration of talent from 3ID, Georgia Tech Army ROTC, the Woodruff School of Mechanical Engineering, and GTRI," said Chang.
From Jan. 5 – 8, cadets and soldiers worked in teams to design and prototype an array of decoys: a visual, a thermal, and an electromagnetic decoy. The decoy also needed to be easily constructed using locally-sourced materials with minimal building experience.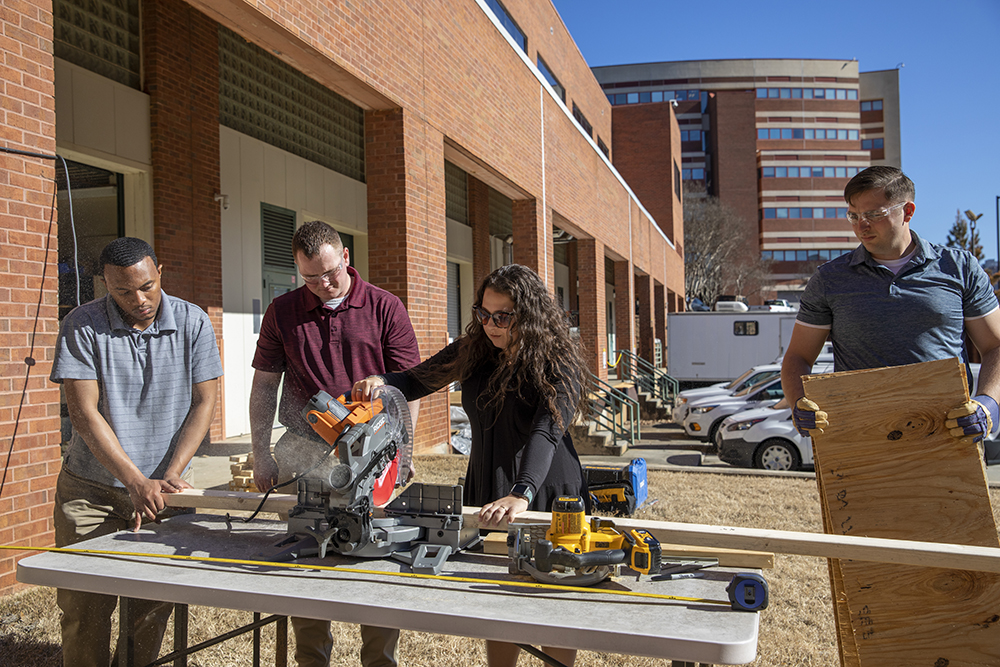 Participant Danielle Shutt uses a saw to help her team build a decoy (Credit: Sean McNeil)
"(This year's) problem set let soldiers interact with students and Georgia Tech experts in their prospective field of study," said Jose Blanco, one of the GTRI special advisors supporting the event. "This gave them access to a whole new base of knowledge that they don't have on hand out at their units or the field."
Creating sustainable innovation means applying today's technology to today's problems. GTRI wanted to provide the space and tools needed to accelerate the decoy projects so the attendees had access to a wide array of meeting rooms, collaboration spaces, and workspaces. These resources are otherwise unavailable to 3ID.
Additionally, GTRI advisors were placed within each team to offer design thinking guidance and technical input.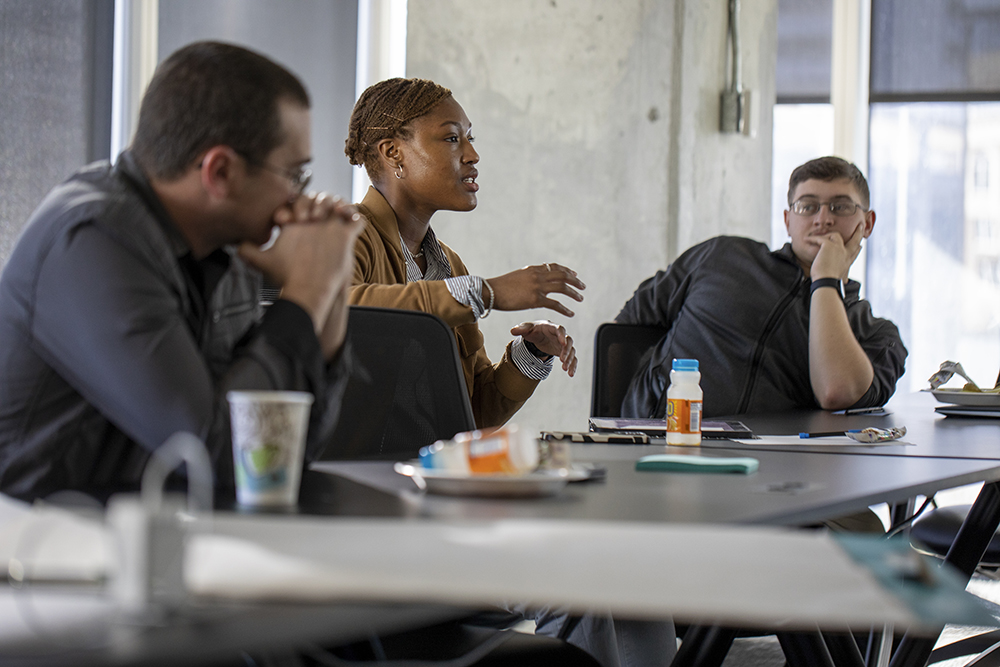 Three participants brainstorm how to approach the weekend's main objective. (Credit. Sean McNeil)
Spaces for Collaboration
Before launching into the official prompt for the weekend, the participants got to know one another and saw how their colleagues approached problems through an icebreaker at the Flowers Invention Studio. The cutting-edge, state-of-the-art makerspace on Georgia Tech's campus boasts almost 7,000 square feet and over 500 unique tools available for various tasks.
Devesh Ranjan, school chair for Georgia Tech's George W. Woodruff School of Mechanical Engineering, welcomed all the workshop participants prior to the icebreaker challenge – to build to best catapult out of popsicle sticks, dowels, and rubber bands.
Two team members test their catapult built out of popsicle sticks, dowels, and rubber bands. (Photo Credit: Sean McNeil)
Student leaders and staff, including Jacob Blevins, Robert Caraway, Ashan Deen, Maxwell Gart, Isabelle Gustafson, and Anand Jha, facilitated the Design Thinking exercise and tours of the makerspace. The wide range of spaces and resources offered all weekend were critical so that participants didn't pigeonhole their solution based on one specific manufacturing process.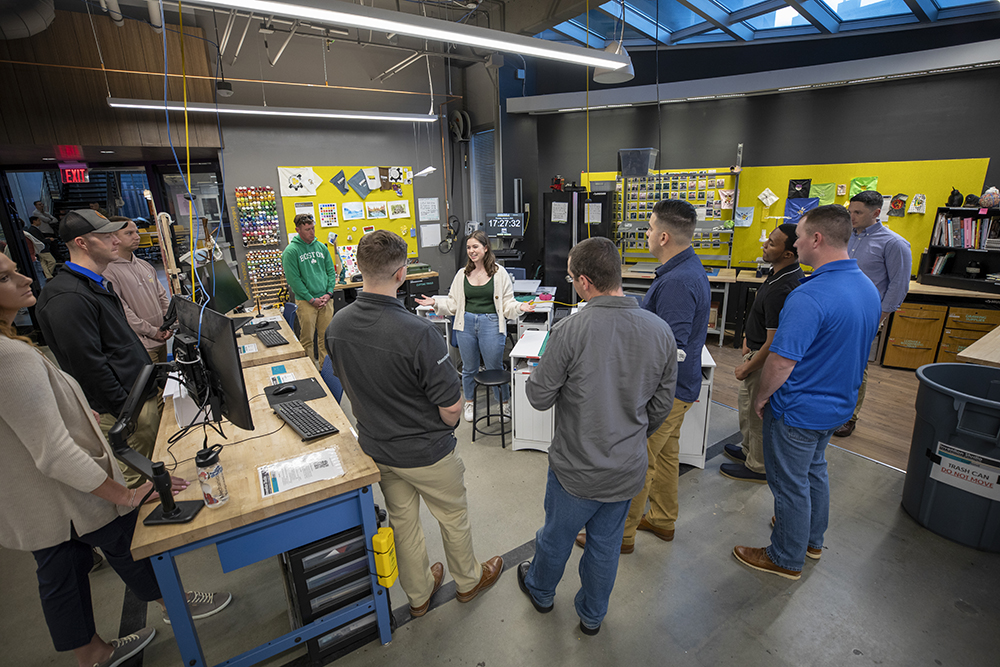 A student leader gives a tour of the Flowers Invention Studio. (Credit: Sean McNeil)
Amit Jariwala, Director of Design & Innovation, explained that innovation requires iterations. The Flowers Invention Studio and IDEA lab in the Wepfer Design Commons was the perfect place for the soldiers to practice rapid prototyping and testing,
"It was incredible to both mentor and observe our ROTC students working alongside the 3rd Infantry Division soldiers as they tackled real technology challenges facing the Army," said Mike Shannon, Georgia Tech Interim Executive Vice President for Administration & Finance and a retired Army officer. "This event truly showcases the best of the partnership Georgia Tech and 3rd Infantry Division have established."
As the event pivoted to the main objective, participants also leveraged several other spaces across Georgia Tech and GTRI. The welcome and final presentations were held in the Coda Atrium, while the teams used GTRI conference rooms in Coda as collaborative workspaces. The groups also had access to some GTRI lab spaces in the Advanced Concepts Lab at 430N and the GTRI SEEDLab in the Baker Building to do actual prototyping.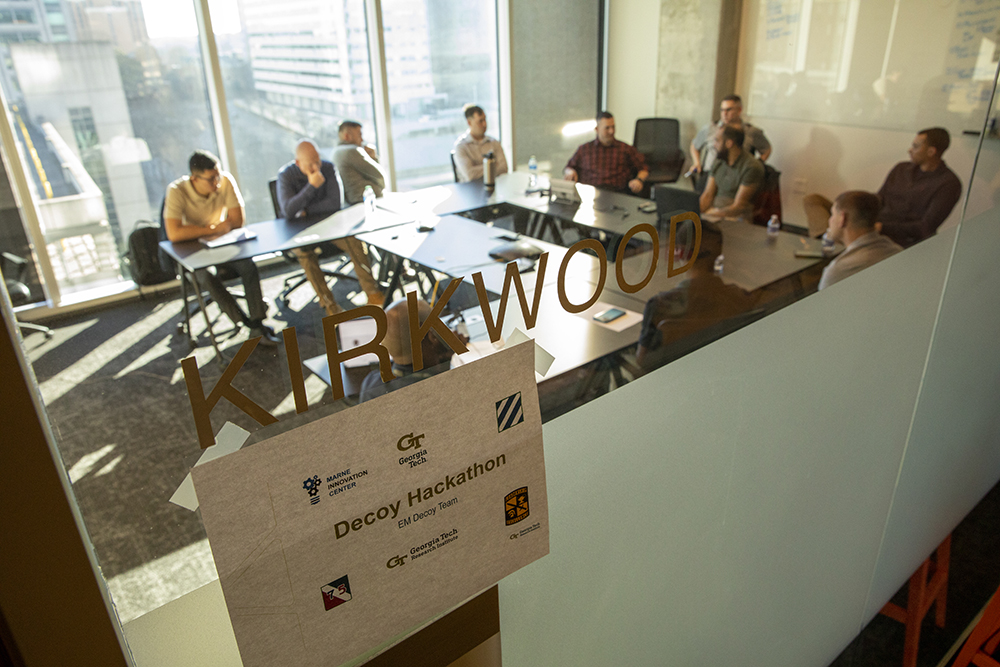 Participants at the Marne Innovation Workshop brainstorming solutions at a table. (Photo Credit: Sean McNeil)
The Outcome
"Through one very intense weekend, the workshop was able to get three prototypes produced, introduce the teams to design thinking, and get a lot of very smart and knowledgeable people working on real problems being faced by soldiers from the 3rd Infantry Division," said Chang.
Each team was able to make significant progress in developing a decoy within their assigned domain.
The visual team created a full-scale Infantry Fighting Vehicle (IFV) decoy and demonstrated that it can be constructed by a team of untrained soldiers.
The thermal team developed a conceptual design on how thermal optics can be deceived by materials-layering and conventional heat sources as well as how it can be integrated with the visual decoy to improve the systems' overall effectiveness.
The EM team successfully created and validated a remote-controlled, self-contained decoy emitter that can replicate SC/PT communications emissions with commercially available materials valuing under $50.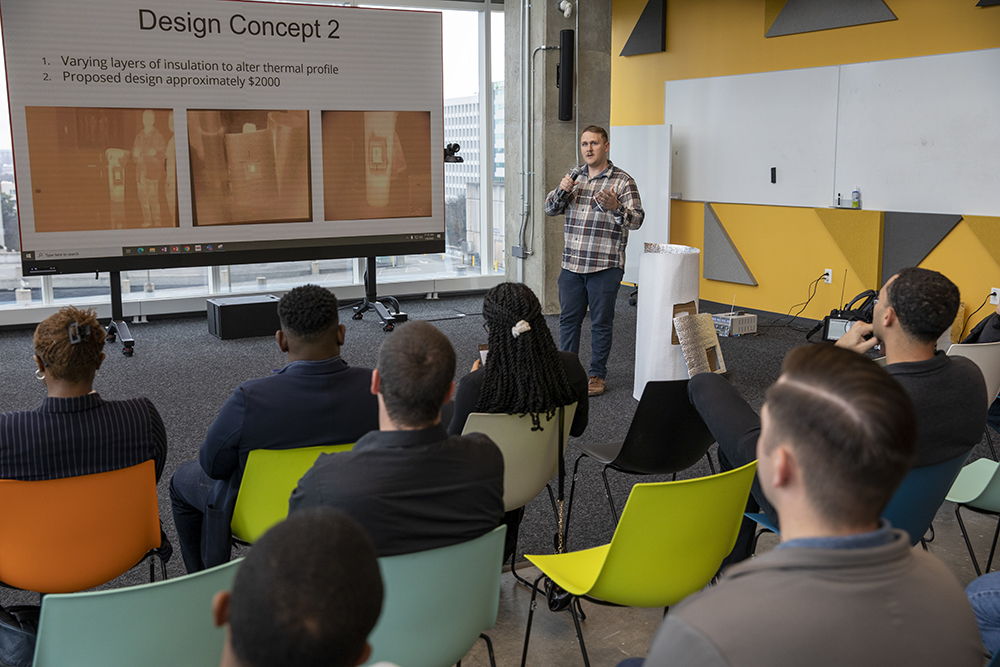 On the fourth day of the event, each group presented on their design concept and progress. (Credit: Sean McNeil)
"There are many experienced soldiers in the division that can provide ground-up innovations in how the division operates," said Danielle Shutt, a first lieutenant in 3ID who supported the visual and thermal decoy teams at the event. "These soldiers only require the necessary time and resources to actualize these innovations. Soldiers who take ownership of their work often understand the problems and potential solutions associated with their mission and they should be given opportunities like this hackathon and facilities like the Marne Innovation Center to contribute improvements to their division." 
What's especially exciting about this event is that the teams' work will continue to be developed for possible implementation. One of the prototypes will be taken to the National Training Center (NTC) at Fort Irwin, California, to get tested in a simulated combat environment. Additionally, GTRI will continue to work with 3ID and other partners, such as the Georgia Tech campus, Army Research Lab, Rapid Capabilities, and Critical Technologies Program Office, to find potential pathways for some of the other ideas and prototypes that were a result of this weekend's efforts.
"I think events like this help foster a bridge of trust between Georgia Tech and the Army, said Blanco. "It gives soldiers a resource to use for problem sets they encounter out in the field or garrison."
GTRI plans to bring back the Marne Innovation Workshop next year and hopes to expand participation to other schools in the area.