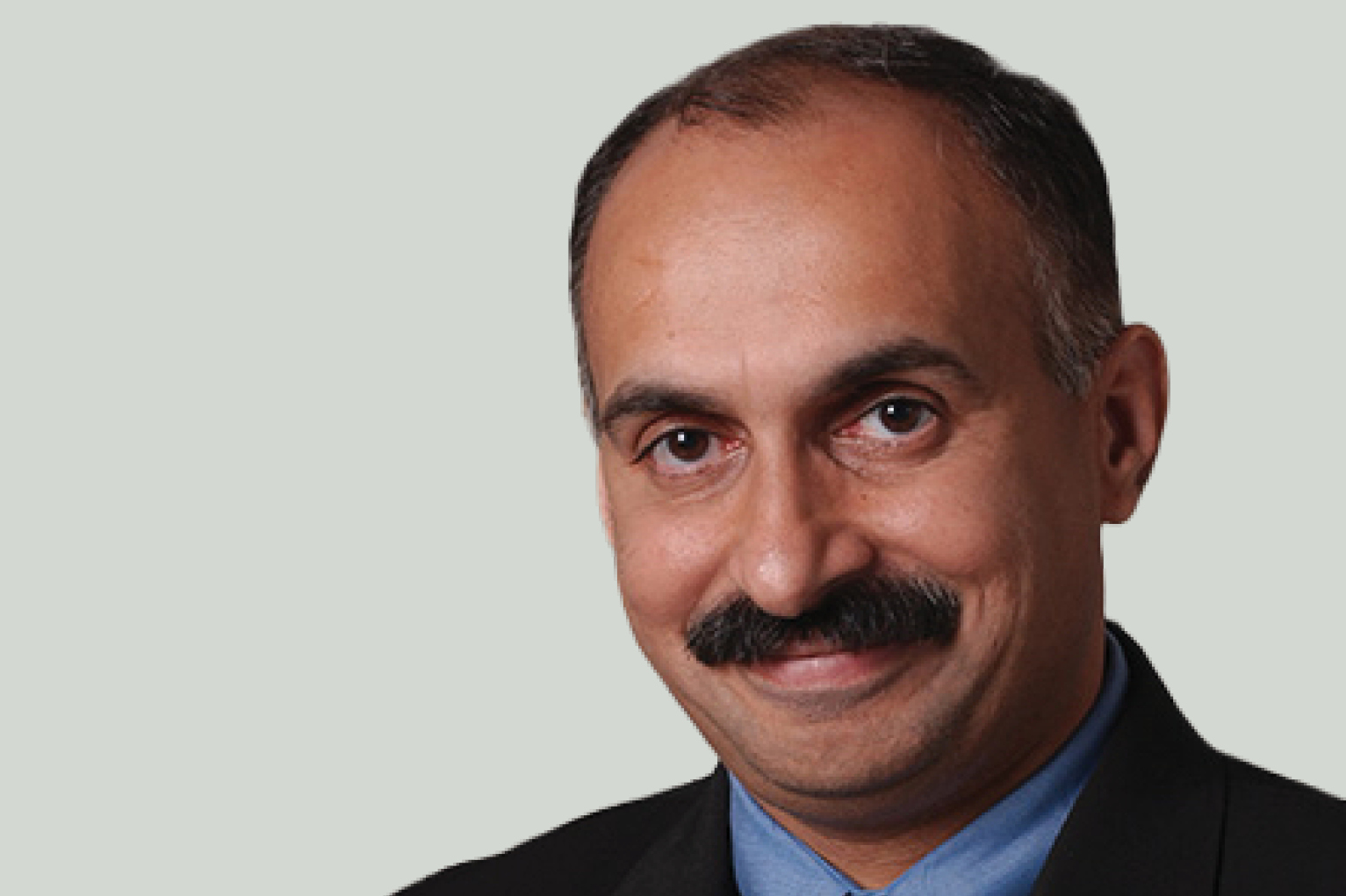 Regents' Professor Suresh K. Sitaraman Selected to Receive Richard Chu Award
May 24, 2023
Suresh K. Sitaraman, Regents' Professor and Morris M. Bryan, Jr. Professor in Mechanical Engineering in the George W. Woodruff School of Mechanical Engineering, has been selected to receive the Richard Chu Award for Excellence in Thermal and Thermo-Mechanical Management of Electronics for his significant contributions in thermal and thermo-mechanical aspects of electronics devices and systems.
"I am both honored and humbled to receive this award. The Richard Chu Award is one of the most prestigious awards for researchers in thermal and thermo-mechanical aspects of microelectronic devices and packages, and I am delighted to have been selected for this award," said Sitaraman upon being notified of the award. "This award would not have been possible without the countless contributions and collaborations of my students and colleagues at Georgia Tech and elsewhere. My heartfelt thanks are due to them as well as to the selection committee for choosing me for this award."
The award, formerly known as the ITherm Achievement Award, was instituted in 1996 and has been re-named to honor late Richard Chu, the first recipient of the ITherm Achievement Award, and a seminal contributor to thermal management of electronics.
"Georgia Tech continues to make seminal and pivotal contributions to the field of heterogeneous integration of microelectronic devices and packages, and this award is a testament to Suresh's sustained scholarship and outstanding research contributions over more than two decades. I congratulate him for this exemplary accomplishment, and I look forward to his continued leadership and contributions," said Devesh Ranjan, Eugene C. Gwaltney, Jr. School Chair and professor.
Sitaraman is the director of the Flexible Wearable Electronics Advanced Research program and the director of the Computer-Aided Simulation of Packaging Reliability (CASPaR) Laboratory at Georgia Tech. His expertise is in the areas of fabrication, characterization, physics-based modeling, and thermal-mechanical and reliable design of nano-scale and micro-scale structures for a wide range of applications. Sitaraman has co-authored more than 340 journal and conference publications in these areas. He has managed several research and development projects funded by U.S. federal agencies, industry, and other sources totaling millions of dollars, and has mentored a vast array of post-doctoral fellows as well as doctoral, master's, bachelor's, and high-school students.
Sitaraman's nomination letter states that he is "a visionary who has dedicated his professional life to the advancement of microelectronic packaging through innovative experiments, foundational science, mentoring of next-generation researchers, and embracing of the microelectronic ecosystem through interactions with industry, academic, and government leaders and scientists." 
Sitaraman's work has been recognized through several awards and honors. He received a Best Associate Editor award from the IEEE Transactions on Components, Packaging, and Manufacturing Technology (T-CPMT) in 2023, the Zeigler Outstanding Educator Award from the Woodruff School in 2019, the Outstanding Achievement in Research Program Development Award (Team Leader) from Georgia Tech in 2017, and the Applied Mechanics Award from the American Society of Mechanical Engineers (ASME) Electronic and Photonic Packaging Division (EPPD) in 2012. Sitaraman also received the Sustained Research Award from Georgia Tech – Sigma Xi in 2008 and the Outstanding Faculty Leadership Award for the Development of Graduate Research Assistants from Georgia Tech in 2006. His co-authored papers won the Commendable Paper Award from IEEE Transactions on Advanced Packaging in 2004 and the Best Paper Award from IEEE Transactions on Components and Packaging Technologies in 2001 and 2000. In addition, he received the Metro-Atlanta Engineer of the Year in Education Award in 1999 and the NSF-CAREER Award in 1997. Sitaraman is an ASME Fellow and a NextFlex Fellow. 
He received his Doctor of Philosophy (Ph.D.) from The Ohio State University, his Master of Applied Science (M. A. Sc.) degree from the University of Ottawa, Canada and his B. Eng. degree in Mechanical Engineering from the Regional Engineering College, Tiruchirappalli (now known as National Institute of Technology) affiliated with the University of Madras, India. Sitaraman received the Distinguished Alumnus Award for Excellence in Academic/Research from the National Institute of Technology, Tiruchirappalli in 2014 and the Thomas French Achievement Award for alumni who have distinguished themselves as scholars and educators from the Department of Mechanical and Aerospace Engineering at The Ohio State University in 2012.
The Richard Chu Award presentation to Sitaraman will occur during the 2023 ITherm Conference, taking place May 30-June 2 in Orlando, Florida.
"I am delighted to help organize the award presentation and seminar where Professor Sitaraman will be honored," said Professor Satish Kumar, who is serving as General Chair of the 2023 ITherm Conference.