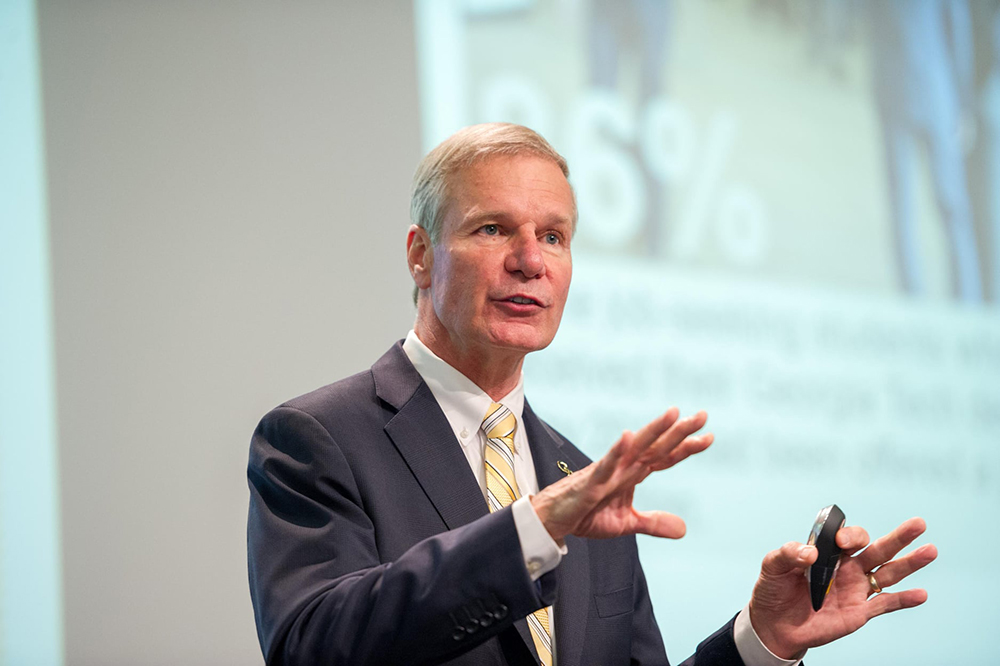 Regents' Professor G.P "Bud" Peterson Awarded 2022 Max Jakob Memorial Award
May 11, 2023
By Chloe Arrington
G.P. "Bud" Peterson, President Emeritus and Regents' Professor in the George W. Woodruff School of Mechanical Engineering, has been awarded the 2022 Max Jakob Memorial Award. Bestowed by the American Society of Mechanical Engineers (ASME) and the American Institute of Chemical Engineers (AIChE), this award is given in recognition of long-lasting contributions to and achievements in the field of heat and mass transfer. It is the highest honor in the field of heat transfer awarded by these professional organizations.
"This is an outstanding recognition of Bud's life-long contributions to the thermal sciences field," said Eugene C. Gwaltney, Jr. School Chair and Professor Devesh Ranjan.
Peterson previously served as Georgia Tech's 11th president from April 1, 2009, through August 31, 2019. He came to Georgia Tech from the University of Colorado at Boulder, where he served as Chancellor. Peterson's research focuses on the fundamental aspects of phase-change heat transfer, including heat transfer in reduced gravity environments, boiling from enhanced surfaces, and some of the earliest work in flow and phase-change heat transfer in microchannels.
His current research involves the theoretical investigations of the surface chemistry of micro and nano-fabricated devices, using molecular dynamic simulation. His previous research explored the applications of phase-change heat transfer to the field of biotechnology, including the in-situ treatment of cancerous tissue using hypo and hyperthermia and arresting epileptic seizures through the rapid cooling of localized tissue in the brain.
Peterson expressed his gratitude to his colleagues and students for their years of continued support to help him continue his research, sharing the credit for receiving the award with them. 
"I have been very fortunate throughout my career to have been able to work with many really bright, hard-working, and amazing students and colleagues," said Peterson. "This has allowed me to continue to remain actively involved in research. Without their continued support, advice, and collaboration, I would never have been able to continue my involvement in research. As a result, this award and the recognition that goes along with it really belongs to them as much as to me, and for that, they have my heartfelt thanks!"
Peterson's nomination was championed by J. Erskine Love, Jr. Professor Zhuomin Zhang who spoke of his appreciation for Peterson's many years of mentorship and inspiration. 
"I am very pleased to have taken part in the nomination," said Zhang.
During his career, Peterson has played an active role in helping to establish national research and education agendas, serving as a member of several congressional task forces, research councils, and advisory boards. He most recently served as a member of the Knight Commission on Intercollegiate Athletics and as Chair of the NCAA Board of Governors. He is a Fellow of both ASME and the American Institute of Aeronautics and Astronautics and is the author or co-author of 17 books or book chapters, 255 refereed journal articles, and 145 conference publications. He also has 19 patents, with five others pending.
The Max Jakob Memorial Award presentation to Peterson will occur during the ASME 2023 Summer Heat Transfer Conference, taking place July 10-12 in Washington, D.C.
---
About the Max Jakob Memorial Award
The Max Jakob Memorial Award is bestowed annually in recognition of eminent achievement of distinguished service in the area of Heat Transfer. The Award was established in 1961 by the ASME Heat Transfer Division in honor of Max Jakob. Jakob (1879 – 1955) was a pioneer in the science of heat transmission, and a well-respected research worker, educator, and author. In 1962, AICHE joined in the Award which is administered by the Max Jackob Memorial Award Committee.