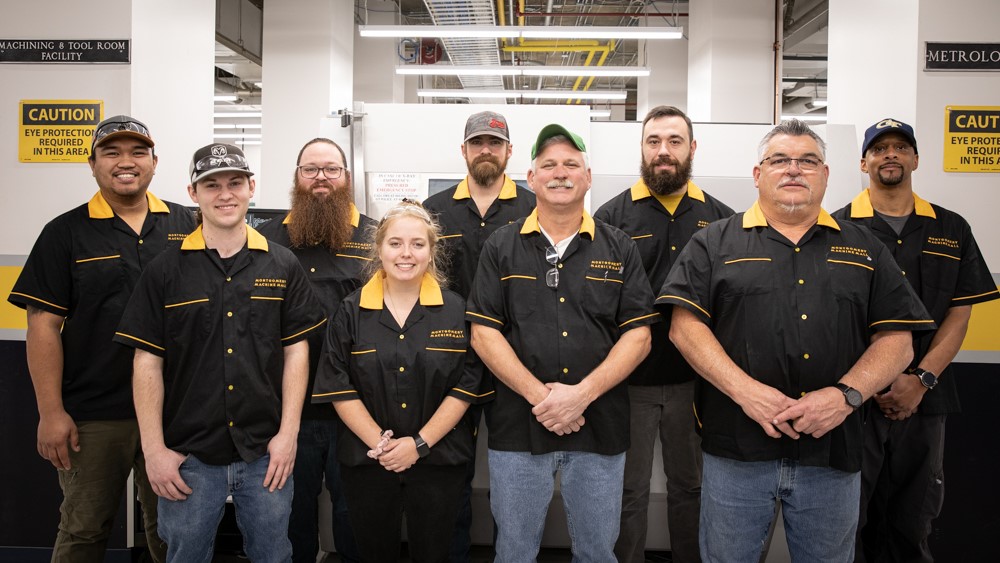 From L to R: Denn Agustin, Seth Reed, Nathan Mauldin, Harley Martin, Justin Dean, Scott Elliott, Ashley Andrews, Frank Murdock, Carlos Barrow
New Look for a New Semester in the Montgomery Machining Mall
February 28, 2023
By Ian Sargent
Last month the crew of the Montgomery Machining Mall (MMM) started the new semester off in style, wearing a new set of matching uniforms resembling classy retro bowling shirts. The black and gold tees are a fitting attire for the close-knit team of machinist that work to provide crucial technical support and training to faculty, researchers, and student groups across campus.
Located on the second level of the MRDC building, the MMM is part of the Wepfer Design Commons and houses state of the art mills and jet cutters capable of creating complex shapes that are accurate to the finest of margins. Operating these tools requires an eye for detail and acute problem-solving skills, as the unique research and experiments conducted at Georgia Tech often require parts so specialized that the most efficient way to get them is to have them custom made on site.  
For example, at one station, Research Coordinator Carlos Barrow is working with the Georgia Tech Formula SAE team on a suspension component.
At another station, Ashley Andrews, a Mechanical Engineer II, is working on one element of telescope that contains over 600 fabricated parts, including the hardware necessary to secure and adjust an array of 84 articulating mirrors. The telescope will eventually make its way to the western Rockies when completed in the spring.
MMM employees maintain a professional learning space with a focus on safety. They offer training each semester to members of the Tech community who want to utilize machine tools inside the mall. Michael Ayers, a graduate research assistant in the Microelectronics and Emerging Technologies Thermal Lab received training and spoke highly of the help he received from the staff. Likewise, Harley Martin, who previously had no machining experience, says she has learned a lot since starting as a co-op student in January and is looking forward to gaining even more experience in the future.
You can find out more about training or utilizing the services of the MMM through their webpage or by visiting the shop from 6:30 a.m. to 4:30 p.m. Monday through Friday.