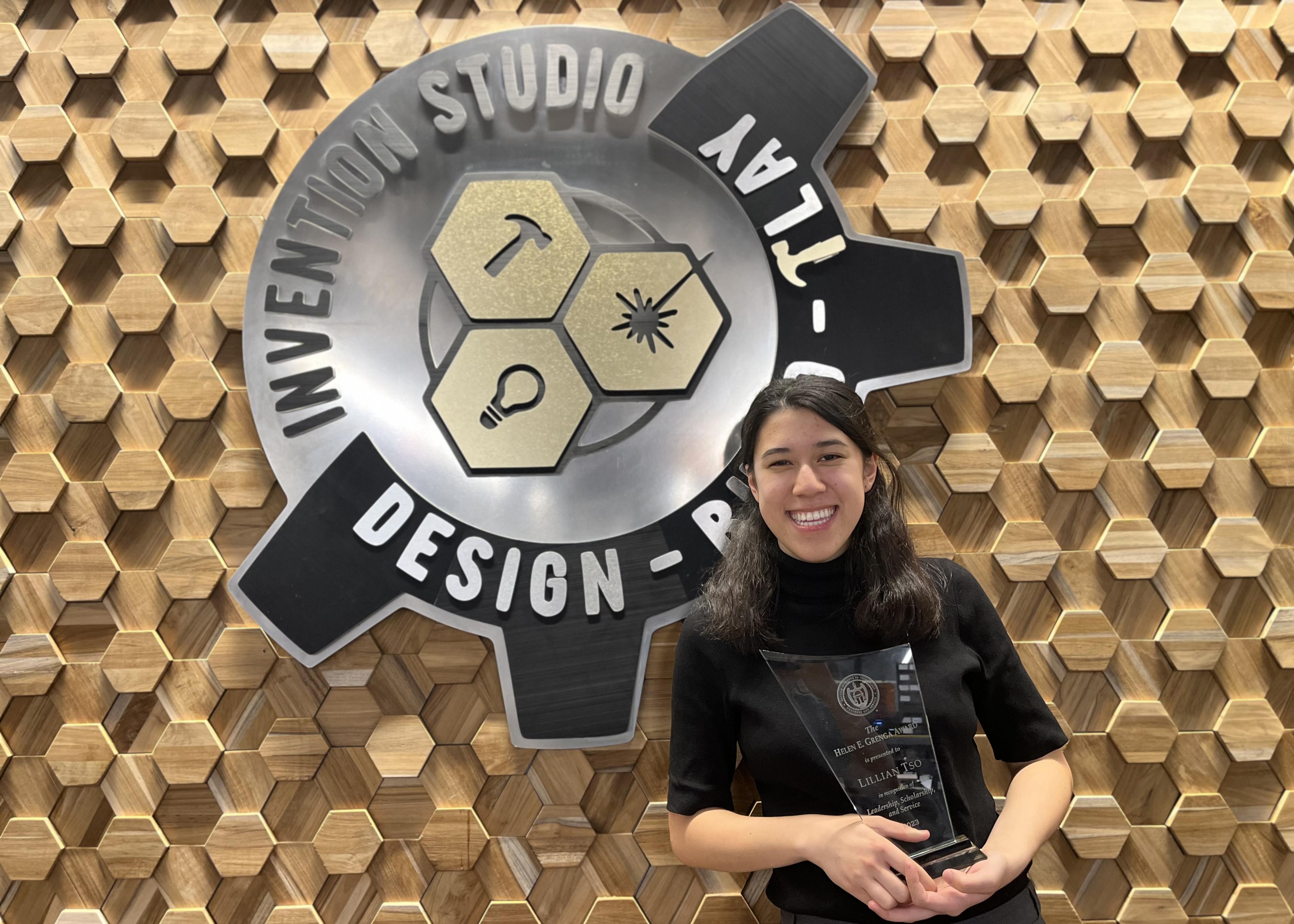 Lillian Tso Wins 2023 Helen Grenga Outstanding Woman Engineer Award
May 18, 2023
By Chloe Arrington
Lillian Tso, an undergraduate student in the George W. Woodruff School of Mechanical Engineering, has been awarded the 2023 Helen Grenga Outstanding Woman Engineer Award. Named after the first full-tenured female engineering professor at Georgia Tech, this award recognizes the outstanding achievements of a female engineer each year. 
Tso, who will graduate in December, says she is incredibly honored to receive the award and expressed her gratitude to those within the Woodruff School. "I am so thankful for all the support I have received from the mechanical engineering department: my professors, classmates, advisors, and mentors," Tso said upon learning of her win.  
"I want to thank my mom for all her support as well," she added. Tso's mother, also an engineer, was one of two females to graduate in her class. "She has always given me someone to look up to." 
With a personal philosophy to "say yes" to opportunities that come her way and to always be on the lookout for new experiences, Tso has had a rich and eventful time as an undergraduate including interning at NASA, blogging for Georgia Tech-Europe, and bikepacking across Newfoundland, Canada through Outdoor Recreation at Georgia Tech (ORGT). 
"I can think of no one more deserving of this award," said Associate Chair for Undergraduate Studies and Professor Brandon Dixon. "Lillian's intelligence, personal demeanor, and contagious enthusiasm for the opportunities available to students within the Woodruff School and Georgia Tech are such a visible example that our students are our greater asset." 
Tso has also been actively involved with the Flowers Invention Studio, recently serving as President of the largest student-run makerspace in the nation. According to Dixon, it was her leadership that ensured the community and culture that many worked so hard to build not only survived through the height of the pandemic but thrived. 
With the goal to inspire other students and to give back to the Georgia Tech community, Tso has taken on mentorship and volunteer roles whenever possible.
"I have focused on giving back and mentoring younger mechanical engineers to give them the same opportunities which I received," she said. "I believe it is so important to help the next generation of engineers move up to the next rung of the ladder!"  
In addition, Tso joined the Society of Women Engineers (SWE) soon after enrolling at Tech and credits this as an integral part of her college experience.  
"The women in SWE have been my inspiration, my support system, and my friends for the past four years, and I would not have been able to accomplish much without them," she said. 
One 'SWEetie' in particular, who Tso considers a close mentor, is Katie Bishop (EE '23). Bishop has helped guide Tso through her minor in aerospace and encouraged her to apply to the Brooke Owens Fellowship in 2022, which she won. 
After graduating later this year, Tso plans to pursue a master's degree in mechanical engineering, continuing her journey at Georgia Tech.