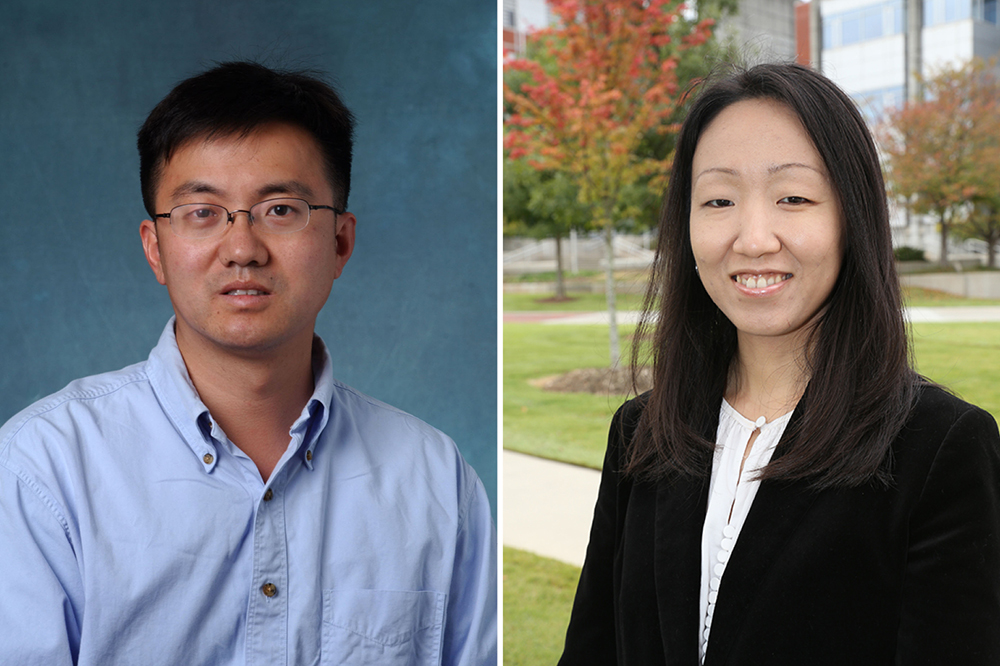 Jerry Qi, Yuhang Hu Honored by SES
January 10, 2023
By Ashley Ritchie
Faculty members in the George W. Woodruff School of Mechanical Engineering have been recognized by the Society of Engineering Science (SES) for accomplishments in their field. Professor Jerry Qi has been named the J.R. Rice Medalist and Associate Professor Yuhang Hu has been selected to receive the Young Investigator Medal for 2023.
Qi was selected to receive the award for his pioneering work in understanding the mechanical and multiphysical behavior of soft active materials, and for developing novel applications of these materials in recycling and 4D printing.
"While feeling humbled and excited about receiving this award, I would like to thank my current and former students and postdocs and my family members, and my mentors. It is really their innovation and hardworking and sustained support that made this award possible. This award belongs to them," said Qi. 
The SES J.R. Rice Medal is awarded to a mid-career researcher in engineering sciences who has had a substantial impact in their field.
Qi's research is focused on the 3D printing of soft active materials to enable 4D printing methods as well as the recycling of thermosetting polymers. Recently, he developed several multimaterial 3D printing approaches, which allow him to integrate different polymers and conduct inks into one system. Currently, he is working on expanding these approaches for a variety of applications, including printed 3D electronics and printed soft robots.
Qi's projects are conducted through the Active Materials and Additive Manufacturing (AM2) Laboratory, with support from the National Science Foundation (NSF), Air Force Office of Scientific Research (AFOSR), Office of Naval Research (ONR), Sandia National Laboratories, and Toyota North America, and through collaborations with University of Colorado Denver, Nanyang Technological University in Singapore, and University of Technology of Belfort-Montbéliard in France.
Qi joined the Georgia Tech faculty in January 2014 as an associate professor and was promoted to full professor in March 2016. Prior, he was an associate professor at the University of Colorado Boulder and a postdoctoral fellow at the Massachusetts Institute of Technology (MIT). He received his undergraduate and graduate degrees from Tsinghua University, and his Sc.D. from MIT in 2003. Qi is a recipient of the NSF Career Award and is an American Society of Mechanical Engineers (ASME) Fellow. He is the site director of NSF IUCRC SHAP3D (Science of Heterogeneous Additive Printing of 3D Materials).
The Young Investigator Medal is awarded to a promising early-career researcher whose work has already had an impact in his/her field within the engineering sciences. Hu was selected to receive the award for her research on chemomechanics of soft active materials, an interdisciplinary area between mechanics and polymer chemistry.
"Working at the interface between mechanics and chemistry, I am fortunate to have the opportunity to interact and work with colleagues and students with different backgrounds. I am humbled to receive this award. It should really belong to my mentors, students, and collaborators, who enabled my research achievements today."
Hu earned a bachelor's degree in engineering mechanics from Shanghai Jiao Tong University in China, a Master of Science degree in civil and environmental engineering from Nanyang Technological University in Singapore, and a Master of Science degree in applied physics and a Ph.D. in engineering sciences from Harvard University. She became an assistant professor at the University of Illinois Urbana-Champaign in 2015 and joined the Georgia Tech faculty in 2018. She was promoted to associate professor in 2021 and named a Woodruff Faculty Fellow last year. Hu is also the recipient of an NSF CAREER Award, AFOSR YIP Award, Extreme Mechanics Letters Young Investigator Award, Journal of Applied Mechanics Award, ASME Sia Nemat-Nassar Early Career Award, SEM James Dally Young Investigator Award, SEM Wolfgan Knauss Young Investigator Award, and the Eshelby Mechanics Award for Young Faculty.
Hu has published over 50 peer-reviewed papers in highly cited journals in both the fields of mechanics and materials. She has delivered over three dozen invited seminars and talks and three keynotes at peer institutions, international conferences, and workshops. She is currently serving as the chair of the ASME technical committee of mechanics of soft materials. She is the associate editor of the Journal of Applied Mechanics and Mechanics of Time-dependent Materials.
As award recipients, Qi and Hu will give talks at the SES 2023 Annual Meeting in Minneapolis, MN, scheduled for October 8-11, 2023.