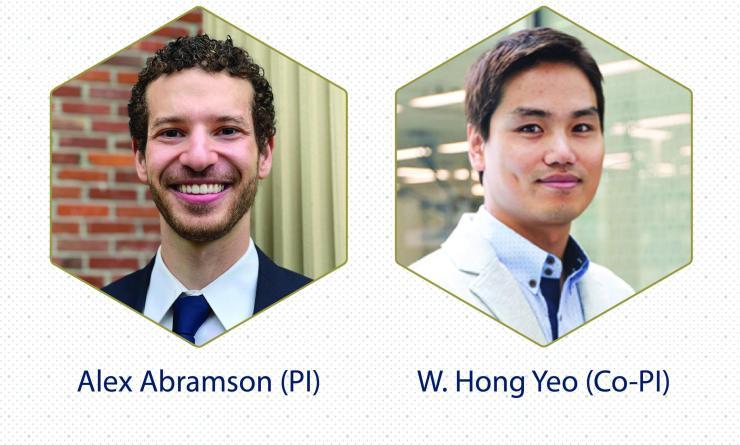 Inaugural IEN Exponential Electronics Seed Grant Awarded
January 17, 2023
By Laurie Haigh
The Institute for Electronics and Nanotechnology (IEN) has selected "In-Body Networks of Electronic Therapeutics" as the first project funded by the new IEN Exponential Electronics (IEN-EX) Seed Grant program. The project is led by Alex Abramson (PI) and W. Hong Yeo (Co-PI).
The interdisciplinary team hopes to develop a new form of wireless communication that enables a wearable patch to communicate with ingested and implanted devices regardless of their location in the body without the need for large electronic components or energy sources. If the project is successful, it could lead to the development of previously impossible minimally invasive electronic therapeutic devices such as ingestible insulin pumps and triggerable neurostimulation systems.
The IEN-EX program provides seed funding for Georgia Tech researchers to pursue "1000x" ideas within electronics or that bridge electronics with other technical domains. "1000x" ideas are those with the potential to improve one or more well-defined, but often overlooked or underappreciated, performance metrics by at least 1000x.
"Abramson and Yeo's proposal is exactly why we created the IEN-EX program," said Michael Filler, IEN's associate director for research programs. "It articulates a compelling technical need at the intersection of disciplines and a targeted research program to 'derisk' key aspects of their vision. I am excited to see the work progress."
Abramson is an assistant professor in the School of Chemical and Biomolecular Engineering, and his research focus is on creating implantable and ingestible drug delivery devices. Yeo is an associate professor and Woodruff Faculty Fellow in the George W. Woodruff School of Mechanical Engineering and holds a courtesy appointment in the Coulter Department of Biomedical Engineering. Yeo's research is on developing wearable sensor systems that can wirelessly communicate with smartphones. By combining their expertise, the duo believes they can create a new technology that will revolutionize the field of bioelectronics.
"Engineering new human-machine interfaces is critical to developing personalized biomedical devices for more easily administrable treatments with fewer side effects," said Abramson. "We are grateful that the IEN is supporting us in this endeavor."
Both Abramson and Yeo are part of the Materials for Biomedical Systems initiative, a group of scientists at Georgia Tech and Emory dedicated to developing targeted and effective therapies using materials and electronic systems. This is the first collaborative grant awarded to the initiative.