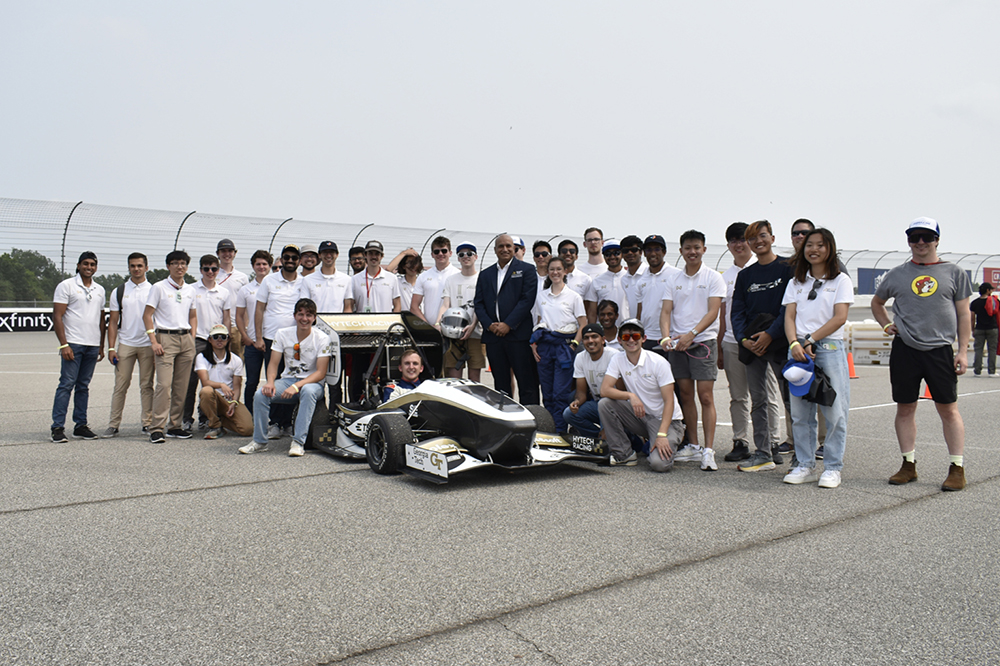 HyTech Racing Celebrates Success at Formula SAE Electric Competition
Georgia Tech's student-led electric racing team broke two North American FSAE records at the 2023 competition
September 6, 2023
By Chloe Arrington and Akshat Jain
HyTech Racing, Georgia Tech's student-led electric racing team, placed tenth overall at the 2023 Formula SAE Electric hosted at Michigan International Speedway this summer. The competition challenges student teams from around the world to design, build, and present the best-performing electric formula race car. Along with their impressive placing, the team broke two standing records at the event, lateral and longitudinal acceleration, claiming the title of fastest vehicle to have competed in this competition. 
The electric vehicle competition was introduced by SAE in 2013 and this year over 60 teams participated. Each year, teams use vehicles powered only by electrical motors and compete in two different types of events, static and dynamic. In the static events, teams participate in real-world scenario challenges such as explaining and justifying their vehicle costs and defending their designs to EV industry leaders. After passing all static events, team vehicles compete in the dynamic portion. Cars compete for the fastest time on straight-line acceleration, skid pad, autocross (single lap), and endurance lap (22 lap) events. 
Hytech Racing's overall top ten placing was due to their impressive and consistent results in the individual events. The team finished first in the acceleration and skidpad tests, second in the autocross event, and fifth in design.  


"While results are great, our culture encourages the team to fall in love with the process," said Hytech Racing President and mechanical engineering student Akshat Jain. "Our mission of building the next generation of engineers through the pursuit of vehicle performance encouraged members to give their absolute best effort." 
All members actively participate in all parts of the vehicle construction, including experimental circuitry, material characterization, and computational fluid dynamics. According to the team, building such a car like this requires a tremendous amount of innovation.
"Last year, our Chief engineer mentioned the transition to all-wheel drive and compared it to being a quantum leap for the performance of our vehicle. While our car was at peak performance in 11 months, it required significant changes to our design, some of which included a planetary gearbox for the hub motors and a redesigned suspension. The simulation-backed design decisions were promising, however, there was a lot of doubt about the team's ability to execute such drastic changes in a single season and every day was filled with a stream of never-ending problems," said Jain.
For this year's build, on top of challenging and complex engineering problems, the team also dealt with external factors such as supply chain issues. In the end, the results of the competition were a reflection of the dedication of the team, and several members also received internship offers as a result of their work. 
There is no time to waste though, according to Jain the team is already looking forward to next year's competition.
"The real magic takes place in the preparation for the event that begins when the competition ends," he said.
---
About SAE International  
SAE International is the leader in connecting and educating mobility professionals to enable safe, clean, and accessible mobility solutions. Founded in 1905, SAE is a global association of more than 128,000 engineers and related technical experts in the aerospace, automotive, and commercial vehicle industries. Formula SAE is just one of the many student initiatives allowing students the chance to gain industry knowledge, foster teamwork, expand critical thinking, and address the specific needs of the mobility industry today.