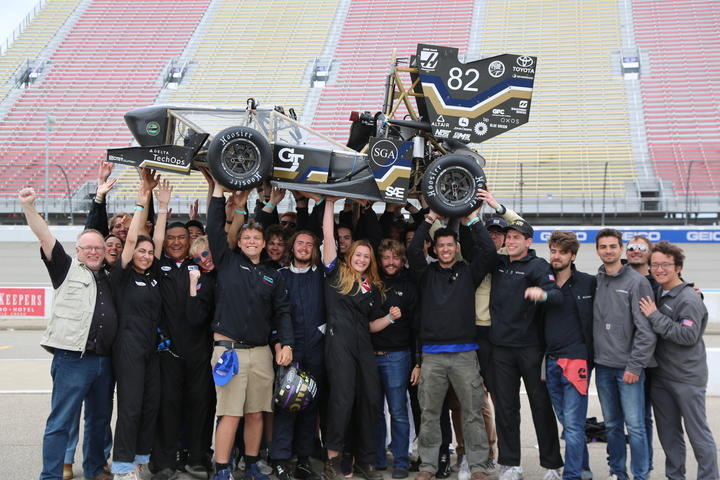 Georgia Tech Motorsports Celebrates Top 10 Finish at Formula SAE Michigan
August 21, 2023
By Chloe Arrington
Georgia Tech Motorsports (GTMS), one of the oldest competition teams operating at Georgia Tech, placed in the overall top 10 at the 2023 Formula SAE Michigan, held earlier this summer at Michigan International Speedway. GTMS placed seventh overall in the competition, breaking into the top 10 for the first time since 2008 and achieving their highest placing since 2004. 
GTMS is made up of 75 students from different majors across the Institute, with most students hailing from the George W. Woodruff School of Mechanical Engineering. 
The Formula SAE competition challenges teams of university undergraduate and graduate students to conceive, design, fabricate, develop, and compete with formula racing-style vehicles. Teams compete under the hypothetical scenario they are working for an engineering firm that is designing, fabricating, testing, and demonstrating a prototype vehicle. 
Teams are required to participate in a series of events, both on and off track, and have the chance to demonstrate their creativity and engineering skills against groups from other universities around the world. 
GTMS team lead Eli Kuperman broke down the team's success, highlighting the impressive improvement from last year's 23rd overall placement.
"While we only finished top 10 in one event, it's important to note our consistency in finishing well in every event pushed us into the overall top 10 results," stated Kuperman. "Our sights are set high for next year." 
GTMS scored consistently well in all aspects of the event where their model vehicle was tested in areas including endurance, acceleration, design, cost, and sales presentation.  
"We could not have done this without the support of the Institute, the Woodruff School, and our gracious sponsors," said Kuperman. "Every student on GTMS owes their experience to the support of the aforementioned parties, so from the bottom of our hearts, thank you." 
In addition, GTMS has been working to improve the culture of the field within Georgia Tech, focusing on inclusion, diversity, and accessibility. According to the team, they have tried year after year to improve diversity in background and gender within the team and expand the accessibility of racing to everyone at Georgia Tech. The team strongly believes this effort is reflected in their success at this year's competition.  
---
About SAE International 
SAE International is the leader in connecting and educating mobility professionals to enable safe, clean, and accessible mobility solutions. Founded in 1905, SAE is a global association of more than 128,000 engineers and related technical experts in the aerospace, automotive, and commercial vehicle industries. Formula SAE is just one of the many student initiatives allowing students the chance to gain industry knowledge, foster teamwork, expand critical thinking, and address the specific needs of the mobility industry today.