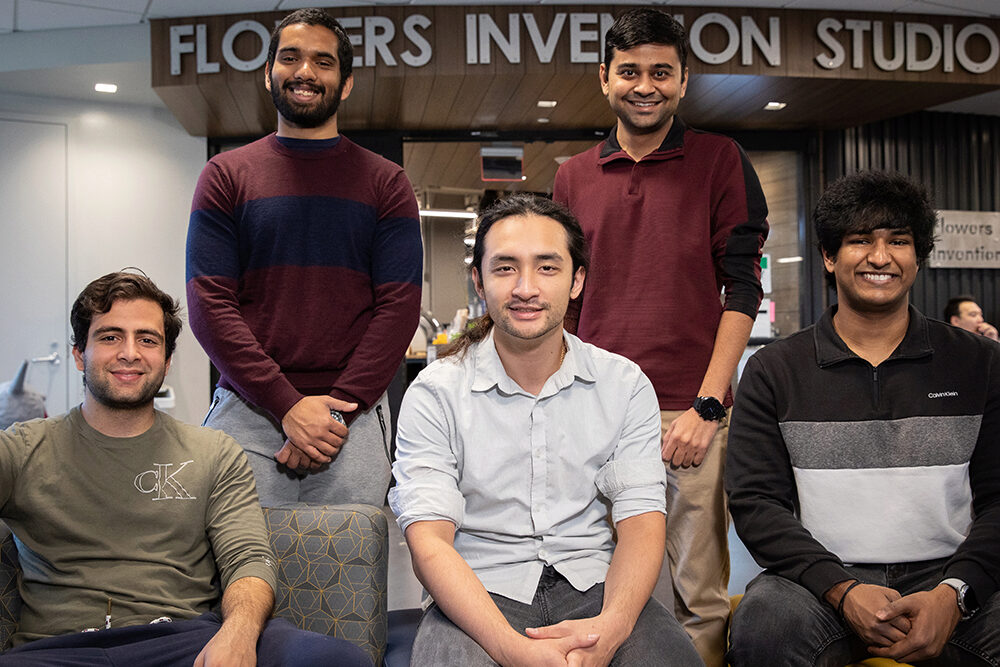 Five Questions with Capstone Design Team You've Got a Friend in ME
November 30, 2022
Get to know mechanical engineering Capstone Design team You've Got a Friend in ME who will showcase their project, "Vibration minimization across dynamic links of magnetically levitated nano-precise scanning stage," at the fall 2022 Capstone Design Expo.
1. Can you tell us about your team and project?
Our Team is made up of five mechanical engineering majors:
Johnson Ngo from Camilla, GA 
Dhruv Tripathi from Hershey, PA 
Karthik Chennupati from Hyderabad, India 
Anshul Vardhan from Indore, India 
Deepkumar Patel from Colquitt, GA
We are working with our sponsor ASML to minimize vibrations for dynamic links connecting magnetically levitated plates for the nano-precise scanning stage of lithography machines - lithography being the process for manufacturing the microchips someone would use in their phones and laptops. Vibrations are traveling through the links and limiting the scale of resolution in the machinery. We are trying to successfully reduce the vibrations transmitted into the reticle, so we can print smaller and more powerful microchips.

2. What was your team's design process, how did you go about separating different tasks, and what are some of the biggest challenges you have faced?
Our design process was one based on the systematic and iterative design process taught here at Georgia Tech! We compiled a series of tables to see how customers' preferences related to our design constraints to see what to prioritize, divided the function of our solution into its most individual aspects, brainstormed as many potential solutions as possible for each function, and chose solutions based on our design priorities.
For tasks, we chose to use the scrum technique, popularized for coding and project management, to list every possible task we would need to complete and had everyone self-assign tasks to complete on their own time schedule. We would hold weekly meetings to catch up on what we had accomplished, what to do next, and what was stopping us from finishing those tasks. Over time, we were able to complete every task given to us.
We faced a few challenges with material restrictions, micro resolution scales, complex machinery, and such, but the biggest challenge we faced was communication. Working with everyone to get on the same page and gathering our information base proved the most difficult in the face of accomplishing our project for minimizing the vibrations. However, through practice and effort, we were able to develop systems to consistently and effectively communicate any issues, design concepts, or information we needed to complete our project.

3. Have there been any highlights while working on your project?
The most interesting aspects of the project have been the solution formulation and simulation. Our team has come up with many interesting solutions including experimenting with tube geometry and implementing a sliding bearing mechanism to isolate vibrations. Simulating these mechanisms has helped us develop a better understanding of FEA (finite element analysis) tools.

4. Can you tell us about your experience working with a sponsor?
It has been exciting to work on a project for a company like ASML and to gain a deeper understanding of the inner workings of a lithograph machine. ASML has taught us a lot of information on vibration transmission and its effects on a nanometer scale which has helped us formulate solutions for the project. We have been able to schedule weekly meetings with them and update them on the progress we've made, and they've guided us when we were going off track. Overall, it has been an interesting experience working with such a large corporation and probably some of the most complex machinery known to man. 

5. If you could go back in time, what advice or message would you give your team on day one?
Developing a deep understanding of the problem as well as the systems surrounding the point of interest early on would have had a substantial impact on the timeline of our project. We would tell ourselves earlier on to conduct more research on related topics and to gain contact with our sponsor sooner. To quote Thomas à Kempis, "the loftier the building, the deeper must the foundation be laid."
---
The fall 2022 Georgia Tech Capstone Design Expo will take place on Monday, December 5, from 4-8 p.m. at McCamish Pavilion on the Georgia Tech Campus. At the Expo, over 600 seniors from various disciplines of engineering and industrial design will showcase their innovative projects designed and built during their Senior/Capstone Design course. Register to attend.