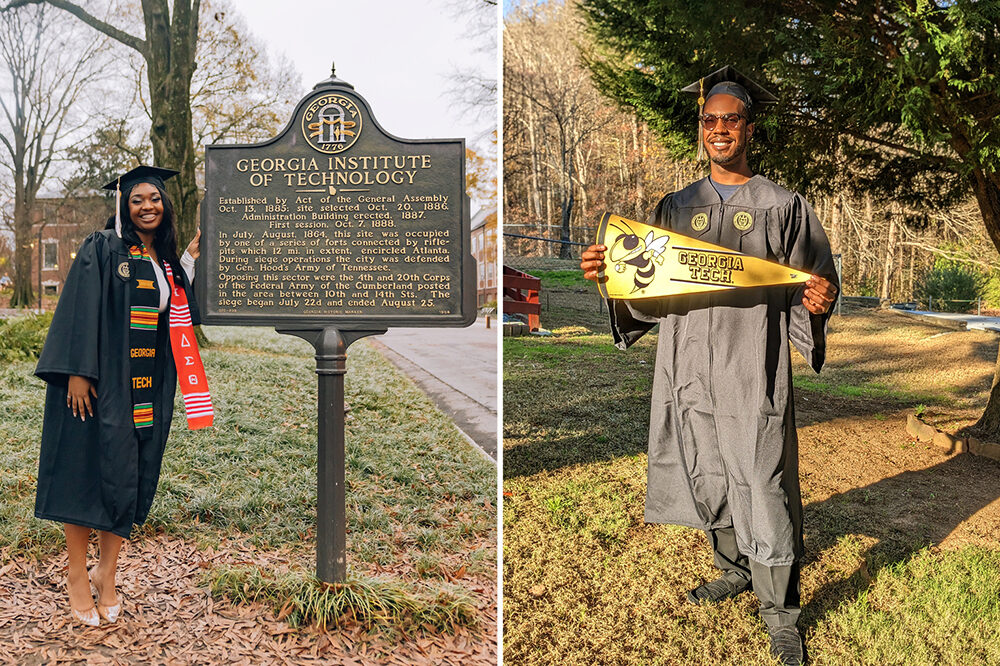 Pictured left to right: Bijée Jackson and John Respert 
Finding Their Place and Their People Makes All the Difference for These Graduates
Meet some of the new mechanical engineers finishing their degrees this fall.
December 16, 2022
By Joshua Stewart & Amy Kim
Over the course of three Commencement ceremonies Dec. 16 and 17, the College of Engineering will send 1,400 new graduates out into the world. They'll carry the Georgia Tech banner with them wherever they go, using their knowledge and experiences to help solve society's most pressing problems.
The College of Engineering asked a few Clark Scholars and students who've been involved in programs in the Center for Engineering Education and Diversity (CEED) to share a piece of their story ahead of graduation.
Mechanical engineering students Bijée Jackson and John Respert talked about how they've grown in their years at Georgia Tech and what they're taking with them as they move on to new chapters in their lives.

Bijée Jackson
Bijée Jackson left her family in Jamaica when she came to study mechanical engineering at Georgia Tech. But she quickly found another on campus — many others, actually.
So leaving campus this month for the next chapter of her life is emotional.
"I found and made so many good connections here. My family's not here, so everyone here is my family. Everyone here," Jackson said. "It's going to be very hard to leave the people who have been here for me for the last five years."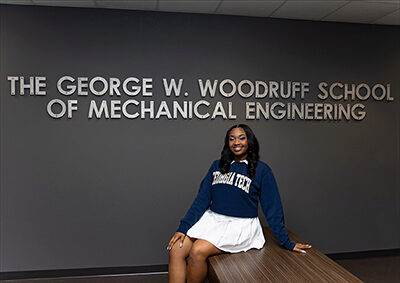 Jackson said she has gotten involved in everything she could think of in an effort to develop professionally, create social connections, and advance diversity in engineering. She's a resident assistant, a student ambassador, and a member of the Delta Sigma Theta sorority. She has been mentored through the Peer 2 Peer Mentoring Program in the College's CEED program and participated in the center's programs since she arrived on campus. She also was involved with the Caribbean Student Association and the Society of Black Engineers. And she served on the Diversity, Equity, and Inclusion Council in the Woodruff School of Mechanical Engineering.
Each experience — each of those families — added something new to Jackson's perspective, she said: "I think all of them embody learning something new, coming out of your box, and just being open to new experiences and new opinions."
Jackson carried the same sense of exploration into her professional pursuits, too, taking to heart the advice of a mentor at Cummins who told her to diversify her experiences. That led to summer internships at NASA's Jet Propulsion Lab and Procter & Gamble (P&G). After she leaves her families at Georgia Tech, she'll officially join P&G as a packaging engineer.
First, though, she'll reconnect with some more family, the one in Jamaica, where she's planning a good long visit.

John Respert
Comfort in the uncomfortable.
That's what John Respert has been thinking about as his time at Georgia Tech winds down. When he arrived after high school, he knew he wanted to make connections, find a co-op position, and build on those experiences to earn a full-time job offer by the time he turned his tassel at Commencement. But he didn't always know how he was going to turn his goals into reality.
He's learned that's OK.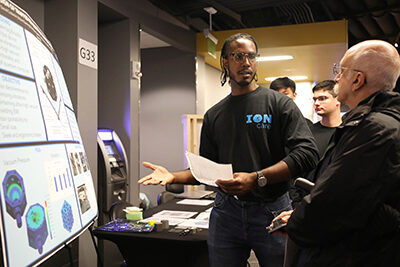 "I don't necessarily have to have everything completely figured out ahead of time. It's good to prepare for those things that I can prepare for, but uncertainty is something I have to count on," Respert said. "Sometimes these moments really push me out of my comfort zone, but I had to learn to expect and accept that. Based on my experiences, achievements, and surprises during my time at Tech, I have learned to trust that things will work out."
That included using the network he built through on-campus work-study and research opportunities to land a co-op "at just the right time," he said. It was Fall 2021, and Respert was preparing for an internship with a local company. The position fell through at the last minute, and he had to scramble to sort out his class schedule and find another opportunity. A friend in the Delta Air Lines co-op program helped him connect with a recruiter, and he earned a position. Now he's leveraged that co-op into a full-time job in cabin interiors with Atlanta's hometown airline.
Of course, not everything ended up the way Respert imagined — but that was just another lesson in trusting that things will work out. In his first year, he set his sights on becoming a Prototyping Instructor in the Flowers Invention Studio and studying abroad. Neither happened.
"I did become an employee with the Digital Fabrication Lab on campus, where I was able to satisfy my goal of learning how to operate and create with all of the cool machinery Tech has to offer," Respert said. "I also wasn't able to study abroad during college due to Covid, but my career is set up to provide plenty of opportunities for traveling around the world."
---
Content is taken from the original story posted by the College of Engineering.