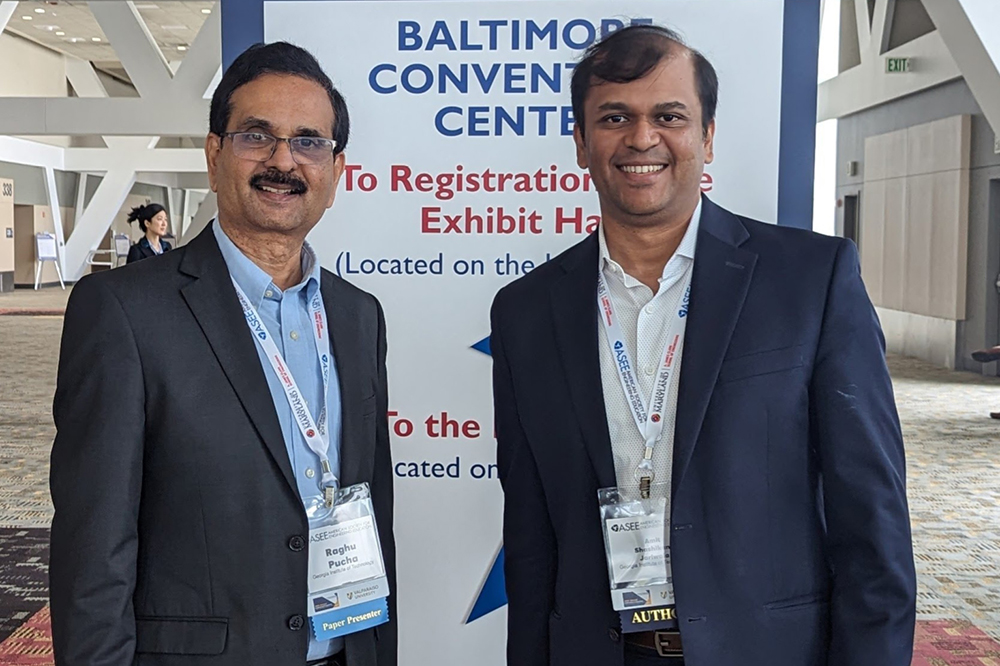 Enhancing Design Engineering Education Through Peer Mentorship
June 30, 2023
By Chloe Arrington
Researchers in the George W. Woodruff School of Mechanical Engineering are exploring the impact of peer mentorship within the classroom.  
Director of Design & Innovation Amit Jariwala and Principal Lecturer Raghuram Pucha began implementing a mentorship model outlined in their latest work-in-progress paper, Peer Mentorship Model to Enhance Design Engineering Education, which examines the effects of student/student mentorship.  
Previous literature indicates mentorship in the form of undergraduates teaching other undergraduates is one of the most effective methods for achieving both cognitive and attitudinal goals of undergraduate education.  
This paper presents the "…design, implementation, and impact of a simultaneous curricular intervention in freshman and senior capstone design courses in an undergraduate mechanical engineering program," as described by Jariwala.  
Jariwala and Pucha began developing their study last year when they were independently looking at ways to enrich classes ME1670 – Intro to Engineering Graphics and Design and ME4182 – Capstone Design. ME1670 is an introduction to engineering graphics and visualization. ME4182 is a senior design course where students work in groups to solve design challenges originating from industry sponsors, students, or faculty.  
"I was also looking for a way to better prepare students entering the senior level Capstone Design course, so it made sense to find a way to connect a lower-level class with the senior class," said Jariwala. These courses provided an ideal situation to pair students in a mentoring scenario to benefit both class levels. 
The two primary objectives of this intervention were to enhance understanding of the design process, emphasizing the importance of end-users and stakeholders, and to create an opportunity for students to be rewarded for learning and teaching their peers.  
When developing the intervention, the student perspective was important. Jariwala and Pucha partnered with former students who had completed both courses, as well as teaching assistants Shivani Kundalia and Terrence Pleasant, to design an interaction process between the two courses that would allow students to leverage their class time to interact with the other students.  
Senior mechanical engineering student Mesum Zaidi participated in the mentorship program this year and enjoyed the opportunity to give guidance to new students. Zaidi pointed out that the process of explaining his senior project to a freshman who is still learning and developing their technical skills is excellent practice for making the key engineering details approachable for someone not in the engineering field.  
"I believe a program like this would be highly beneficial to both underclassmen and Capstone students by allowing for perspectives to be shared between two groups that otherwise would have little reason to interact with one another, making for quite a unique experience," said Zaidi.  
"I found the peer mentoring to be an interesting and engaging way to learn," said first-year mechanical engineering student Jonathon Barrington. "Our interactions with our peer review group were insightful, and on numerous occasions, they helped us to redesign aspects." 
Barrington also expressed how he felt the peer mentoring experience heightened his interest in design and manufacturing and has already helped spark excitement for his senior Capstone Design project. 
Jariwala and Pucha were invited to present their findings at the 2023 American Society for Engineering Education (ASEE) Annual Conference & Exposition earlier this month. The initial findings of the pilot semester were presented, however detailed results are still being compiled to be presented at a later stage. Initial findings have served to highlight those areas where further assistance and logistical considerations are needed to make widespread peer mentoring available and effective. 
The study also provides a foundation for long-term longitudinal research to further understand the impact of peer mentorship and socio-technical projects from freshman to senior years. 
When asked about the long-term implications of this proposed mentorship model, Jariwala explained the overarching goal is to provide first-year students with a sense of excitement for what their future curriculum has to offer and to allow senior students the opportunity to gain and refine their leadership skills and abilities while reinforcing fundamental engineering principles. 
Jariwala and Pucha also worked with Devesh Ranjan, Eugene C. Gwaltney, Jr. School Chair and professor, to ensure the study aligned with Tech's DEI goals to "…create equitable and inclusive learning and research environments through inclusive teaching and mentoring practices," and to foster a culture of Inclusive Excellence among our students by building a sense of community within the Woodruff School.