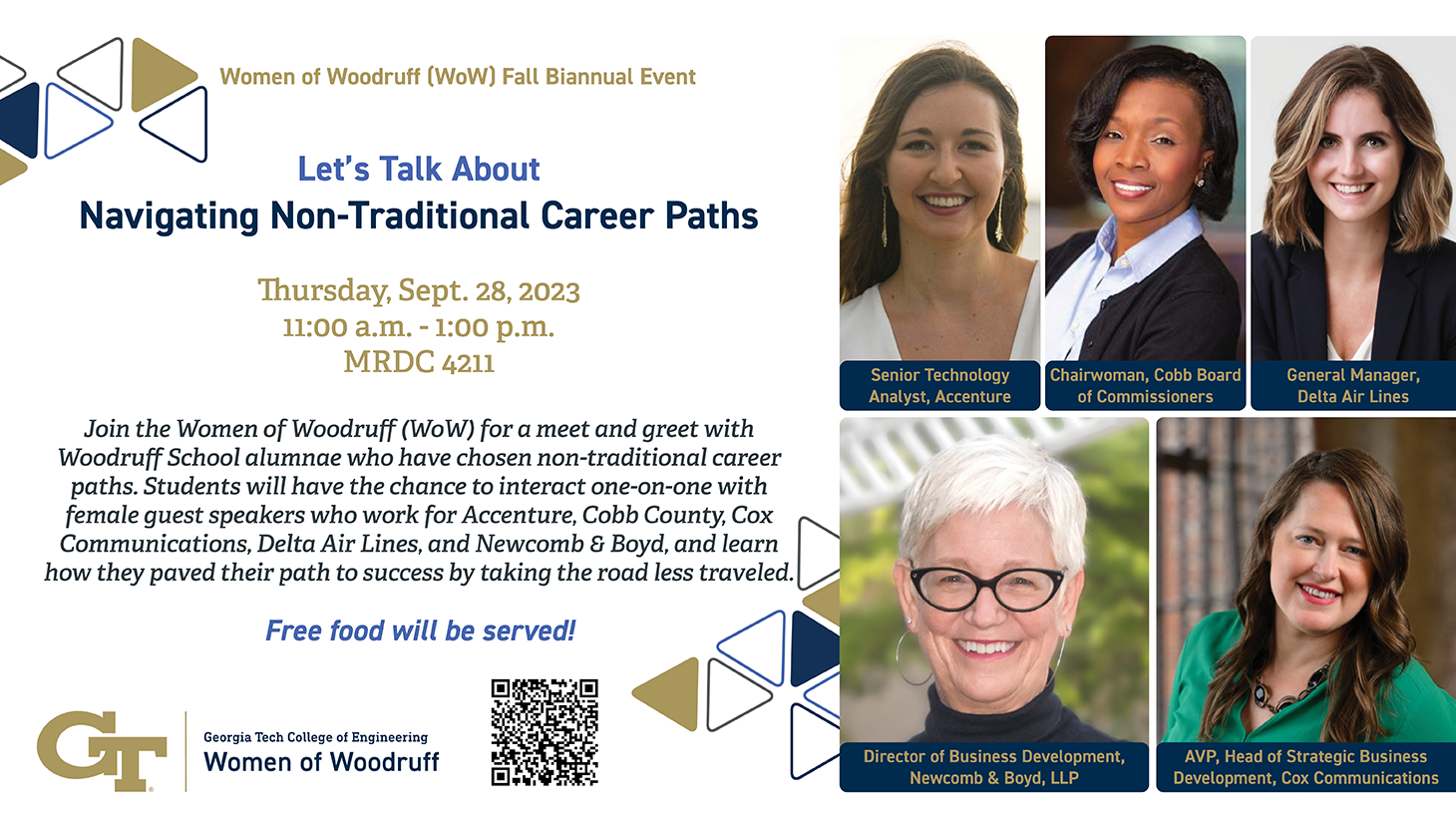 Event Information
Title: "Navigating Non-Traditional Career Paths"
Speaker: Jackie Buzzett, Lisa Cupid, Anna Harter, Lynda Herrig, and Christine Primmer
Date: Thursday, September 28, 2023
Time: 11:00 a.m. - 1:00 p.m.
Location: MRDC 4211
No RSVP required; Students can drop-in anytime during the event.
Join the Women of Woodruff (WoW) for the Fall Biannual Event that includes a meet and greet with Woodruff School alumnae who have chosen non-traditional career paths. Students will have the chance to interact one-on-one with female guest speakers who work for Accenture, Cobb County, Cox Communications, Delta Air Lines, Newcomb & Boyd, and learn how they paved their path to success by taking the road less traveled. Free food will be served.
---
Speakers
Jackie Buzzett, ME 2020
Jackie Buzzett is a Senior Technology Analyst at Accenture, a digital, cloud, and security services company. She is actively involved in the Georgia Tech community serving as a mentor in the Georgia Tech Alumni Association and board member for the Georgia Tech Women Alumnae Network (GTWAN).
Lisa Cupid, ME 2000
Lisa Cupid is the current Cobb County Chairwoman and was previously the Cobb County Commissioner for District 4. After completing her studies at Georgia Tech, she transitioned into law at Georgia State University where she received her J.D. in 2012.
Anna Harter, ME 2013
Anna Harter has been with Delta Airlines for over a decade. Starting as an intern, she now serves as the General Manager in MRO Strategy and Product Development. After completing her undergraduate studies at Georgia Tech, she received her MBA from the University of Florida.
Lynda Herrig, ME 1984, M.S. ME 1985
Lynda Herrig joined Newcomb & Boyd, LLP in 2007 and is currently serving as the Director of Business Development. Previous to her joining Newcomb & Boyd, Herrig was an elementary school science teacher.
Christine Primmer, ME 2007
Christine Primmer has been with Cox Communications since 2020 and is now the AVP - Head of Strategic Business Development. She previously worked at Georgia Power and received her MBA from UNC Kenan-Flagler Business School.