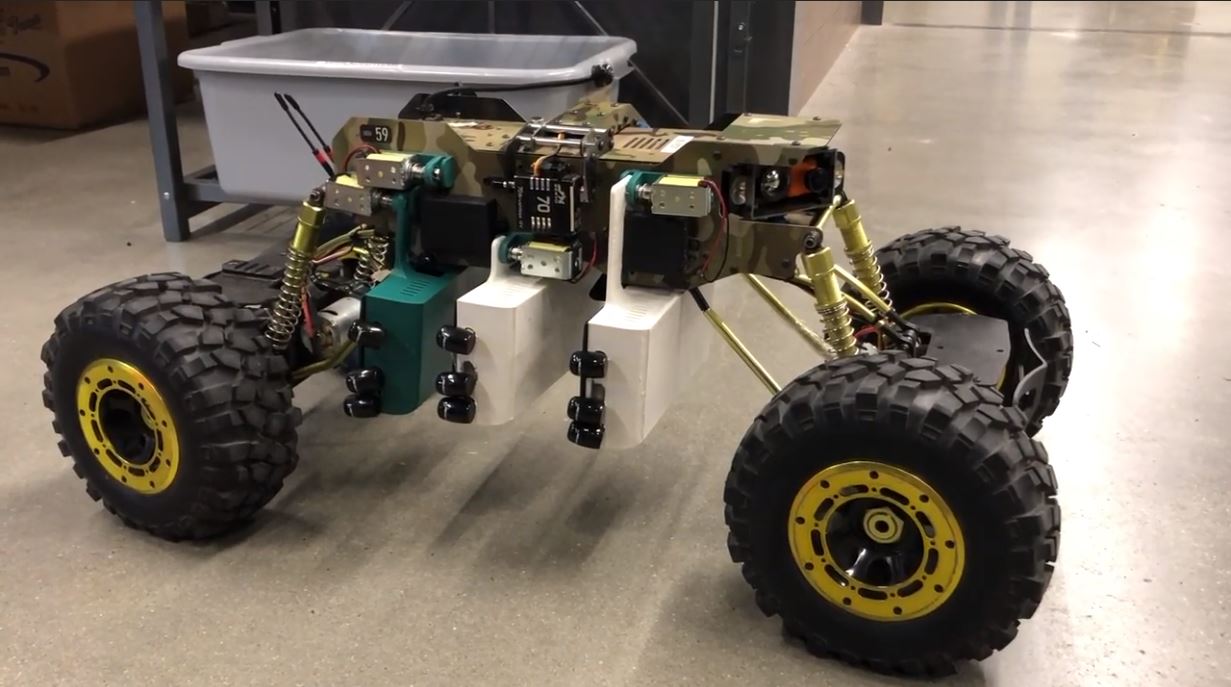 Sponsored Projects Earn Top Spots at Capstone
November 23, 2020
Capstone Senior Design students faced an extra challenge this semester- how to show off their projects without the aid of a physical prototype or an in-person demonstration. The Fall 2020 Capstone Expo took place online, using two Georgia Tech startup platforms- Gatherly and RocketJudge. Groups that had worked together over the last four months used videos and slide presentations to demonstrate what they had learned as they developed their own ideas or tackled challenges brought to them by sponsors. From campus swing space allocation to environmentally sound lawn watering solutions, to improved surgical procedures, more than 600 students from 117 teams and six different schools put their skills to the test to come up with inventive solutions while dealing with the challenges of doing group projects during a pandemic.
Our project had a lot of physical components combined with software" said Andre Jaberi, whose team Lazy Lawn won the award for best electrical and computer engineering project. "Trying to coordinate that across the team with us scattered in different locations was very challenging, so we learned to play off each other's strengths to overcome our weaknesses. It was a real lesson in teamwork.
The best overall project award went to T-Titans, a group of computer engineering and mechanical engineering majors who were sponsored by the 75th Rangers Regiment. The Rangers were looking for a way to improve the range of their Unmanned Ground Vehicle- a tool they use to assess dangerous situations without putting themselves in harm's way. The team's challenge was to extend the transmission range from the vehicle to the operator from 30 meters to 150 meters. Their solution involved a series of range-enhancing pucks that could be dropped in sequence by the UGV. The vehicle has been tested at Fort Benning and the teams hope is that the project will be further developed and used by the Rangers. 
Asked what the biggest lesson they learned during the project was team member Carmen Dyck who replied that they were able to accomplish more than they expected by breaking the project into components. Emily Toomer, a mechanical engineering major from Suwanee, Georgia, added that "For a lot of us this was a new technology that we never heard of or worked with before," which led to a steep learning curve at the onset of the project. 
The best mechanical engineering team, DIY Engineering, worked with sponsor Tab and Slot, LLC to design a competitively priced cantilevered 3-axis CNC plasma cutter that could be installed on one of the sponsor's proprietary modular welding tables and sold to the general market. The company is based in Minnesota, which made getting components shipped back and forth a challenge. In the end the sponsor was happy with the product and team member Zachary Shear, who is from Minnesota, plans to continue working with them to finetune it.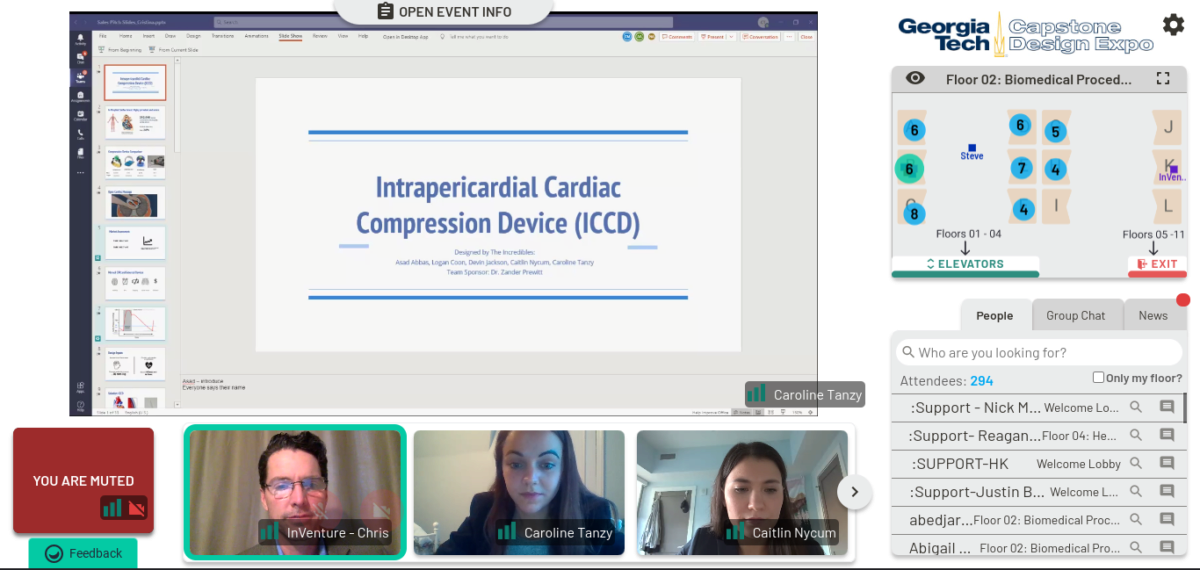 Like their fellow competitors, The Incredibles, who won the award for best interdisciplinary team, was able to make their sponsor very happy. The group of mechanical, electrical, and biomedical engineering majors worked with Dr. Zander Prewitt, an emergency room doctor at Emory, to design a minimally invasive treatment for cardiac arrest that involves inserting a balloon next to the heart and then inflating the balloon to exert pressure on the heart, sending more blood to the brain. The project was daunting according to biomedical engineering major Caitlin Nycum, from Fort Wayne, Indiana.
This was something that had never been done before and we had absolutely no idea if it was going to work, so going from the ideation phase to cadaver testing and porcine testing and then analyzing results was a lot to do in one semester.
In the end, how would they describe Dr. Prewitt's reaction? 
"He was ecstatic. He was very enthusiatic and excited to move forward," said Devin Jackson, a mechanical engineering major from Chesapeake, Virginia.
As Capstone wrapped up for another semester and students finished their once-in-a-lifetime course students said good-bye to one another via webcam as they prepared to head home for Thanksgiving Break and a semester that will finish online.
Reflecting back on her Capstone experience, Yui-Ting Tarn, who was on the winning industrial design team offered some words of wisdom that future Capstone teams would be smart to listen to.
One thing that we found is that having a good team really does make the difference between enjoying your experience or just completing the project.
Results
Faith Colaguori, Tampa, FL
Maite Marin-Mera, Rancho Viejo, TX
Megan McDonnell, Holland, PA
Rebecca Forry, Parker, CO
Electrical and Computer Engineering - Lazy Lawn
Andre Jaberi, Foxborough, MA
Mohammad Mursalin, Georgia
Steven Nguyen, Jefferson
Tyler French, Chapel Hill, NC
Zach Thompson, Keller, TX
Andres Amundson (ME), Newport News, VA
Julia Pokrzywa (ID), Carlisle, PA
Stephanie Lewis (ID), Glenelg, MD
Yui-Ting Tarn (ID), Newton, MA
Abigail Nannis, Buford, GA
Chidambaram Kadiresan, Suwanee, GA
Makala Muhammed, Atlanta, GA
Prerna Balaji, Marietta, GA
Sarah Poff, Vestavia Hills, AL
Savannah Chunn, Suwanee, GA
Sena Sennaroglu, Istanbul, Turkey
Zachary Hess, Lancaster, PA
Aidan McGannon, Brooklyn, CT
Max Zegers, Weston CT
Ryan Grigsby, Woodstock, GA
Shane Walker, Mount Sinai, NY
Zachary Shear, Mound, MN
Best Interdisiciplinary Team - The Incredibles
Asad Abbas (BME), Roswell, GA
Caitlin Nycum (BME), Ft. Wayne, IN
Caroline Tanzy (BME), Atlanta, GA
Devin Jackson (ME), Chesapeake, VA
Logan Coon (EE), Columbia, MD
Best Overall Project - T-Titans
Carmen Dyck (CmpE), Marietta, GA
Emily Toomer (ME), Suwanee, GA
Isaac Davis (ME), Canon, GA
Nuri Sinha (ME), Alpharetta, GA
Omari Hodge (CmpE) Braselton, GA
Timothy Foster (ME), Manchester, NH
People's Choice Award (based on more than 2,000 total votes) - Emission Experts
August Stapf (IE), Augusta, GA
Geneva Rumer (IE), Alpharetta, GA
John Carroll (IE), Columbus, GA
Josh White (IE), Milton, GA
Maggie Monahan (IE), Champaign, IL
Michael Saia (IE), Jackson, TN
Natalie Lucco (IE), Woodstock, GA
William Salzano (IE), Dix Hills, NY