ME Teams Shine at 2019 Spring Capstone Expo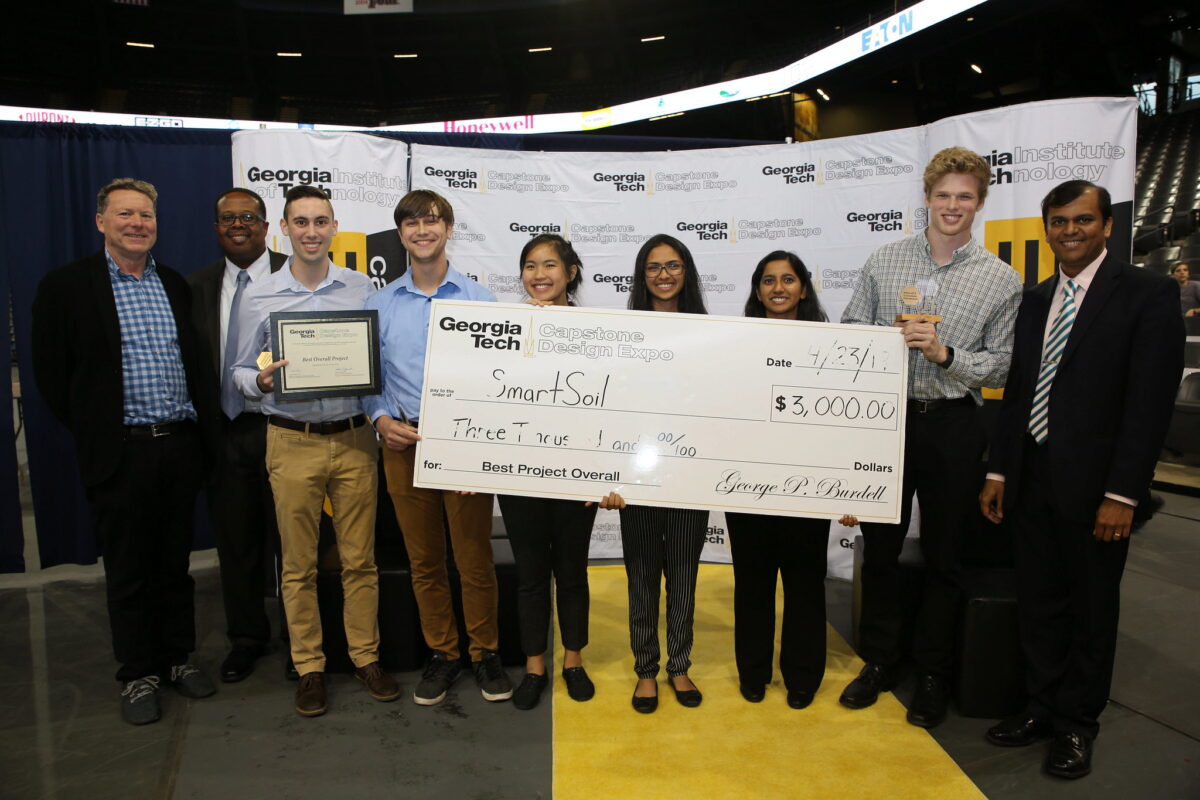 236 teams from 11 different schools and programs and three colleges competed in the Spring 2019 Capstone Design Expo at McCamish Pavilion. 
Some projects came about because a sponsor needed a problem solved while others will serve as the foundation for startup ventures. All of them tested the participants' ability to work together towards a shared goal and produce demonstrable results.
Topics ranged from medical devices to process optimization to construction projects. Biomedical engineering teams worked with medical device companies to come up with new ways to help patients and doctors alike. Electrical and computer engineers collaborated with sponsors to address challenges relating to drones and robots- Maurauder Robotics tasked two teams with developing the programming for an autonomous underwater vehicle (AUV) that will track and destroy sea urchins that are devouring fragile kelp forests. Known worldwide for their efficiency prowess, industrial and systems engineering students worked on projects for local Fortune 500 companies including The Home Depot, Delta, UPS, and Coca-Cola, as well as MARTA, Emory, the CDC, and Atlanta Hawks.
Nuclear and radiological engineers, though few in number, took on the big tasks of food irradiation, designing next generation small-scale nuclear reactors for isolated communities, and developing a Nuclear Thermal Propulsion (NTP) engine for deep space manned missions to Mars and beyond. Coming back to earth, architecture, public policy, and civil engineering teams worked on local projects, with architecture students designing spaces for the Georgia Tech campus and Atlanta communities, public policy examining affordable housing, and civil and environmental engineers tackling infrastructure needs like a GDOT bridge replacement in Macon, storm water system redesign in Peachtree Corners, and the I-75 and I-285 interchange.
But at the end of the day it was mechanical engineering students who took home the most prizes, and they did it by applying new solutions to old school industries- agriculture and trucking.
The best overall project award went to SmartSoil, a team of mechanical engineering students who developed an indoor, user-friendly composting device that uses worms to produce nutrient rich compost. Known as vermicomposting, using worms to make compost usually takes a long time, but SmartSoil's trashcan-sized composter uses food waste to feed worms and produces usable compost in just two weeks. The automated device regularly sifts the compost down into a tray and sprays water to maintain moisture levels. Compared to its closest competitor, the SmartSoil composter produces 50 times as much high quality fertilizer per year. "We didn't expect to win," said team member Yi Ting Sam. "This was just a passion project for us." But now that they've had their project poked, prodded, and examined by judges they're interested in pursuing it further and entering it one of Georgia Tech's startup programs. It won't be hard to do since four of the six team members are staying at Georgia Tech to pursue graduate degrees in mechanical engineering.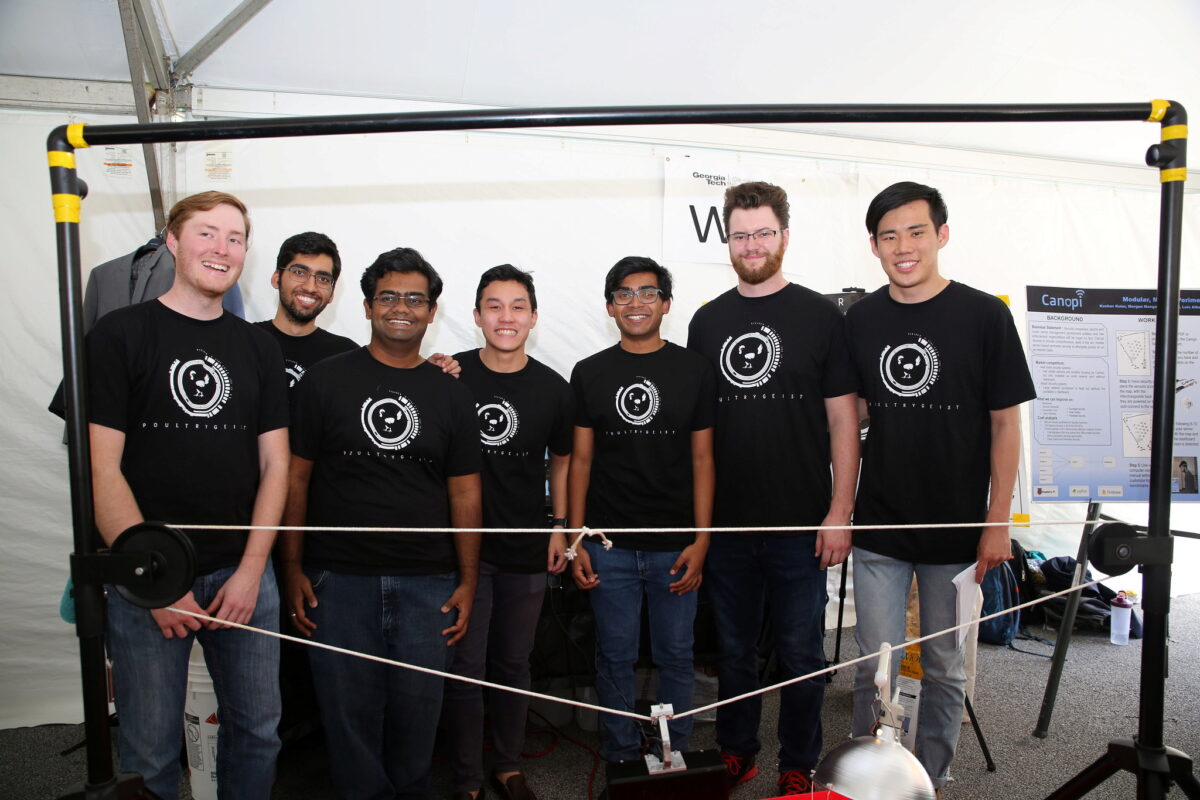 The best interdisciplinary project award went to Poultrygeist, a team made up of mechanical engineers, an electrical engineer, and two computer science students. The brainchild of Samuel Hill, the son of a poultry farmer, Poultrygeist's innovative system uses an optical camera and an infrared camera to detect dead chickens in a barn by monitoring motion and body temperature. Poultry farmers can spend hours a day looking for and removing dead chickens which spread disease, and this automated system frees them up to focus on other tasks while also saving money on labor. Poultrygeist has already entered the CREATE-X program to help get their revolutionary product to market, and they think it can be applied to turkey and pork barns as well, giving them hundreds of thousands of potential customers around the country, and potentially the world. "My dad has been wanting me to build something like this for years to save him work" said Hill after his team won their award.
Joining Poultrygeist in CREATE-X will be the top mechanical engineering team, Trail Glider. They looked at the bulky, cumbersome panels placed at the end of tractor trailers to improve aerodynamics and saw room for improvement. With off the shelf supplies and a lot of computer modeling they were able to design a more aerodynamic version that doubled fuel savings compared to their competitor's product, and they think they can do it for half the price. Their business model projects that a truck driver's fuel savings would cover the cost of a Trail Glider in as little as three months.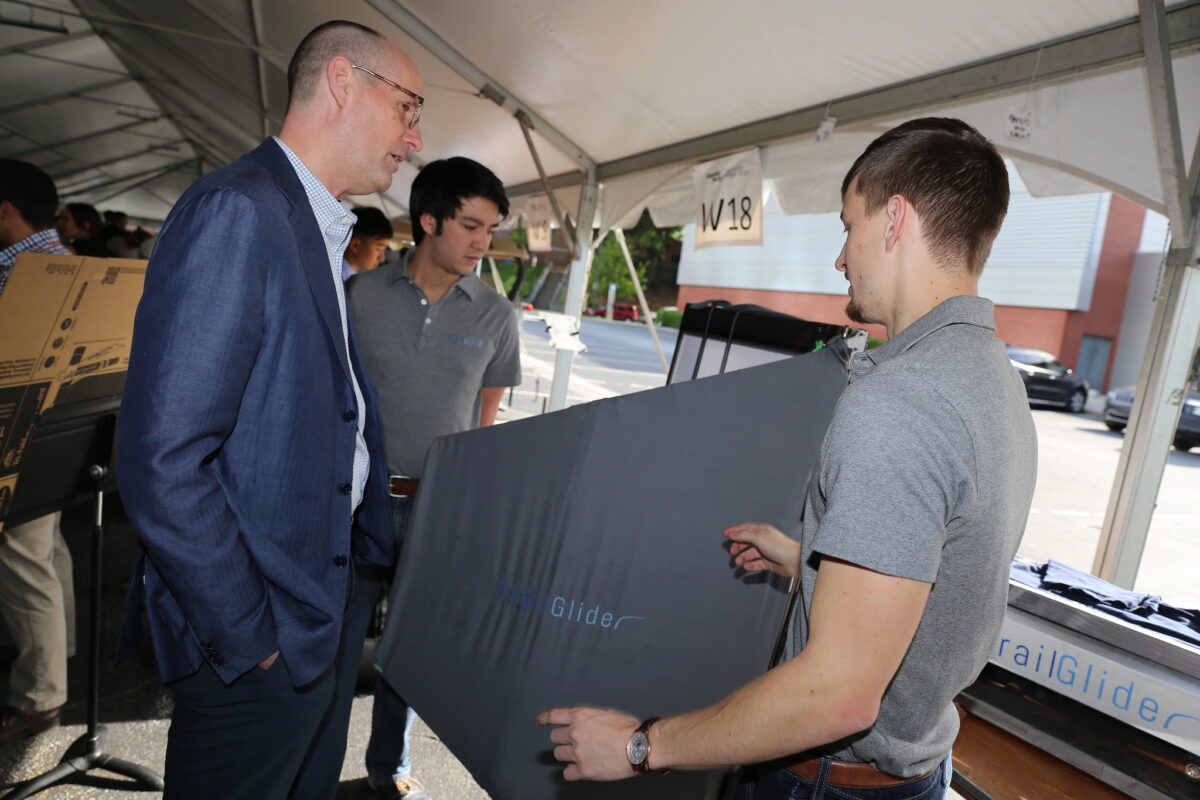 Year after year Capstone shows that Georgia Tech students are among the very best in the country, and each year more sponsors seek out their expertise to help them tackle real world problems. This semester's expo also saw the launch of a high school fellows program, in which students selected by local high schools were invited to come to the expo and talk to teams in order to get a glimpse of what their futures could hold if they pursue an education at Georgia Tech. 
Results
Best Overall Winner- SmartSoil
Jordan Bogdan, ME) Snellville, GA
Aditi Kumar, (ME) New Delhi, India
Anuja Anil Kandare, (ME) Bangalore, India
Yi Ting Sam, (ME) Malaysia
Kyle Varnedoe, (ME) Marietta, GA
Justin Cole, (ME) Marietta, GA
Gen Mark Tanno, Tokyo, Japan
Charles Andrew Person, Decatur, GA
Alexandra Miner, Sandy Springs, GA
R Noah Sannes, Milton, Ga
Christopher Tromp,Sugar Hill, Ga
Biomedical Engineering- Tube Team
Arielle Margulies, Scotch Plains, NJ
Emily Dunford, Eden Prairie, MN
Sarah Nixon, Atlanta
Civil and Environmental Engineering- Vakaa Design
Chris Folsom, Marietta, GA
Justin Liu, Duluth
Hannah Davis, Dagsboro, DE
Kailee Unangst, Frederick, MD
Electrical and Computer Engineering- TRACER
Alex Nussey, Atlanta, GA
Mitchell Menard, Hickory, NC
Industrial and Systems Engineering- Cisgocean
Kayla Raab, Alpharetta
Pavlos Sepetas, Ioannina, Greece
Weichao Chen, China
Trishla Chokshi, Kennesaw, GA
Guergana Ilieva, Marietta, GA
Shaiv Gandhi, Mumbai, India
Shelby Carswell, Roswell, GA
Karan Agrawal, Bangalore, India
Industrial Design and Mechanical Engineering- ReMOOve
Leah Slepian, (ID) Peachtree City, GA
George Samaras, (ME) Athens, GA
Andrea Herrera, (ID) Suwanee, GA
Mitchell Tuck, (ME) Atlanta
Jasmine Al-Aidy, (ME) Asheville, NC
Jacob Lloyd, Blairsville, GA
Eric Fitzgerald, Cumming, GA
Andreas Robertson, Silver Spring, MD
SeungMin Lee, Atlanta, GA
Charles Caliendo, Circle Pines
Heyinn Rho, San Jose, CA
Himanshu Dedge, Shrewsbury, MA
Gabriel Arkanum, Cumming, GA
Saad Lalani, Kennesaw, GA
Jayce Delker, Monroe, GA
Tyler Boone, Canton, GA
Aaron Sommer, Columbus, GA
Bofeng Chen, Alta Loma, CA
Reed Herner, Plainfield, IL
Karem Chaudhry, New York City, New York
Corey Smith, Canton, GA
Public Policy- Houses
Charles Watwood, Atlanta, GA
Janelle Owusu, Buford, GA
Mary Elizabeth, Cumming, GA
Elizabeth Crymes, Newnan, GA
Adarsh Sasi, Atlanta, GA
Melvin Juwono, Atlanta, GA
Samuel Hill, Homer, Ga
Shivam Sharma, Buford, GA
Jonathan Wen, Virginia Beach, VA
Rahul Patel, Austell
Austin Segars, Lula, GA
For more photos from Capstone visit our Flickr gallery.