Getting to Know Development Director Tamika Barnes
April 12, 2021
Tamika Barnes joined the George W. Woodruff School of Mechanical Engineering as Director of Development on February 1 and has been meeting faculty, staff, students, alumni, and partners as she gets settled in. The Boston native has previously worked at Emory University, University of Southern California, Boston College and Harvard Medical School. Tamika recently took the time to share more about herself and why she was so excited to join the Woodruff School.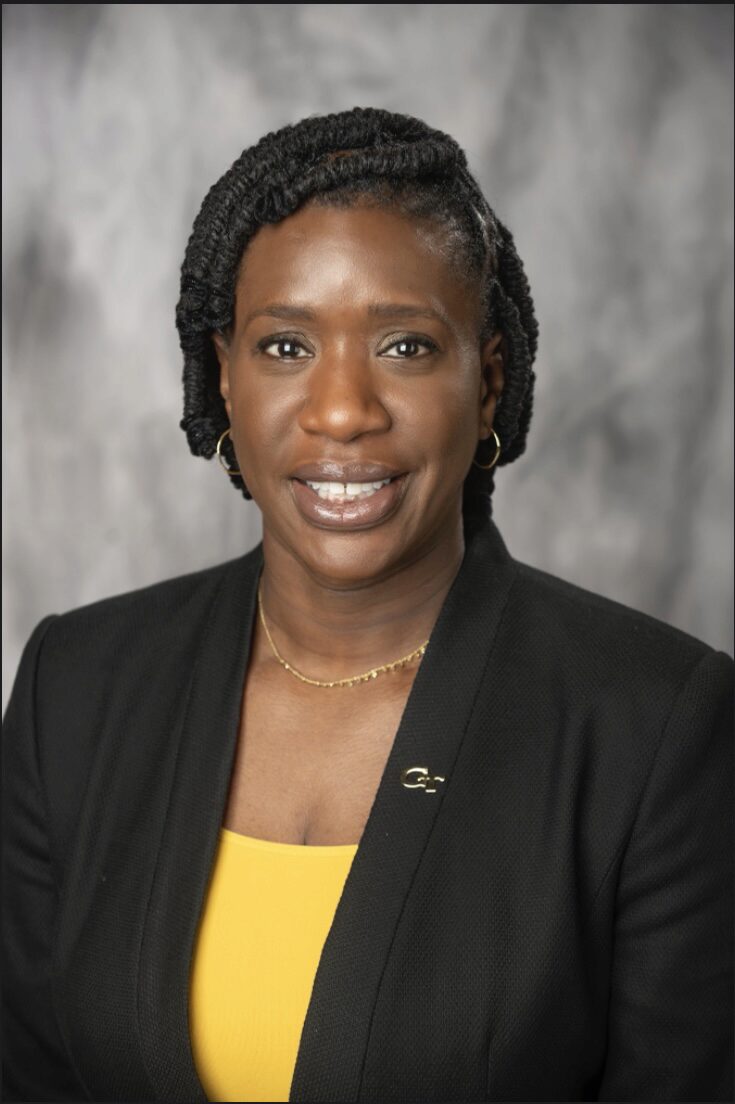 Where did you go to college?
I graduated from ACC rival Boston College. Although I'm a proud BC Eagle I can assure our Georgia Tech alumni that I'll be cheering for our Jackets for every game. I've learned about Tech's traditions and look forward to hearing the Ramblin' Wreck Fight Song on game day!

What drew you to the Woodruff School?
I've lived in Atlanta for over four years and during that time I've met countless numbers of Georgia Tech alumni who are grateful for the amazing education they received and who remain connected to the Institute and their respective school. When I was researching career opportunities at Tech, I learned that the Woodruff School of Mechanical Engineering was one of the largest schools at the Institute and that it's one of the largest and oldest mechanical engineering schools in the country. It's awesome that mechanical engineering was the very first degree ever awarded at Tech and is now one of our largest schools. Because of that we have more than 26,000 living Woodruff School alumni. Over the past decade, I worked at business schools so I was excited for the opportunity to work for the Woodruff School and challenge myself to learn more about science, technology and engineering which impact our everyday lives. It's invigorating to be a part of the advancement of a dedicated community of students, faculty and staff that have a shared passion for the school and its future.
Since joining the Woodruff School what are some of the things that excite you the most about it?
I've had the opportunity to connect with our amazing students who frequently visit the Wepfer Design Commons, which includes the Flowers Invention Studio (the country's largest academic makerspace) and the Montgomery Machining Mall. I'm amazed to see some of the projects our students have worked on, such as laser cut storage designs and competition-ready robots. Our students are thinkers and dreamers who seek to tackle the challenges facing our world and work alongside our renowned faculty who are conducting cutting-edge research. I recently watched our Emmy Award-winning InVenture Prize Competition and was extremely impressed with the entrepreneurial and innovative products and services that our students brought to life. This year's First Place Winner and People's Choice Winner, Aya Ayoubi, designed the Delta Jacket, which is an inflatable, reversible, and waterproof jacket that transforms into an air mattress or a sheltering garment to protect from the elements. This product is engineered to provide safety and dignity to homeless populations. What a wonderful way to blend innovation and social impact. Mechanical Engineering students were well represented. Congratulations to our Mechanical Engineering student finalists Zach Cloud, Jake DePiero, Matt Segler, Emma Bivings and Matt McMullen.
Why is philanthropy important to the Woodruff School?
When you give to the Woodruff School, you drive positive change in the world. Supporting faculty and students, investing in groundbreaking research, advancing solutions to societal challenges—there are so many reasons to give. No matter what you choose to support, your gift has a positive impact and will position the school to reach greater heights. Federal support for university research is significant, but it has been declining for years. Before the pandemic, the need for financial aid was growing. Now, with students and families impacted by the economic fallout of the COVID-19 crisis, the need is greater than ever. Every gift makes a difference, so please consider how you can support academic excellence today. If you'd like to learn more about establishing a scholarship/fellowship, funding a professorship/chair, providing new equipment or leaving the Woodruff School in your estate, please contact me.
Here are few examples of how your giving can impact our mechanical engineering community:
Establish a graduate fellowship and provide the necessary funding for students to achieve their academic goals and help them bolster their professional reputation as scholars.
Endow academic chairs and professorships to reward and retain top scholars for exceptional performance in teaching, research and service.
Provide critical funding to renovate our Manufacturing Related Disciplines Center (MRDC) labs where our students have hands-on experiential learning opportunities.  
Support the Student Competition Center which is home to seven student engineering competition teams and used by hundreds of our students. With your support we can secure new tools and upgrade technology.
Fund the creation of a new Undergraduate Learning Studio which will provide support for students, peer to peer mentoring and space for help sessions and study groups.

What is your favorite part of working in development and alumni relations?
I truly enjoy getting to know our alumni, hearing their stories and exploring ways to keep them connected and excited about the Woodruff School. Our global alumni have had amazing academic and professional careers and have so much to share with us. In my role I hear from alumni how Tech impacted their lives and how they would like to stay engaged. I share that alumni can support our community in important ways including providing students internships, serving on a board, hosting an alumni event, speaking in a class and much more. One of the topics I love to discuss with alumni and friends is the transformative power of philanthropy and how it can positively impact our students, faculty and support our school chair, Dr. Samuel Graham, who has successfully led the school over the past three years. I have meaningful conversations about how our alumni can leave a wonderful legacy and shape the Woodruff School today and for generations to come. 

What is the best way for alumni to contact you?
I can be reached at tamika.barnes@me.gatech.edu or 470-501-7026 (mobile) and 404-385-8345 (office). 

Thank you, and Go Jackets!