Wreck Racing Wins Grassroots Motorsports Magazine $2000 Challenge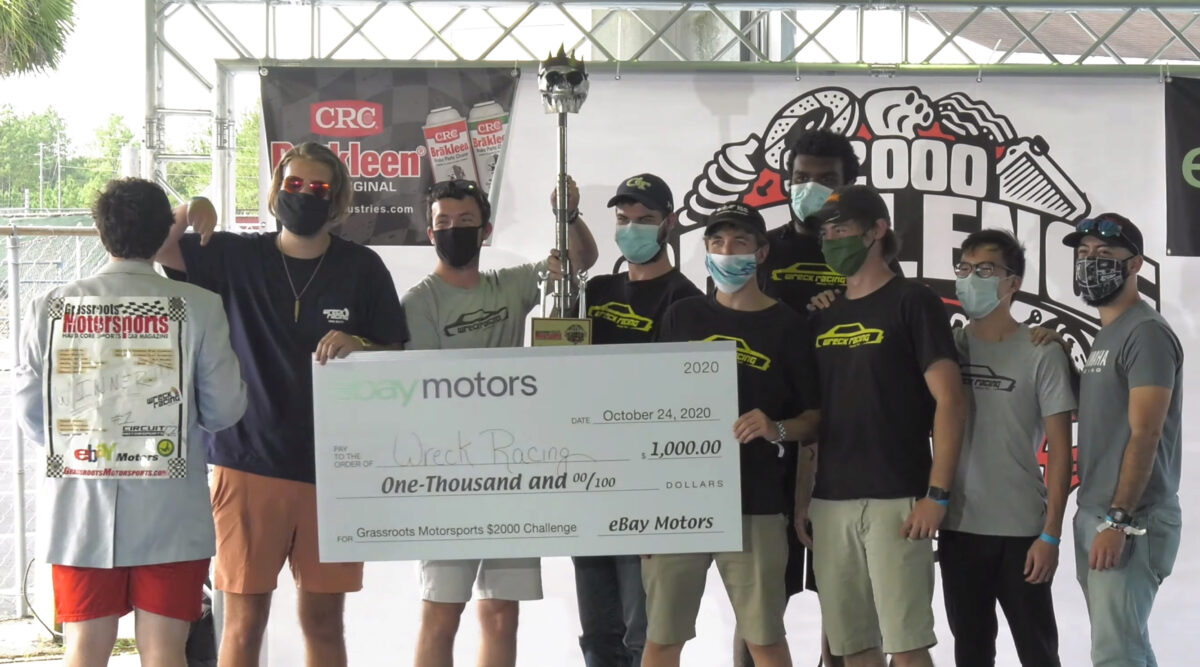 Nov. 11, 2020 | Story provided by Thomas Barone, Wreck Racing
Wreck Racing
is the Georgia Tech Student Competition Center's production car-based automotive engineering team. The team competes in the Grassroots Motorsports Magazine $2000 Challenge, where the rules are simple- build a racecar for $2000. For Wreck Racing members, who come from 12 different majors, this means a significant amount of functional design work and in turn fabrication from raw materials. At competition, points are earned through placement in autocross and drag races, as well as concours d'elegance, where cars are judged for their design solutions, ingenuity, and general build quality.
At this year's competition on October 23-24 in Gainesville, Florida, Wreck Racing fielded their 1986 E28 BMW 528e race car. Fitted with custom designed front and rear suspension, an iron block 5.3L Chevrolet V8, and a 106mm Caterpillar turbo pulled from a stationary industrial generator, the E28 was built to perform in both autocross and drag racing. Wreck Racing achieved a first place overall result, placing first in Autocross, fifth in drag, and second in concours judging.
This competition season started with the team's return from the 2019 Challenge. Having placed third in the E28's second rotation, and second in its first, the team set its sights on a new project with lofty engineering goals and technical challenges. The team decided that the next competition car they field would be a Chevy S10 pickup-based racecar with a mid engine powertrain and pushrod suspension designed and fabricated completely in house. Shortly after beginning work on the S10, however, campus was shut down and the competition season came into question. Attending the 2020 GRM $2000 Challenge at all was a hurdle for the team, requiring that competition attendance be heavily limited and all attending members receive Covid testing before and after the competition.
After losing about 5 months of prime competition season build time while campus was closed, the team returned to the Student Competition Center with limited capacity and increased safety protocols to prevent the spread of Covid-19. Knowing the S10 may not be able to reach a competition-ready state, Wreck Racing called an audible two weeks before competition. Plan B was to create the ultimate form of the previous comp car: the 1986 BMW 528e with GM 5.3L V8 and 106mm Caterpillar Turbo.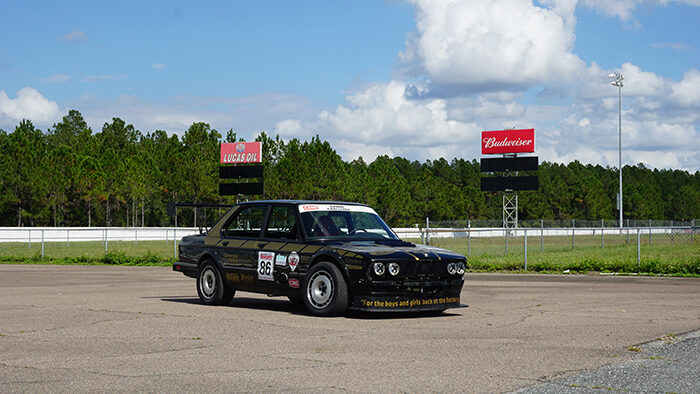 The BMW to date had performed quite well in competition, but each time the team had come home feeling that the smallest changes could have yielded much greater results. Key changes that needed to occur for the car's last season were improvements to the car's braking balance in corners and optimizing the car's turbocharged V8 through fuel system, engine tune, and engine sensor improvements.
Other final changes include the addition of a new aero kit, complete with rear wing, front splitter, and air dam. This kit was made using a discarded airfoil from a sponsor, plastic and aluminum sheet from signs collected from the wreckage of Georgia Tech's old Student Center, and wood that had previously been on its way to the Student Competition Center dumpster. Using a 3D scan of the car reconstructed from photos taken with speckled chalk paint, the team used CFD analysis to confirm that the changes made increase rear downforce and reduce drag up front.
The team brought the car down to Florida this year feeling like they may have finally done the car the justice it deserves, hopeful its performance would match expectations. A new challenge presented by this year's competition is that due to Covid-19 precautions, pro drivers would not be available to teams to set autocross times. During the first round of Autocross racing, lead engineer Lawson Sumner flew out of the gate and put down a time of 46.2s around the course, a time which would go on to be worthy of victory. Not to be outdone, however, Lawson laid down a time of 45.999s on his fifth run out of six possible, which would go on to be the winning time. Wreck Racing brought home first place in Autocross.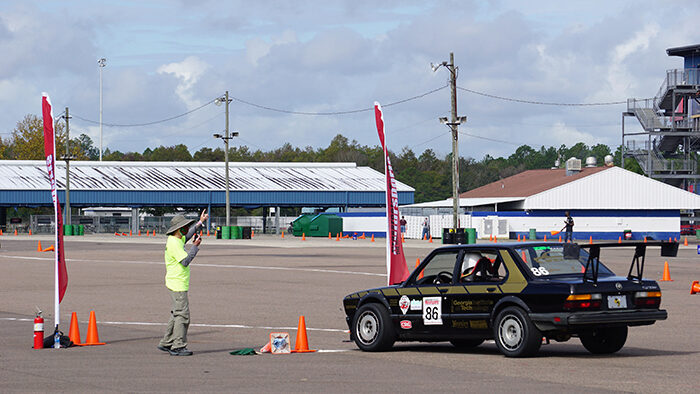 In drag racing, the car had underperformed expectations last year, and the team was hoping to make up some lost points in this category. Last year, the car's best time was a 13.6 second ¼ mile with a trap speed under 100 miles per hour. This year, the tuning and fueling corrections in higher RPMs gave the E28 the boost it needed, sending the car down the quarter mile in 12.600s with a blistering trap speed of 121 miles per hour. This time was enough to help Wreck Racing rise up the drag leaderboards to fifth place.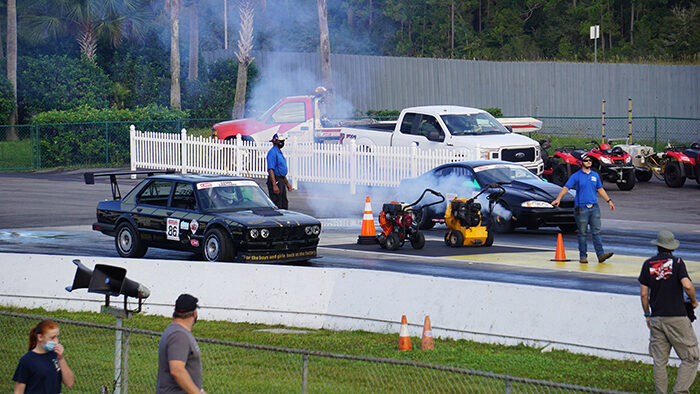 Concours judging proceeded the drag event, where the team was judged to place second, behind a full tube chassis Datsun Roadster powered by a Honda motorcycle engine. All said and done, the BMW's performance in these three events added up to enough for Wreck Racing to bring home first overall in the 2020 Grassroots Motorsports $2000 Challenge.