Whiteman Selected for Zeigler Outstanding Educator Award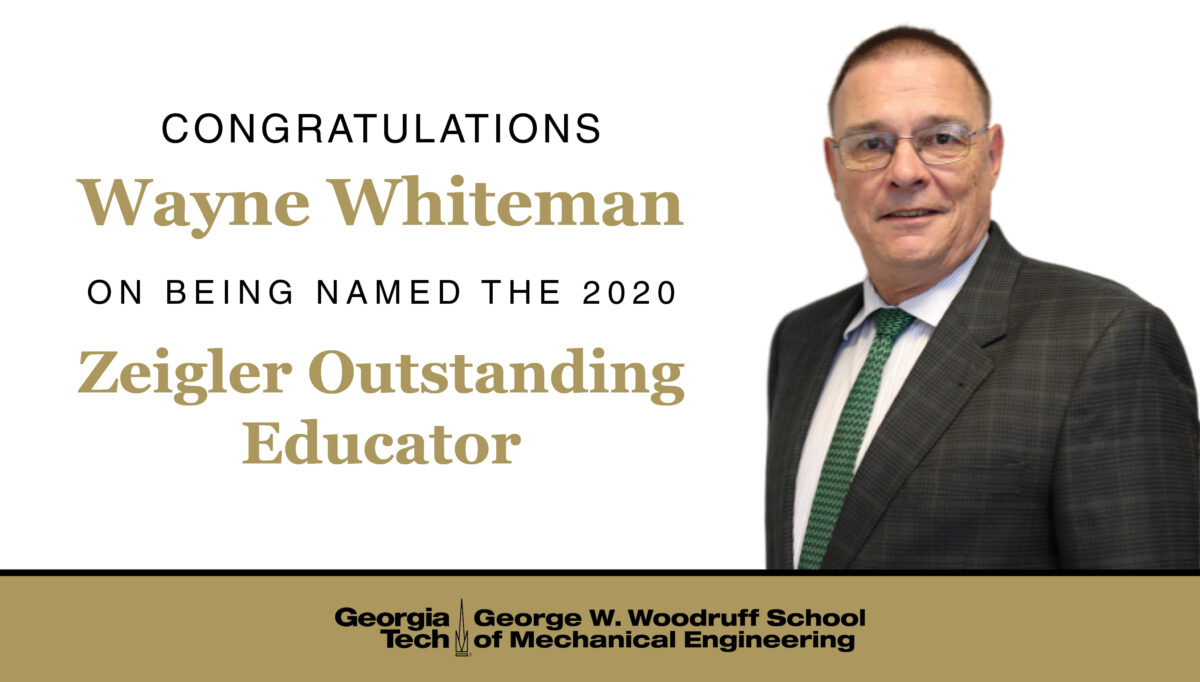 Wayne Whiteman has been selected by his peers in the Woodruff School to receive the Zeigler Outstanding Educator Award and will deliver the Jack Zeigler Outstanding Educator Lecture during the upcoming academic year.
Whiteman directs the Office of Student Services in the Woodruff School and works closely with both the undergraduate and graduate programs in mechanical engineering. In addition to his administrative responsibilities, he enjoys teaching and working in the field of engineering education, including serving as a thesis advisor for many masters students. Whiteman also offers several engineering courses online through the Coursera.org platform.
Wayne Whiteman joined Georgia Tech after serving as an assistant, associate, and full professor at the United States Military Academy at West Point, New York. He retired from military service in 2003 after 24 years of service as an officer in the Corps of Engineers at the rank of Colonel. His military field assignments culminated in his command of the 577th Engineering Battalion at Fort Leonard Wood, Missouri.
Zeigler Outstanding Educator Award
The Jack M. Zeigler (BME 1948) Woodruff Outstanding Educator Award was created in 1999 to recognize an outstanding educator among the academic faculty of the George W. Woodruff School of Mechanical Engineering at Georgia Tech. This is a lifetime achievement award that a person can receive one time. The winner is announced at an annual spring School event and receives $5,000 in discretionary funds to use for professional development items such as travel, computers, and support of students. The winner is invited to deliver the Jack Zeigler Outstanding Educator Lecture at an assembly of the Woodruff School. The winner is selected by a committee appointed by the Woodruff School Faculty Advisory Committee.
Award Winners:
1999 William Z. Black
2000 Said I. Abedel-Khalik
2001 Farrokh Mistree
2002 Robert Fulton (deceased February 2004)
2003 James G. Hartley
2004 David L. McDowell
2006 Robert M. Nerem
2007 Jonathan S. Colton
2009 David N. Ku
2010 Aldo A. Ferri
2011 G. Paul Neitzel
2012 Srinivis Garimella
2013 Bill Singhose
2015 Thomas Kurfess
2017 Marc K. Smith
2019 Suresh Sitarama
2020 Wayne Whiteman