Top VIP Prizes go to ME-led Teams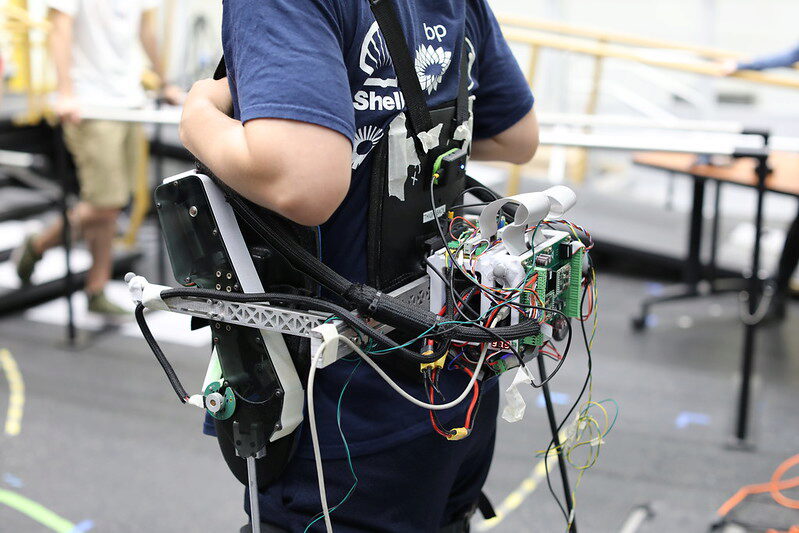 Teams led by assistant professor Aaron Young and assistant professor W. Hong Yeo from the George W. Woodruff School of Mechanical Engineering earned three awards at the recent Georgia Tech VIP Innovation Competition.
The Vertically Integrated Projects (VIP) program is a transformative approach to enhancing higher education by engaging undergraduate and graduate students in ambitious, long-term, large-scale, multidisciplinary project teams that are led by faculty. The Innovation Competition is an annual competition among the 70 VIP teams that asks them to submit a video explaining their projects . It must explain what they are doing in jargon-free language, highlight why the research is novel, discuss the potential impact, and examine risks, challenges, and costs.
The Smart and Connected Bioelectronics team, directed by W. Hong Yeo, took home first place in the Science/Bio/Energy track for their project focusing on creating a wireless, implantable device that detects restenosis in real-time (watch the video).
The Robotic Human Augmentation team, led by Aaron Young, won first place in the Robotics track and was voted Best Overall Project (watch the video). Their video showcased the prosthetic devices being developed in Young's EPIC lab, which focus on health and safety, rehabilitation, and mobility. While the team is led by Young and housed in mechanical engineering, the students come from a range of majors including electrical and computer engineering, computer science, and biomedical engineering in addition to mechanical engineering. The interdisciplinary nature of the work is what draws many students to it, along with the chance to develop leadership skills and work on real-world problems in a lab setting.
"The VIP program is appealing to me because it is very simple to join a research team, and you get plenty of real-world experience working on an interdisciplinary team to solve actual design challenges" said Ian Cullen, who has been working on the mechanical design of an knee-ankle prothesis while also processing motion capture data the team is collecting. "I've learned a lot from this program that I wouldn't have learned from just my classes, such as prototyping and design iteration."
Jonathan Camargo, one of the Ph.D graduate student mentors for Young's team, sees the program as a way to get valuable teaching experience.
"I have a strong passion for teaching, and I like to motivate the students to learn and solve problems in a creative way. My role for the VIP team is centered in that mentoring process were I help to bridge some gaps of technical and scientific knowledge for the students and together we  work to discuss and implement solutions for problems that are usually challenging, yet very exciting."
16 faculty members from the Woodruff School are currently advising VIP teams:
Students interested in joining a VIP team are encouraged to reach out to the advisors.