Student Spotlight: Ajay Sukhwani
November 30, 2020 | By Angel Garcia

In the first of a series of student profiles, student assistant Angel Garcia talks to third year mechanical engineering student Ajay Sukhwani who has been busy taking advantage of all that Georgia Tech has to offer since he has arrived on campus in 2018.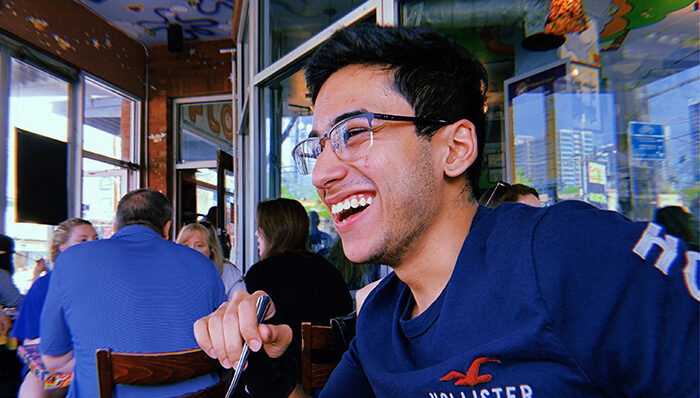 Where are you from?
I'm from Miami, Florida. Culturally speaking, my dad's side is Indian and my mom's side is half Pakistani and half Cuban.
What made you choose Georgia Tech?
The short answer is I chose Tech because I felt like Tech was a school where they cared about seeing you as an individual succeed, and put a lot of effort into providing opportunities for undergraduate students. The long answer is that I made a matrix where I ranked every factor that I cared about, scaled the factors by importance, and Tech ended up winning by three points on a 500 point scale.
What got you interested in mechanical engineering?
I've pretty much been set on mechanical engineering since I was in the seventh grade. I joined my middle school robotics club and was hooked from that point on. I've always been interested in making things- especially things that move.
How do you think your background has affected you as a student?
Culturally, I've always liked experiencing new things, and I think Georgia Tech has really allowed me to learn more about Asian cultures in ways I couldn't back home. From an engineering standpoint, I think my involvement in robotics from high school definitely helped.
What hobbies do you have?
I enjoy nature and exploring in general, so I like to check out different spots in and around Atlanta when I can. I also like reading, working out, playing tennis and cooking. 
What clubs or after-school activities have you taken part in, and what has your experience with them been like?
I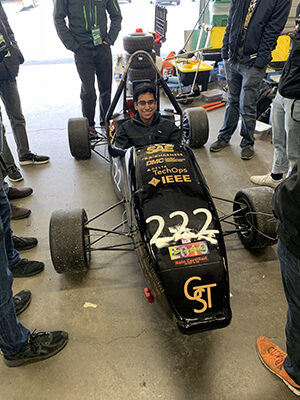 'm primarily involved in HyTech Racing, the school's all electric FSAE race team. My experience has been great so far. I'll talk about it more later on. I also give tours of the School of Mechanical Engineering as an ME Ambassador, which I enjoy a lot. I get to interact with prospective students and give them genuine insights into Tech. I've even seen a few of them the following year on campus.
Describe your experience with being a part of the Grand Challenges Living Learning Community.
Grand Challenges was a lot of fun, and I'd recommend anyone considering it to join. I knew I wanted to go to a school where I could turn any of my ideas into a reality, and that's exactly what Grand Challenges is about. Aside from having funding and guidance to develop our own solution to a major problem, the community itself was very close, and many of my closest friends at Tech came from the program. Plus we got free trips, swag, food, and networking opportunities. I really can't think of any reason I wouldn't do it all over again.
How has being a part of HyTech racing affected you and your engineering career?
HyTech has allowed me to test my engineering skills and learn in a practical environment. We're constantly applying what we learn in class, and it's helped me to appreciate everything that you do in the classroom, as well as connect the dots between traditional learning and real engineering. The first time I ever went to a professor's office hours was to ask about a problem we were having with determining some of the loads in our car. Aside from that classroom-real world connection, HyTech has taught me a lot about vehicles, work ethic, manufacturing, and engineering practices. It's given me plenty of technical and soft skills to discuss in interviews. I'd say that 80% of what I talk about during an interview has had to do with HyTech, and I don't think I'd be where I am today without the team. Aside from all those benefits, HyTech has also given me a place to meet people and just dedicate my time in general. I've developed many good friendships through the team, and been able to interact with people I never would have met otherwise.
What stands out from your past time with HyTech racing?
Our first competition and the prep for it was definitely an experience I won't forget. I remember finishing my last final, saying bye to my friends, and heading to the shop to finish up the car. I had spent 60 hours working on the car, and got about six hours of sleep during that time. Competition, thankfully, went much more smoothly, and we ended up winning first.
In your time being a student here what unique opportunities have you gained from being a student at Tech?
HyTech, Grand Challenges, the research that I've been a part of are all things I wouldn't have done otherwise. Study abroad was also a huge factor in my decision to come here, and Georgia Tech Lorraine in France was an experience that I absolutely loved. All the people that I've met have been incredibly kind, interesting, and motivated, which is something I wasn't used to. There are constantly friends interested in registering for a hackathon or competition, launching a company or just creating some idea at the Invention Studio. I guess I never realized what it meant to truly be able to do whatever you wanted until I got to Tech. I know the whole "we can do that" slogan is a bit corny, but it really is true.
What has it been like to intern for Toyota?
Toyota has been a great experience so far. I'm working with the Ride and Handling team in their R&D department, and it was a dream come true. I never expected to get my dream internship right off the bat, but I'm definitely glad things worked out the way they did.
Was there anything unexpected about your remote internship?
I didn't expect it to be remote. Doing an internship remotely has been challenging, but I've made the most of it. I've still been able to learn a lot and gain plenty of experience.
What were your initial impressions of studying abroad at Georgia Tech Lorraine?
Georgia Tech Lorraine was probably the best summer of my life (so far). The classes and professors were great, I got to do research, and I traveled across Europe. France itself wasn't necessarily my favorite country of the ones I visited, but the GTL experience in general was great, and I loved all the places I traveled to. I highly recommend the program to anyone.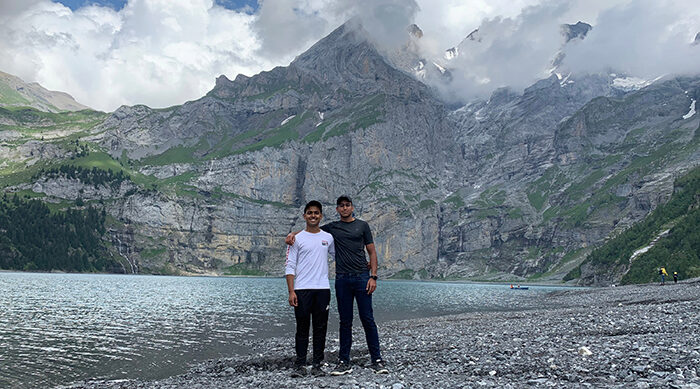 Ajay in Kanderstag, Switzerland

Ajay at the French Open
 
What's one fun fact about yourself?
One fun fact about me is that I once visited five countries in seven days.
What advice would you give to people who are looking to get into mechanical engineering?
I would recommend getting involved with something hands on at school or just start designing and creating solutions to problems around your house. Learning a bit of code doesn't hurt either.
What challenges have you faced in your time here?
Getting used to college in general has been difficult. The freedom in my schedule makes it much harder to get up on time, and I've found myself lying in bed until the afternoon fairly often. There are also so many things to do on campus, and you want to do it all, but don't have nearly enough time, so you have to maximize your time.
In your opinion what is the best thing about mechanical engineering?
My favorite thing about mechanical engineering is how much you can do with the degree. Mechanical engineers go into so many different fields- I think it gives you the confidence to know that you're capable of doing pretty much whatever you want. I find some majors to seem limiting, but ME gives the opposite effect. It was definitely the right choice for me.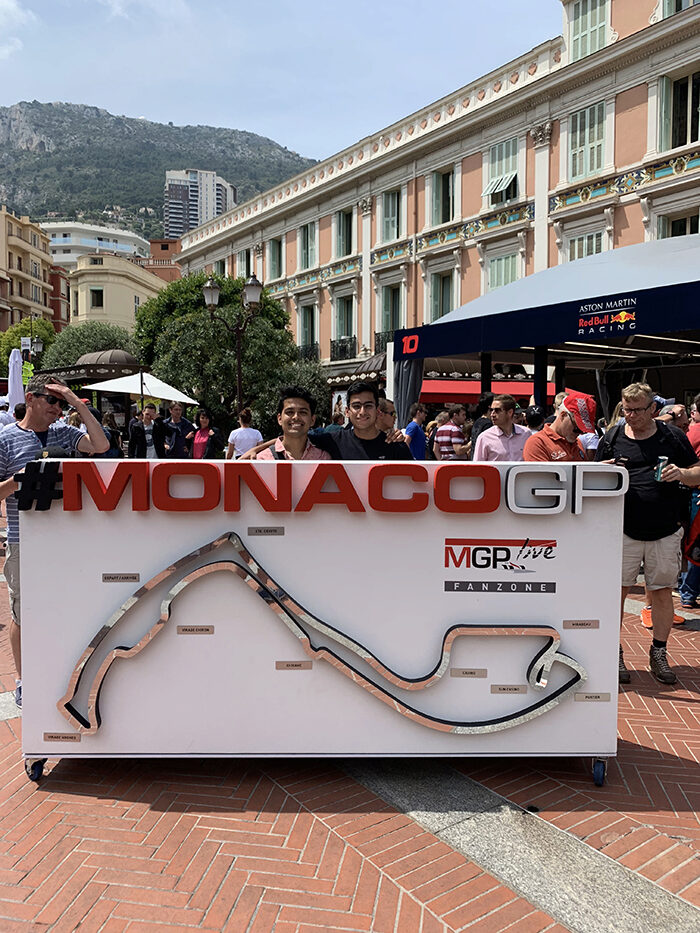 Ajay at the Monaco Grand Prix