Pucha to Receive GT CETL Award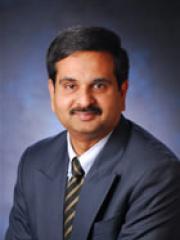 Raghuram Pucha has been selected by the Georgia Tech Center for the Enhancement of Teaching & Learning (CETL) awards committee to be a recipient of this year's Geoffrey G. Eichholz Faculty Teaching Award. This annual award recognizes faculty who provide outstanding teaching to students in core and general education undergraduate courses.
Established in 2005 through a gift from School of Mechanical Engineering Regents' Professor Emeritus Geoffrey Eichholz, the award was created to reward senior faculty members who had made a long-term contribution to introductory undergraduate education and were outstanding teachers for students taking freshman and sophomore core courses.  Recently the award has broadened to recognize faculty at any point in their careers who excel in teaching core and general education courses and who help students establish a solid foundation for their education at Georgia Tech.
Pucha will be recognized for this honor at the 2015 Faculty and Staff Awards Luncheon on April 17.