Montgomery Machining Mall Opens for Business
When people enter the second floor entrance of the Manufacturing Related Disciplines Complex, they see the heart of the George W. Woodruff School of Mechanical Engineering and its latest pride and joy – the newly opened Montgomery Machining Mall.
Considered the largest machining facility on campus, the Montgomery Machining Mall has been in full operation, cranking out parts for Capstone senior design projects, faculty research, and everything in between, since its official opening on March 30, 2016.
The creation of the Montgomery Machining Mall is the largest renovation project the MRDC building has undergone since its opening in 1995.  The Montgomery Machining Mall is a first big step that the Woodruff School has taken to tackle its biggest current issue – the absence of much needed space. 
It seems only fitting that the largest mechanical engineering program in the U.S. would have one of the best machine shops around.  Unfortunately, this wasn't the case until Larry Montgomery III visited the Woodruff School last fall.
Mr. Montgomery graduated from Georgia Tech with a bachelor's degree in mechanical engineering in 1978.  He continued on to Emory University earning a MBA in 1981 and began a long and highly impressive career at Kimberly-Clark Corporation that same year.
Looking back, Mr. Montgomery recalled wanting to go to Georgia Tech to acquire a hands-on engineering education.  He earned his ME degree with much hard work and dedication, but admits that he was surprised and disappointed as an incoming freshman when he saw the campus machine shop for the first time.
"I searched for a machine shop and finally found one on the first floor of the Coon Building.  The machines appeared to be government surplus.  I was sure they were state of the art when they were surplused after the war - That would be the First World War.  In the five years it took me to earn my four-year degree, I never saw anyone use that shop", said Mr. Montgomery.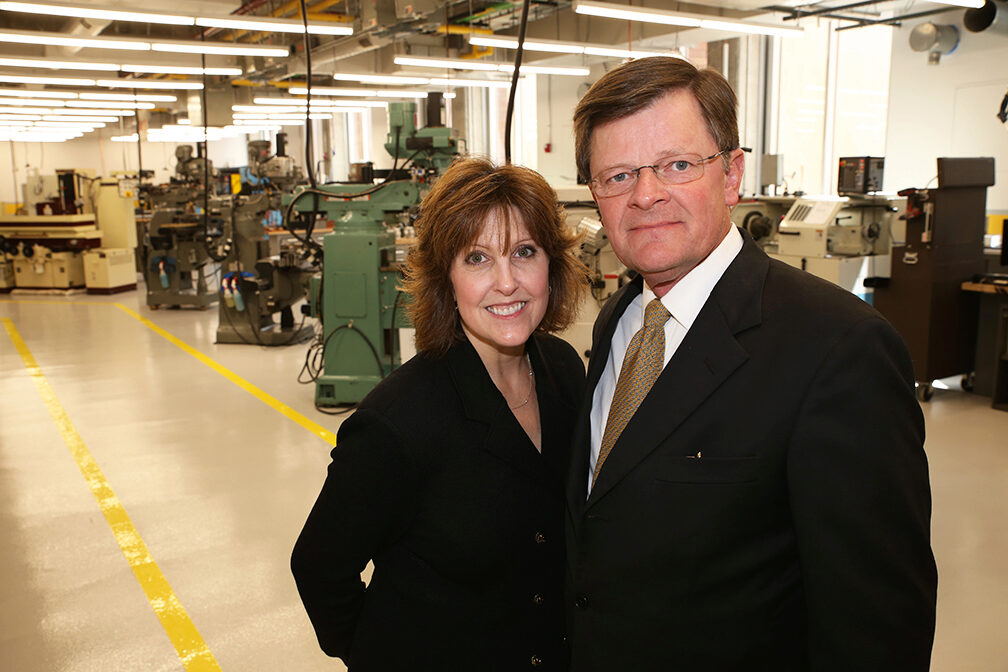 In the fall of 2015, nearly 40 years after he graduated from Tech, Mr. Montgomery found himself touring the Woodruff School facilities with school chair Dr. Bill Wepfer.  He was delighted to discover that the Woodruff School had re-designed its undergraduate curriculum, which now allows for a more hands-on education.  Today, both ME graduate and undergraduate students are able to use machine tools for projects.  During any given semester, the Woodruff School's machine shop is busy with students manufacturing parts – often for senior Capstone design projects.
Although the Woodruff School's machine shop was bustling with students and a highly talented staff, improvements were still needed.  The tools no longer were out of date this time (the surplus WWI equipment has long been gone); instead, more space was needed.  The shop was bursting at its seams.  Some of the equipment had to be placed in labs further down the hall.  Naturally, this was a safety concern because the shop staff could not monitor the entire facility at one time.  In addition, the shop needed to be a more inviting, up-to-date facility to which students would be more easily drawn. 
After his visit, Mr. Montgomery offered that his Montgomery Family Foundation could financially assist the Woodruff School in its need for an improved machining facility.  The Woodruff School administration teamed with Georgia Tech's Architect Bill Oswell and developed a plan to repurpose an existing hallway and adjoining rooms to create one large, open machining facility. 
Construction began before the conclusion of the 2015 fall semester.  Many interior walls were knocked out, the large corridor space was integrated into the overall design, and a 6,717 square foot workspace began to take form.  A heavy-duty non-skid floor was poured and new LED lighting was installed.  With a great Georgia Tech-themed paint scheme, the renovated facility now has the look and feel of a NASCAR shop.  The equipment such as lathes, drill presses, CNC milling machines, etc. were then moved back in, however, this time the blessing of space allowed for the tools to be strategically placed in a manner for most efficient workflow.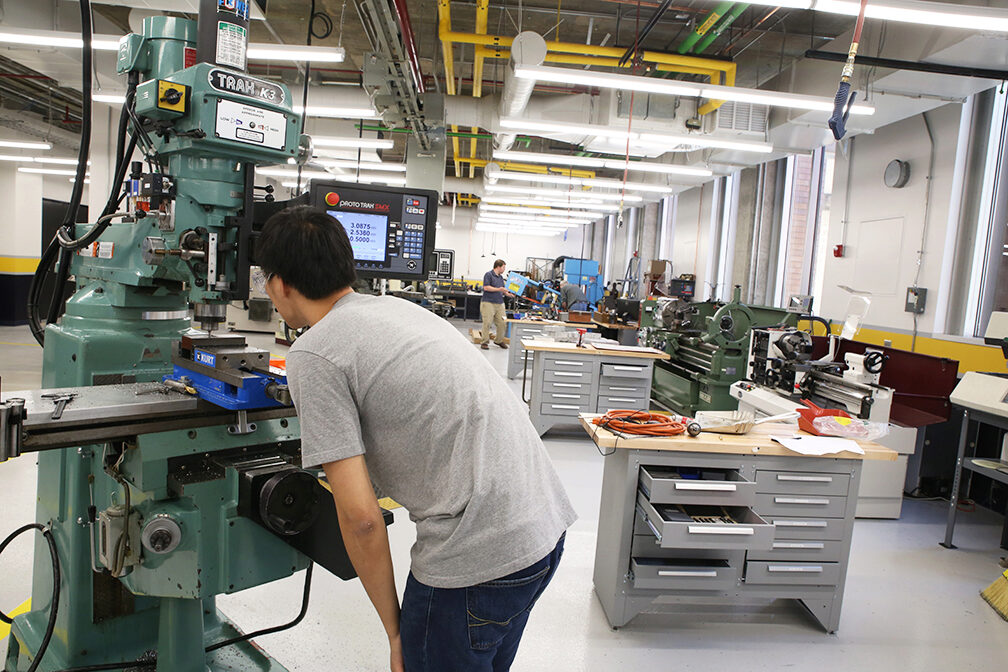 The Woodruff School has named this state of the art facility the Montgomery Machining Mall in honor of the Montgomery Family who made this project possible.  Students now have a greater opportunity than ever before to get hands-on experience with these machines and build their designs.  This supports the Woodruff School's mission to develop well-balanced engineers who have technical know-how but who can build things too.
Whether for a course project, to support their involvement in competition teams, or even just to have fun, students use these machine tools to stretch their creativity and to better appreciate the manufacturing processes.  These skills are critical for modern product design and innovation.  Mr. Montgomery's generosity and vision have simply allowed the Woodruff School to take the experience it gives to its students to the next level.
Before and after photos can be found here: https://www.flickr.com/photos/megeorgiatech/albums/72157667626168140
Photos of the dedication ceremony can be found here: https://www.flickr.com/photos/megeorgiatech/albums/72157666108892400
Photos and story by: Candler Hobbs