Georgia Tech and Seoul National University Establish Joint Ph.D. Degree
The George W. Woodruff School of Mechanical Engineering at the Georgia Institute of Technology is proud to announce the establishment of a joint Doctor of Philosophy degree (pending final approval by SACSCOC) with Seoul National University, South Korea's premier academic institution.  This program will have participating students spend a minimum of one year abroad at their host institutions conducting research under the direction of their co-advisors; students may begin the program with either SNU or Georgia Tech as their home institution.  Application to the program will be from students who are in-resident each year in the mechanical engineering doctoral program at either institution.  Much of the coursework will be taken at the home institution, although the classes at SNU that are part of the program are taught in English and so are available to American students who lack knowledge of the Korean language.  Given that this is a Ph.D. program, the focus of students' work while abroad will be on their research.
Seoul National University traces its beginning to 1895 when the Korean Emperor established the first educational institutions that later, in 1946, became SNU.  Engineering was one of the first colleges created at that time as part of the university.  In parallel, Georgia Tech was chartered in 1885, opening its doors in 1888 with a single degree program—mechanical engineering.  SNU presently has more than 28,000 students with roughly 4,000 of them in doctoral programs and Georgia Tech has more than 21,000 students, nearly 3,400 of whom are pursuing the Ph.D.  Both institutions are among the best-ranked in the world in the fields of engineering and technology. 
Signing of the final agreement estab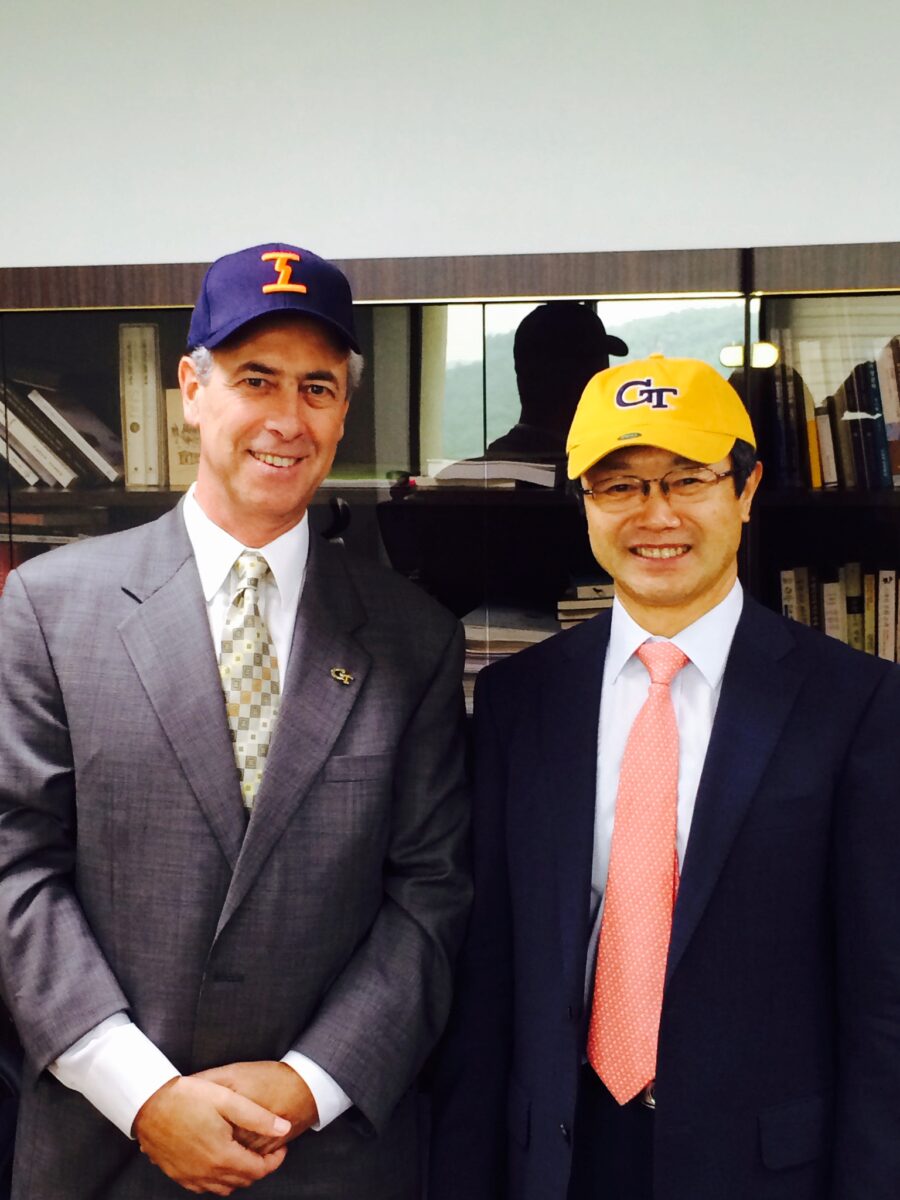 lishing the joint-doctoral program took place on Tuesday, June 17th in Seoul.  A delegation from Georgia Tech including Dr. Yves Berthelot, Vice Provost for International Initiatives, Dr. William Wepfer, Chair of the Woodruff School, and Dr. Paul Neitzel, Associate Chair for Graduate Studies, was present for the signing.
Dr. Neitzel, along with Dr. Min Zhou, Woodruff School professor and former World Class University Professor at SNU, led the efforts to establish this program.  Dr. Neitzel commented that, "This new joint doctoral program will give Georgia Tech students exciting opportunities to expand their global citizenship as well as allow our faculty to forge new research relationships with counterparts at one of the technological giants of the Pacific rim."  The State of Georgia has expanded its relationship with the Republic of Korea in recent years with the location of a Kia assembly plant in West Point and the location of the Atlanta office of the Korea Institute for the Advancement of Technology on the Georgia Tech campus.
Along with the recently established joint Master of Science program at the University of Stuttgart, the Woodruff School of Mechanical Engineering now has footholds in both Europe and Asia.  These globalization efforts are in line with Georgia Tech's strategic plan goal to "expand Georgia Tech's global footprint and influence."