Creating the Next in Robotics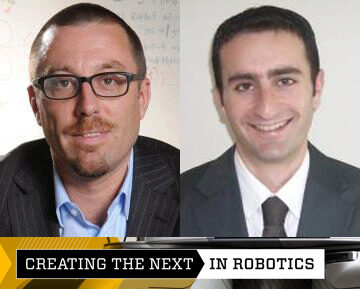 In his lab, Magnus Egerstedt oversees swarms of robots, developing algorithms that allow them to work together. He does nearly the same thing outside his lab.
As director of the Institute for Robotics and Intelligent Machines (IRIM), Egerstedt oversees swarms of researchers. More than 75 from five Georgia Tech colleges and the Georgia Tech Research Institute collaborate on projects that have attracted approximately $32 million in sponsored research. Together, they partner with industry and government to pursue transformative robotics research.
Institute for Robotics and Intelligent Machines
From autonomy, to human augmentation, to collaborative robotics, Egerstedt and his interdisciplinary peers also educate the next generation of experts. There are more than 200 students in IRIM. 
Below are three examples of how IRIM is creating the next in robotics.
Jonathan Rogers is building machines that will change the monotony of agriculture. Jaydev Desai is creating medical robotic devices to aid in surgery and breast cancer diagnoses.
And then there's the leader, who doubles these days as an interior designer. Egerstedt, a professor in the School of Electrical and Computer Engineering, is managing a National Science Foundation-funded project that will allow roboticists around the world to run experiments at Georgia Tech — without ever stepping foot on campus.
It's called the Robotarium.
The Future of Farming
There is a four-acre soybean test field outside Athens, Georgia, where University of Georgia plant genetics researchers roam back and forth every summer. They scribble detailed notes and make daily observations as different breeds of soybeans grow in the July sun. As they plod up and down the rows, they measure crop growth and gauge leaf wilting, among other things, trying to correlate phenotypes with desirable drought tolerance properties to help ensure the future of farming. It's repetitive, monotonous, and very hot.
This summer, Georgia Tech researchers will join them to bring the future a little closer. George W. Woodruff School of Mechanical Engineering's Jonathan Rogers and GTRI Senior Research Engineer Ai-Ping Hu will use the field of robotics to create a field of robots. Their team is building machines that will hang over the crops, suspended by parallel guy-wires. The robots, fitted with cameras, will swing like gibbons along the cables, taking picture after picture of each plant. Down each row, then side to side, and back again, from one wire to another.
With Georgia Tech robots dangling over the field, UGA researchers will be able to get more frequent measurements and to avoid some laborious field work. Someday, they may be able to stay at their laptops miles away, in the air conditioning, scanning a steady stream of images and data sent back from the robots.
This is Tarzan.
Medical Robots for Surgery and Cancer
Jaydev P. Desai is on an island. And he's the sole resident! Among all the faculty members at Georgia Tech, Desai is the only person working in the area of surgical robotics.
Since coming to the Institute last fall from University of Maryland, College Park, Desai and his team of graduate students and a postdoctoral fellow have been working toward developing patient-specific, 3D-printed robots that are designed to allow physicians to do their jobs better.
For instance, two of his robots are for brain surgery. Currently, doctors can only operate within their line of sight. Desai's robots can be lowered into the brain, then sweep side to side or rotate to allow a full 360 degrees of rotation to enable a physician to operate out of the line of sight.
"By creating better, smarter and smaller patient-specific devices, we hope to decrease downtime in the operating room," said Desai, a professor in the Wallace H. Coulter Department of Biomedical Engineering. "More efficiency means shorter and less expensive hospital stays for patients."
Right now, the majority of Desai's projects are for adults. However since coming to Georgia Tech, he has also pioneered efforts in pediatric robotics, which is very challenging because what works for adult patients must be scaled down significantly to be applicable for kids and teenagers. But with outstanding partners at Emory University and Children's Healthcare of Atlanta, Desai knows he won't be on his island alone for long.
Recently, Desai gave a tour of his lab to demonstrate four current projects.
- Jason Maderer, Georgia Tech