ME teams Space Cadets and 6-MEgos Win 2018 Spring Capstone Design Expo ME Award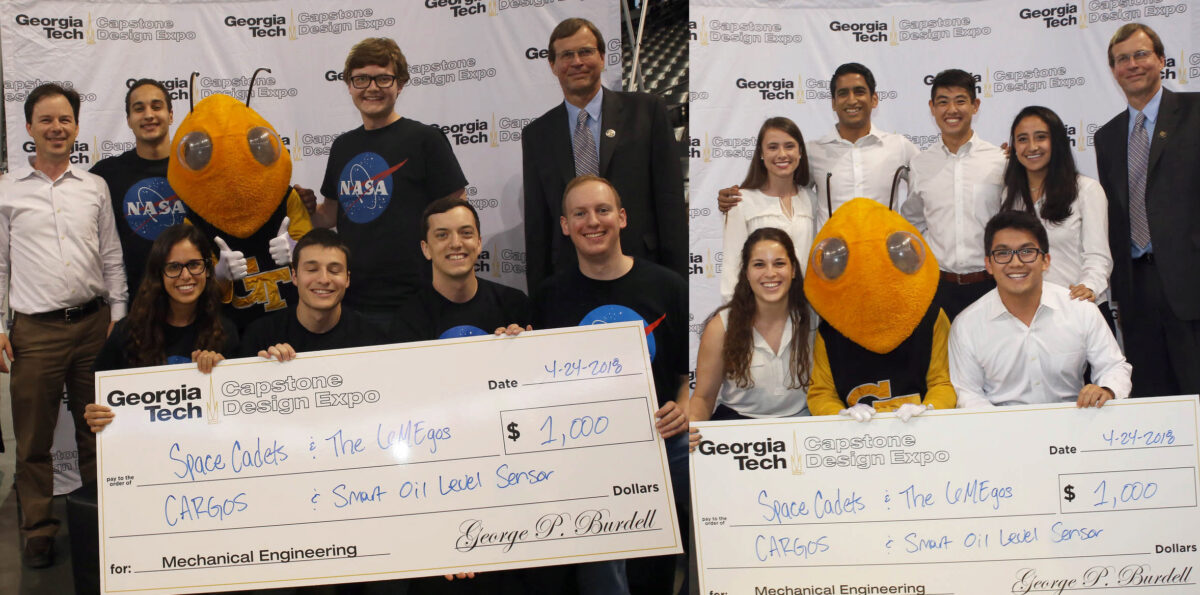 They came with their gadgets, their gizmos, and devices. They used algorithms, calculations, and scientific exercises. 
226 teams from a dozen schools in three colleges showcased their projects at the 2018 Spring Capstone Design Expo, hoping to take home an award, and four Woodruff School teams did just that! ME teams Space Cadet and 6-MEgos tied to win the Capstone Spring 2018 Best Overall ME Award , RadLaDs picked up the Best Overall NRE Award, and Señor Design won the Best Interdisciplinary Award. 
Team Space Cadets won with their project CARGOS. The Compact Active Response Gravity Offload System (CARGOS) stimulates reduced/zero gravity for tools being used for astronaut training and other applications and will replace NASA's current passive offloader.
Team The 6 MEgos designed a device that measures oil levels of GSE engines and relays the information to operators via dashboard alerts and to engineers and technicians via a mobile app. Their solution will eliminate the need for technicians to climb GSE vehicles to check oil levels, enabling airlines to optimize their technicians' maintenance schedules and prevent future damage to vehicles.
NRE team RadLaDs developed a robot capable of mapping physical and radiological characteristics of an unknown room. The Autonomous Radiation Characterization (ARC) will be able to send information to a phone application allowing users to receive live information on any threats.
Señor Design, comprised of students from mechanical engineering, biomedical engineering and material science engineering, took home the Interdisciplinary Award for the project AKIVA Repellent/Delivery Application Innovation, an affordable and effective method for LivVul's mosquito repellent AKIVA. The application would help reduce repellent waste and increase cost efficiency.
Capstone represents the culmination of months of work for the seniors who participated in the Senior Design course. For some students the projects could turn into stepping stones for launching startups. Several teams were presented with golden tickets, granting them entry into Georgia Tech's CREATE-X startup program. Others students used their projects to wow sponsors, earning them jobs, continued funding to follow up on their work, or in the very least, an important industry collaboration to put on their resume. 
For all teams, the night was a reminder of what Georgia Tech students can accomplish when they put their minds to something. 
For example, the winning ISyE team worked with FedEx to optimize their linehaul truck fleet. By the team's calculations, adopting their plan will save FedEx more than $200,000 per week. The award-winning civil engineering team discovered that by changing the lane striping at the I-285 and I-20 junction on the west side of Atlanta, bottlenecks can be eliminated and flow improved for miles in every direction, shaving up to 10 minutes off of commute times. Team pHAM, from materials science and engineering, developed a filter that reduces the acidity of coffee, thereby negating some of the negative effects of drinking it, such as acid reflux and enamel damage. The un-sponsored squad took home the People's Choice Award at this year's InVenture Prize competition and is working on commercializing their product. 
The team members who took home Capstone's best overall project award are hoping it opens some doors for them as they approach graduation and look for jobs. Team Kit Cath, made up of biomedical engineering majors Kathleen Jordan, Lemou Tieyam, Diana Yunda, and Alexa Schlein developed an adaptable catheter for their sponsors in the Interventional Radiology Department at Emory University Hospital Midtown. Inspired by a Slinky, the catheter tip can bend and adjust to the curves in a patient's vascular system, resulting in a snug fit and greatly reducing the amount of time radiologists have to spend adjusting catheters. It will also reduce the number of catheter exchanges, wasted product, procedure lengths, costs, and patient discomfort. Everyone on the team is interested in pursing careers in the medical device field.
Looking back on their experience, team member Alexa Schlein commented that there were plenty of ups and downs in the process, but overall they enjoyed it. 
"Prototyping is so much fun," said Schlein. "You get to build stuff that doesn't work and then figure out how to fix it. We were constantly fixing things. We had some terrible designs for the handle and it broke a lot. That was the biggest challenge."
Schlein also offered a lesson to next year's Capstone participants, and Georgia Tech students in general- "Never underestimate the amount of effort you're going to need to put into something. We scrambled right up until the end, and even though we were happy with the outcome we know we could have come up with a better prototype if we put in more effort earlier on."
Kathleen Jordan, BME,  Newport News, VA

Lemou Tieyam, BME, Yaoundé, Cameroon

Diana Yunda, BME, Cali, Colombia

Alexa Schlein, BME, Pittsburgh, PA
Mitchell Becker. AE. Louisville, KY

Azizul Asif, AE, Athens, GA

Chana Kim, AE, Montgomery, AL
Julie Pierides, CM, Franklin Square, NY

Maria Pastorelli, ARCH, Sao Paulo, Brazil

Clay Kiningham, ARCH, Atlanta
Erika Plogstedt, BME, Orlando, FL

Kylee McLain, BME, River Falls, WI

Cecille Canary, BME, Versailles, KY

Cristina Quintero, BME, Richmond, TX
Alexandra Holderied, ChBE, Alpharetta
Blane Solomon, CE, Johns Creek, GA

Alexandria Hare, CE, Antioch, IL

Ramiro Santaba, CE, Guaynabo, PR

James Pofahl, CE, Greenville, NC
Julian Rosker, EE, Falls Church, VA

Ahmed Elsabbagh, EE, Dubai

Anthony Genutis, EE, Warner Robins, Georgia

Andrew Renuart, EE, Haines City, Florida

Zachary Lasater, EE, Perry, Georgia
Janet Tanzy, ID, Sandy Springs, GA

Junho Yoo, ME, Korea

Mackenzie Norfolk, ME, Cumming, GA

David Carlock, ME, Atlanta, GA

Isabel Newsome, ID, Decatur, GA
Raghav Garg, ISyE, New Delhi, India

Shuhao Fan, ISyE, Xi'An, China

Ziwei Miao, ISyE, Beijing, China

Catherine Burns, ISyE, Richmond, VA

Grant Herman, ISyE, Peachtree City, GA

Soheil Faghihi, ISyE, Cumming, GA

Alexander Wandrick, ISyE, Alpharetta, GA
Patrick Brown, ME, Savannah, GA

Jeffrey Mcmichael, ME, Atlanta,GA

Andrea Ojeda, ME, Atlanta, GA

Matthew Mandel, ME, Morristown, NJ

Jonah Burgin, ME, Atlanta

Yousef Emam, ME, Atlanta
Jacob Jacob, ME, St. Louis, MO

Steven Maa, ME, West Windsor, NJ

Rayna Berinhout, ME, Alpharetta, GA

Amber Fleeman, ME, Dacula, GA

David Tsui Chang, ME, San José, Costa Rica

Laura Segura, ME, Weston, FL
Michele Lauto, MSE, Santa Monica, CA

Aaron Stansell, MSE, Homewood, AL

Luke Votaw, MSE, Herndon, VA

Tyler Quill, MSE, Grayson, GA

Frederick Gray, MSE, Delmar, NY
Michael Reilly, NRE, Slidell, LA

Yousef Alaee, NRE, Atlanta

Maxwell Tarasewicz, NRE, Lisle, IL

David Raji, NRE, Roswell, GA

Luis Cortés Arriola, NRE, Pueblo Nuevo, GTO, Mexico

Kyle Harper, NRE, Keller, Tx

Steven Alonso, NRE, Babylon, NY

Steven Hendry, NRE, Atlanta
Charles Lucas, PUBP, Atlanta, GA

Victoria Inman, PUBP, Sugar Hill, GA

Victoria Doris, PUBP, Newnan

Sarah Saltiel, PUBP, Lawrenceville, GA
Kiran Rao, ME, Marietta, GA

Ashley Fleck, BME, Stockbridge, GA

Spencer Tyson, ME, Chanhassen, MN

Jacob Sills, MSE, Scottsdale, AZ

Sommy Khalaj, ME,  Atlanta, GA

Robert Griffith, BME, Augusta, GA
Photo Gallery