ME 2110 Competition Results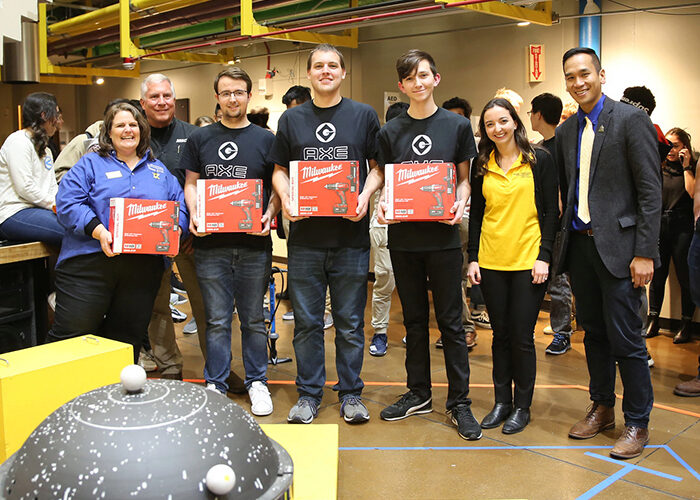 In ME 2110 (Creative Decisions and Design) teams work together to build a mechatronic device that can accomplish a list of tasks. This semester they had to clear wooden blocks, plant Nerf bullets on the side of a rotating target, and place a magnetic ball on the top of the target, all in a set period of time. Based on the Despicable Me movies, the "shrink ray" competition inspired many teams to dress in costumes centered around the movies. 48 teams showcased their projects to judges in the design competition, justifying their design decisions, before going head-to-head-to-head-to-head in a competition to find out which project would perform the best. In the end Team AXE proved to be victorioous in both competitions- a rare feat. 
Travis Rogers from sponsor MSC came away impressed. "This was my first year coming here for this event," he said. "Most of my family are Tech people, so it was great to be here. What these students are doing is fantastic. The students are so creative with their projects, and everyone is excited. Students have friends and family here watching- it's great to see how supportive they are of each other."
Watch the final round of the competition:
Do you know someone who competed in the event? They're probably in the photo gallery.
Here are the results of the competition, held on Friday, November 15:

Competition
First Place
Team Name: AXE
Students: Andrew Williams, Alexander (Xander) Sahin, Evan Burke
Section: B
Instructor: Kristi Mehaffey
TA: Zoe Klesmith
Second Place
Team Name: MJ2
Students: Max Schureck, Mia Schwartz, James Thompson, Jesse Zhao
Section: I
Instructor: Dr. Richard Cowan
TA: Caroline Massey
Third Place
Team Name: Dino-Mite
Students: GaYeon Choi, Arjun Khadse, Brian Feldman, Allen Zhou
Section: M
Instructor: Dr. Hassan Rashidi
TA: Nathan DeVol
Design Review
Team Name: AXE
Students: Andrew Williams, Alexander (Xander) Sahin, Evan Burke
Section: B
Instructor: Kristi Mehaffey
TA: Zoe Klesmith
Second Place
Team Name: Rover One
Students: Jaime Paris, Davis Waln, Simon Yang, Christophe Senghor
Section: G
Instructor: Dr. Christopher Saldana
TA: Patrick Jung
Third Place
Team Name: Direction Magnitude
Students: Nischal Bandi, Dustin Coha, Will Compton, Thomas Kim
Section: D
Instructor: Dr. Christopher James Adams
TA: Ana Schauer