Education
Ph.D., University of South Carolina, 1985
M.S., University of South Carolina, 1981
B.S., University of North Carolina, Charlotte, 1979
Research Areas and Descriptors
Background
Dr. Ume began at Tech in 1985 as an Assistant Professor.
Research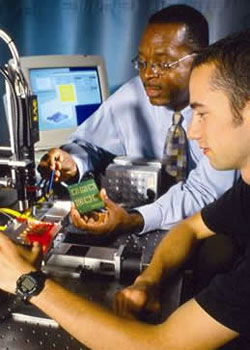 Dr. Ume's research interests include: mechatronics, laser ultrasonics, quality evaluation of robotic welding, quality assessment of microelectronic and electronic packaging, flexible electronics and medical device manufacturing and quality testing.
Intelligent Mechatronics: This involves developing smart products, intelligent machines and systems for real-time control of manufacturing processes.
Thermo-mechanical Reliability of Microelectronic and ElectronicPackagingDevices/Systems: This involves: (1) the adaptation of shadow, projection and digital fringe projection (DFP) moiré techniques for evaluating the flatness (warpage) of printed wiring boards (PWBs), PWB assemblies and chip packages experiencing various temperature loadings (sub-zero to elevated temperatures). This research also involves signal processing and finite element modeling of the warpage of PWBs, PWB assemblies and chip packages; and (2) developing an  intelligent system and signal processing methods for evaluating the quality of solder bumps in chip packages after solder reflow process. Laser ultrasound is used to irradiate the chip surface while laser interferometer is used to measure surface displacement of the chip. This research also involves the modeling of the effects of defects on the vibration signature of chip packages subjected to pulsed laser irradiation. Research sponsors include: Motorola, Visteon, AT&T, Lucent Technologies, Ford, Wright Patterson Air Force Base, DARPA, MCM-D Consortium, Siemens, IBM, Army Aviation & Missile Command, DOE, Intel, CISCO and NSF.
Laser processing: This involves developing and modeling of different techniques for generating ultrasound in different materials using a single laser beam or an array of laser beams. Laser ultrasonics as this technique is called is combined with an electromagnetic acoustic transducer or interferometric sensor to: (1) monitor and control the quality of robotic welding process in real-time, and (2) non-destructive evaluation of defects in materials. Research sponsors include: NSF, Navy, DOE and Toyota.
Dr. Ume has a track record of spinning off a successful commercial enterprise venture from one of his research projects. He has a couple of other research projects he plans to spin-off as commercial enterprise ventures. The students who work in these research projects will play vital roles in transferring these technologies to industry. Dr. Ume's research projects are applied and multidisciplinary in nature, and his research results impact the quality and reliability of manufactured products.
Links
Distinctions
American Society of Mechanical Engineers
Electronics and Photonic Packaging Division(EPPD) Excellence in Mechanics Award, 2010
Electronic and Photonic Packaging Division Executive Committee Chair, 2008-2009
Fellow, 2003
Electronics and Photonic Packaging Division Program Chair, 2000-2001
Journal of Electronic PackagingBest Paper of the Year Award, 1997
Journal of Electronic PackagingAssociate Editor, 1996-1999
Georgia Institute of Technology
GTRC 75th Anniversary Celebration, The Made in GA Award, in recognition for development of New Industry in the State of GA, 2011.
Advanced Technology Development Center Faculty Research Commercialization Award, 2000 and 2003
Outstanding Interdisciplinary Award, 2002
Institute of Electrical and Electronics Engineers
Transactions on Components and Packaging TechnologiesAssociate Technical Editor, 1999-2006, 2010-present
Components, Packaging and Manufacturing Technology Society Sustained Technical Contribution Award, 2005
Fellow, 2004
Sigma Xi (Georgia Tech Chapter)
Sustained Research Award, 2007
Outstanding Ph.D. Thesis Award (Advisor to Akio Kita), 2006
Outstanding Ph.D. Thesis Award (Advisor to Terry Sanderson), 1998
Best M.S. thesis (Advisor to Denigno Maqueira), 1987
Instrumentation, Systems, and Automation Society
Donald P. Eckman Education Award, 2002
E. G. Bailey Award, 1999
American Society for Engineering Education Robert G. Quinn Award, 2004
Nigerian National Order of Merit Award, 2003
Journal of Mechatronics
Co-Editor-in-Chief, 2001-2006
Regional Technical Editor, 1999-2001
7th Mechatronics Forum International Conference and Mechatronics Workshop General Chair, 2000
Patent
Methods and Systems for Detecting Defects in Welded Structures, U. S. Patent 8,297,122 B2 with Tsun-Yen Wu and Matthew Rogge, October 20, 2012.
Methods and Systems for Detecting Defects in Welded Structures Utilizing Pattern Matching, U. S. Patent 8,256,296 B2 with Renfu Li, Matthew Rogge, and Tsun-Yen Wu, September 4, 2012.
Methods and Systems for Classifying the Type and Severity of Defects in Welds, U. S. Patent 8,146,429 with Renfu Li, Matthew Rogge, and Tsun-Yen Wu, April 3, 2012.
Ultrasound Systems and Method for Measuring Weld Penetration Depth in Real Time and Off Line, U. S. Patent 7,762,136 with Akio Kita, July 27, 2010
Inspection Systems and Methods, U.S. Patent 7,492,449, with Lizheng Zheng, February 17, 2009
Object Inspection Method and System, U. S. Patent 6,747,268, June 8, 2004.
Method and Apparatus for Measuring Thermal Warpage Using Projection Moire, U. S. Patent 6,564,166, May 13, 2003
Representative Publications
Kita, Akio and Ume, I. Charles, "Measuring On-line and Off-line Noncontact Ultrasound Time of Flight Weld Penetration Depth," Welding Journal, Vol. 86, No. 1, January 2007, pp. 9 – 17.
Zhang, Lizheng, Ume, I. Charles, Gamalski, Juergen and Galuschki, Klaus-Peter "Study of Flip Chip Solder Joint Cracks under Temperature Cycling using a Laser Ultrasound Inspection System," IEEE Transactions on Components and Packaging Technologies, Vol. 32, No. 1, March 2009, PP 120 – 126.
Reinhard E. Powell and I. Charles Ume, "A Novel Projection Moiré System for Measuring PWBA Warpage Using Simulated Optimized Convective Reflow Process," ASME Journal of Electronic Packaging, Vol.131, No.2, PP. 02116-1 – 02116-6, April 2009.
Wei Tan, I. Charles Ume, Y. Hung, and C.F.J. Wu, "Effects of Warpage on Fatigue Reliability of Solder Bumps: Experimental and Analytical Studies," IEEE Transactions on Advanced Packaging, Vol. 33, No. 2, PP. 314-322, May 2010.
Tsun-Yen Wu and I. Charles Ume, "Fundamental Study of Laser Generation of Narrowband Lamb Waves Using Superimposed Line Sources Technique, " NDT & E International, Vol. 44, Issue 3, PP. 315 – 323, May 2011