Education
Ph.D., Georgia Institute of Technology, 1999
M.S., Georgia Institute of Technology, 1997
B.S., Calvin College, 1995
Research Areas and Descriptors
Background
Tim Lieuwen began his academic career in 1999 as an Assistant Professor in the School of Aerospace Engineering after completing his Ph.D. in mechanical engineering in the Woodruff School.
Research
My research is in the area of understanding and control of ultra low emissions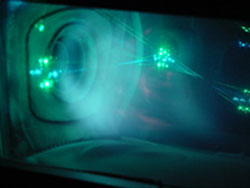 Laser Doppler velocimetry measurements in an aircraft engine combustor.  Measurements such as these will enable the development of cleaner burning aircraft engines, capable of burning future fuels.
combustion systems for power or propulsion applications. This includes combustion control, characterization of fundamental combustion properties, and understanding dynamical combustion phenomenon. Oftentimes, these problems require a strong interdisciplinary approach requiring understanding of acoustics, fluid mechanics, and control. Research involves alternative fuels, bio-derived fuels, hydrogen and other potential fuel sources for the future. Major funding is provided by the US Department of Energy, NASA, and industry.
If you like making fire, making noise, and saving planet all at the same time, you'll enjoy working on these research problems! Typical employers are in the propulsion and energy sectors, the government, or national labs.
Distinctions
American Society of Mechanical Engineers George Westinghouse Silver Medal for outstanding contributions to combustion science and technology for low-emission gas turbines, 2010
American Society of Mechanical Engineering/IGTI Turbo Expo Best Paper Award, 2005
American Institute of Aeronautics and Astronautics

Lawrence Sperry Award, 2005
Gordon A. Oates Air Breathing Propulsion Graduate Award, 1999

Science Applications International Corporation

Student Best Paper Contest (advisor to Ben Bellows), 2004
Student Best Paper Contest Winner, 1999

Sigma Xi (Georgia Tech Chapter) Young Faculty Award, 2004
Lockheed-Martin Corporation Deans Award for Teaching Excellence, 2004
National Science Foundation Career Award, 2000
Registered Professional Engineer in Georgia
Representative Publications
B. Bellows, et al. 2006. Flame Transfer Function Saturation Mechanisms in a Swirl Stabilized Combustor. Proceedings of the Combustion Institute 31.
T. Lieuwen, et al. 2005. Acoustic Radiation from Weakly Wrinkled Premixed Flames. Combustion and Flame 144 (1-2), 360-369.
A. Coker, et al. 2006. Active Instability Control Effectiveness in a High Pressure, Liquid Fueled Combustor. Combustion Science and Technology 178, 1251-1261.
T. Lieuwen. 2003. Modeling Premixed Combustion-Acoustic Wave Interactions: A Review. Journal of Propulsion and Power 19(5), 765-781.
T. Lieuwen. 2001. Theoretical Investigation of Unsteady Flow Interactions With a Premixed Planar Flame. Journal of Fluid Mechanics 435, 289-303.