Advisory Board
The role of the Woodruff School Advisory Board is to recommend strategic directions for the Woodruff School, suggest broad-based curriculum changes, and consult with the School chair and the faculty on important issues. Members are invited to join the Advisory Board so that its composition reflects the varied scope of mechanical engineering, nuclear and radiological engineering, and medical physics in industry, the related professions, and the academic community.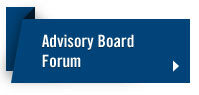 Mr. David P. Adams III 
(BME 1986)
Mr. Thomas G. Arlotto 
(BME 1982)
Principal
Maestro Strategies
Roswell, GA
Dr. Farshad Ali Karimi-Azad 
(BME 1982)
United Utility Services LLC
Charlotte, NC
Dr. Rebeccah Brown 
(PhDME 2003, MSME 2000)
Vice President, Global Regulatory Affairs
Mr. R. Keith Chambless 
(BME 1980)
Mr. James Dullum 
(BME 1974)
Mr. Dolan Falconer 
(BNE 1978, MSNE 1979)
Dr. Johney Green, Jr. 
(MSME 1993, PhD ME 2000)
Associate Laboratory Director
National Renewable Energy Laboratory
Mr. Barry Holden 
(BME 1970)
Hoover Treated Wood Products, Inc.
Mr. Dennis W. Kelly 
(BME 1976)
Ms. Fredda Lerner (BME 1981)
Senior Engineering Specialist in Enterprise Systems Engineering
Aerospace Corporation
Chantilly, Virginia
Mr. Mark Ligler (BME 1976)
Vice President
Factory Automation Systems
Atlanta, Georgia
Mr. James N. McNeely 
(BME 1998, MS Arch 2001)
Mr. Nelson McRay 
(MSME 1987   BME 1985)
Kimberly-Clark Corporation
Mr. Lawrence J. Montgomery 
(BME 1978)
Montgomery Family Foundation
Ms. Emily Muhlberger 
(MBA 2009, BME 2004)
Sr. Business Process Manager
Mr. Floyd R. Nation 
(BME 1968)
Law Office of Floyd R. Nation
Mr. Steven Pinsky 
(BME 1985)
Managing Director
Sutton Advisory Group
Plainview, NY
Mr. Barry Powell 
(BME 1989, MSME 1991)
Vice President, Low Voltage Distribution Business Unit
Mr. Forrest Robinson 
(BME 1982)
Mission Communications LLC
Mr. Matt Sparks (BME 1998)
Vice President, Airport Operations
Delta Airlines
Atlanta, Georgia
Professor and Department Head
The Pennsylvania State University
University Park, Pennsylvania
Dr. Kyle H. Turner 
(BSEE 1969, MSNE 1969, PhDNE 1971))
Mr. Chip Wade (BME 2006)
Lead Creative
WadeWorks
Atlanta, Georgia
Mr. Manuel Walters 
(BME 1992)
Global Contracts Manager Procurement
Mrs. Tracy Hawkins West 
(BME 1990)
Director of End-use, Power Delivery and Fleet R&D
Southern Company Services
Mr. Nils Young 
(BME 1968)
DBS Manufacturing, Atlanta