How the Woodruff School is Responding to COVID-19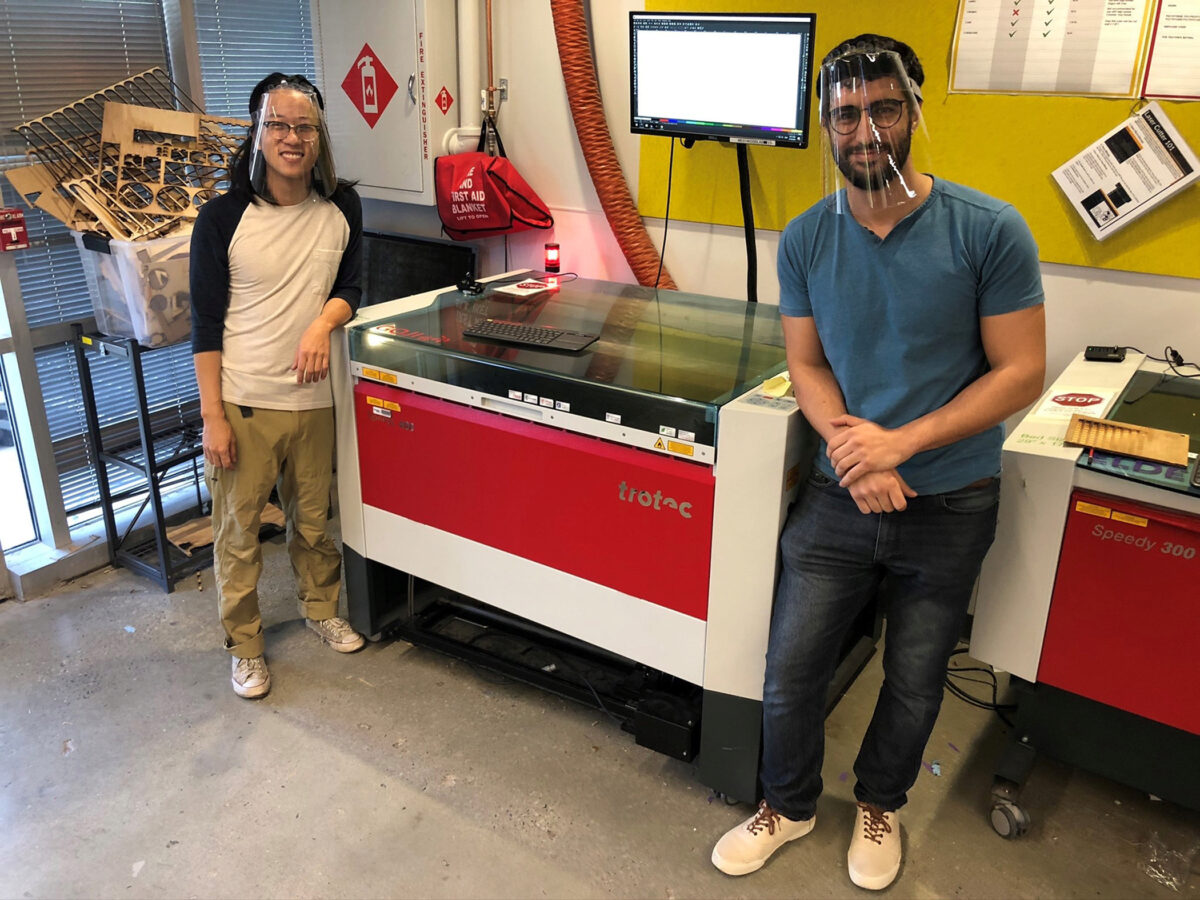 Do-It-Yourself Medical Devices and Protective Gear Fuel Battle Against COVID-19
It's a race against time that some participants liken to Apollo 13, the stricken NASA spacecraft for which engineers improvised an air purification system from available parts to get three astronauts back from the moon.
In this case, however, the race is to improvise ventilators, face shields, respirators, surgical gowns, disinfectant wipes, and other healthcare gear to help the hundreds of thousands of people expected to swamp hospitals with waves of critical COVID-19 illness over the next several weeks. The demand for ventilators alone could be four times more than already overwhelmed hospitals can provide.
Using 3D-printed parts, plastic-lined tablecloths intended for birthday parties, laser-cut gears, and similar substitutions, a research team from universities on two continents is racing to develop "do-it-yourself" healthcare gear that can be assembled where it's needed from components available locally. Team members figure they have about two weeks to get the designs right and share them with anyone who can help with the needs.
---

Emory and Georgia Tech Create Protection Devices for Use During COVID-19
Medical staff treating patients on the front lines of the COVID-19 pandemic come face to face daily with the risk of exposure to the virus. Among the riskiest moments are inserting and removing breathing tubes, procedures that create a spray of respiratory droplets.
Now, two Atlanta universities have created barrier protection devices designed to contain that droplet spray and aerosol with a goal of reducing the risk of disease transmission.
Made of clear polycarbonate material, the four-sided box is placed on a bed over the patient's head and shoulders. Protected hand openings allow physicians or other health care personnel to reach into the box to perform procedures such as intubating a patient who needs to be placed on a ventilator. 
"Intubation and extubation require a physician to work in extremely close proximity to a patient while simultaneously performing procedures known to generate a large amount of potentially infectious droplets," said Cinnamon Sullivan, M.D., assistant professor of anesthesiology, Emory University School of Medicine and the director of Global Health Anesthesiology at Emory University Hospital. "The goal of this box is to block, to a large extent, the amount of droplets being aerosolized and serve as one more layer of protection in addition to our personal protective equipment (PPE)."
In recent weeks, a cross-disciplinary team that included anesthesiologists and other physician specialists from Emory University and engineers from the Georgia Institute of Technology has worked quickly prototyping several devices, which were adapted from a basic design distributed widely throughout the medical community as the COVID-19 outbreak grew.
---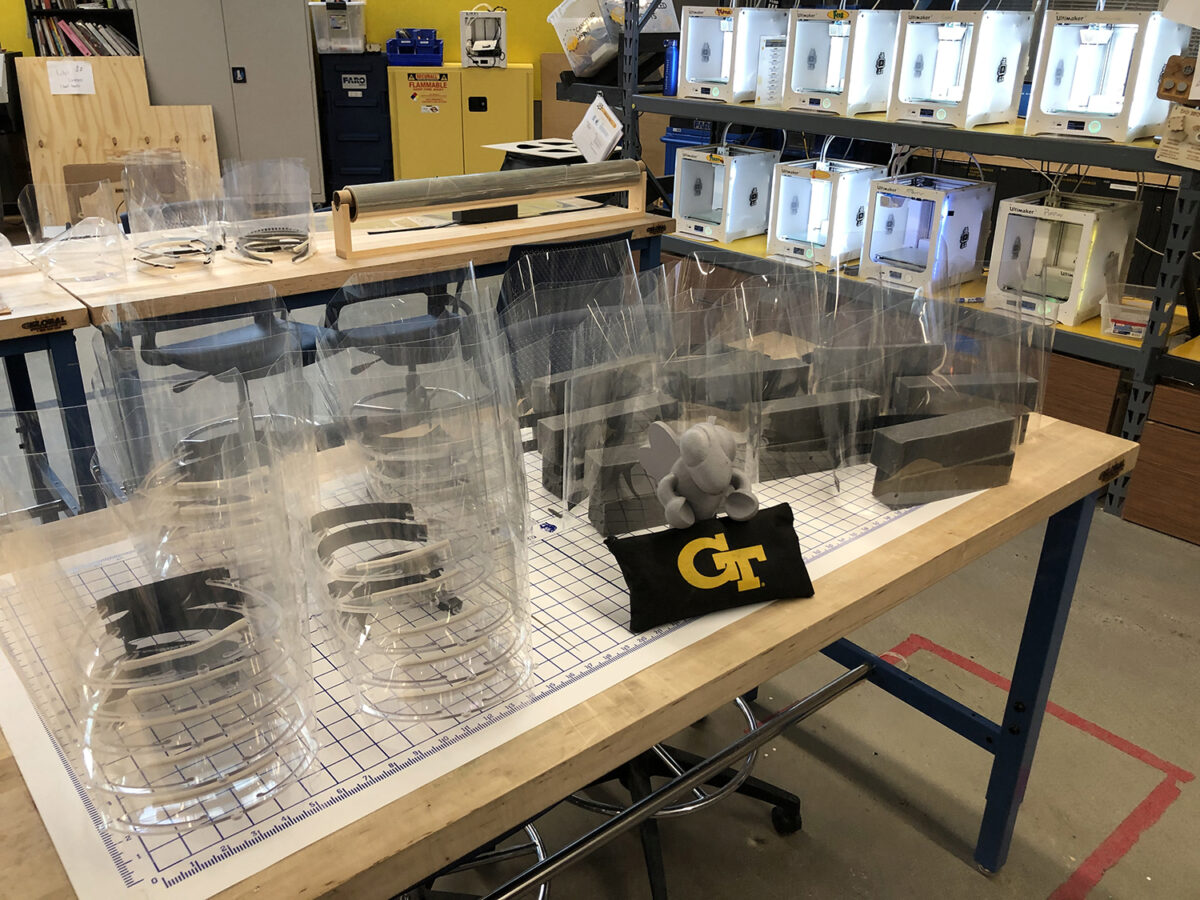 Georgia Tech Researchers Make 10K Face Shields for Atlanta Hospitals
A team of Georgia Tech researchers is mass producing protective gear to help Atlanta's medical community fight the spread of COVID-19. 
Using 3D printers and laser cutting machines, the researchers made at least 10,000 face shields, which protect clinicians' eyes and face from the coronavirus spread by the coughs and sneezes of the infected.For the past two weeks, researchers have been working 16-hour days to crank out the easy-to-clean, reusable protective wear, said Chris Saldana, a mechanical engineering professor at Georgia Tech.
The Atlanta Journal-Constitution | April 3, 2020
Other News Links:

Emory Healthcare and Georgia Tech team up on rapid production of face shields
---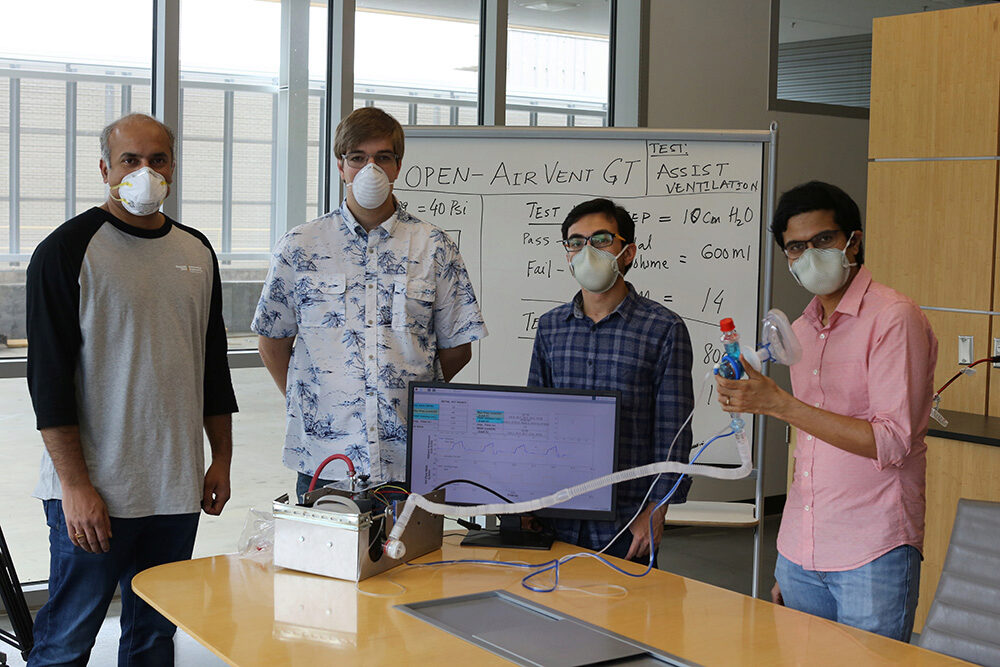 Open-AirVentGT Emergency Ventilator Provides Patient Monitoring, Feedback Control
A research team at the Georgia Institute of Technology led by Devesh Ranjan has created a prototype for a low-cost, portable emergency ventilator that uses electronic sensors and computer control to manage key clinical parameters such as respiration rate, tidal volume (the amount of air moved into and out of the lungs during each cycle), inspiration and expiration ratio, and pressure on the lungs.
The Open-AirVentGT was designed to address acute respiratory distress syndrome (ARDS), a common complication for COVID-19 patients which causes their lungs to stiffen, requiring their breathing to be assisted by ventilators. Unlike many other emergency ventilators, the new Georgia Tech device endeavors to make breathing more natural by allowing patients to trigger their own breaths instead of relying on a respiration rate pre-set in the device.
The ventilator works by pneumatically compressing a BVM (Bag Valve Mask) assembly of the kind used in hospitals and carried in ambulances as resuscitation devices. The ventilator is envisioned for use outside the United States in countries that do not have significant medical infrastructure in place, and is designed to be produced for around $300.
Related Video:


---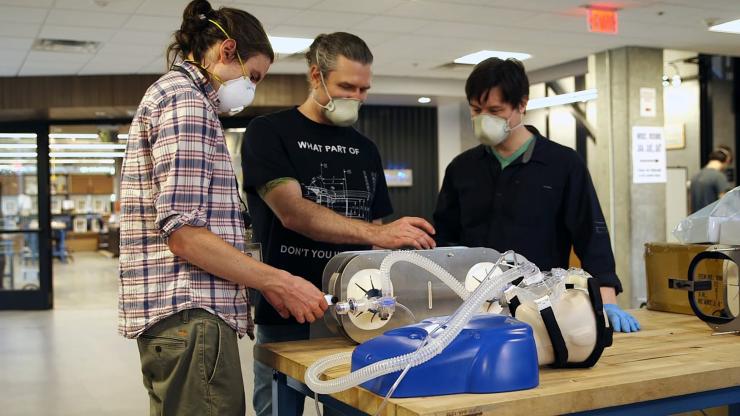 Simple, Low-Cost Ventilator Builds on Available Resuscitation Bags
A simple, low-cost ventilator based on the resuscitation bags carried in ambulances – and widely available in hospitals – has been designed by an international team of university researchers. The device, which is powered by a 12-volt motor, could help meet peak medical demands in the industrialized world and serve resource-constrained countries that don't have supplies of conventional ventilators.
Georgia Tech Research Horizons | April 6, 2020
Other News Links:

Georgia Tech Team Developing Ventilators from Resuscitation Bags