Pneumatic Vest for the Covid Age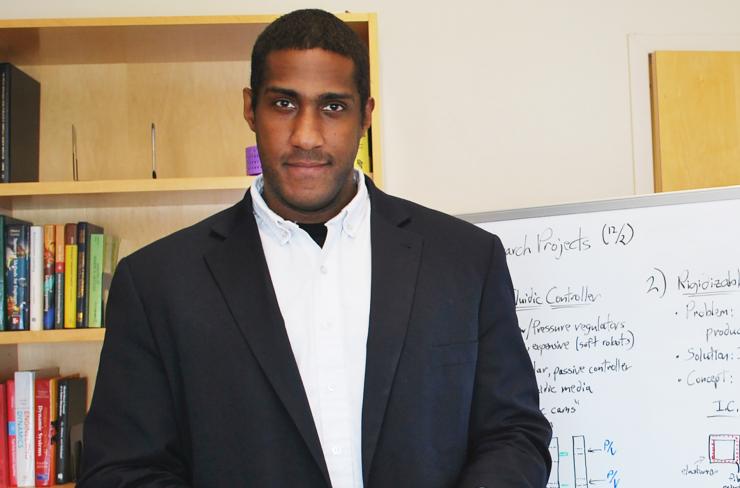 August 21, 2020
By Jerry Grillo
When COVID-19 causes acute respiratory distress syndrome (ARDS), damaging lung tissue, the affected areas are unable to efficiently uptake blood oxygen, which leads to diminished of lung function. One of the ways clinicians try to treat this problem is with proning, or prone positioning, in which patients are placed on their stomach, using gravity to help redistribute the blood flow away from damaged areas to reach healthy regions of the lung – increasing oxygen uptake.
Proning requires labor-intensive physical tasks, so it can be risky for some patients. "It may have an adverse reaction, such as a cardiac event, during this kind of physical repositioning," notes Hammond. Hammond, who has a joint appointment in the
Wallace H. Coulter Department of Biomedical Engineering
at the Georgia Institute of Technology and Emory University, partnered with Emory physician Maxwell Weinmann to address the problem.
Weinmann had some success manipulating fluids in patients' lungs by placing weight (in the form of bags of water) on their bodies to supply pressure and modify blood flow in the lungs. Hammond suggested that a vest with custom bladders could be filled with air, pressing against the patient and moving fluid in the lungs to simulate proning without moving the at-risk patient.
The result is a soft pneumatic ventilation-perfusion vest designed to redistribute of blood to uninflamed, oxygen-rich areas of the lungs, increasing ventilation and, ideally, improving patient outcomes.

This is a prototype of the soft pneumatic vest developed in the lab of Frank Hammond.
"We are manipulating pulmonary blood flow with this vest," Hammond says. "We completed a functional prototype and Dr. Weinmann is working toward a clinical trial, to learn about the long-term impacts of 'simulated proning.' Based on preliminary results, we will pursue NIH and other sources of funding to further develop these important devices and facilitate mass-production using economical manufacturing methods."
Hammond intends to develop a disposable, affordable, efficient device that will cost under $50, a new tool for an emerging new era in health care in the pandemic age. This project received a boost of $17,000 through the COVID Rapid Response Seed Grant program, launched by the Georgia Tech Office of the Executive Vice President for Research (EVPR).