Young Chosen as IEEE/IEEEE-USA 2017 New Face of Engineering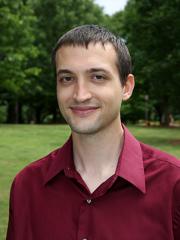 IEEE-USA New Faces of Engineering Help People Walk & Look to Heavenly Bodies
Most of us take movement for granted. Dr. Aaron Young works with those who do not. His engineering skills are making a big difference in people's lives. An international committee of IEEE members chose him as the IEEE/IEEE-USA 2017 New Face of Engineering, Professional Edition. The New Faces of Engineering program is sponsored by DiscoverE. It recognizes younger engineering society members whose work has already distinguished them among their peers. 
Young, director of the Exoskeleton and Prosthetic Intelligent Controls Lab at Georgia Tech, specializes in robotic exoskeletons and prostheses for people with walking disabilities. 
As an assistant professor in the George W. Woodruff School of Mechanical Engineering at Georgia Tech, Young designs and improves powered orthotic and prosthetic control systems for people with stroke, neurological injury or amputation. A key innovation of his research is using electromyography to directly sync prosthetic and exoskeleton devices to one's muscles. 
In a clinical trial, Young's control system for a robotic knee/ankle prosthesis was able to successfully predict the amputee's movements and automatically adjust the prosthetic to allow a person to walk, climb stairs and navigate ramps. 
In addition to his engineering and teaching duties, Young volunteers with Atlanta-area middle schoolers to help them build a prosthetic arm for a fictional child using low-cost household items. 
The New Faces of Engineering, Professional Edition recognizes the work of up-and-coming engineering professionals, 30 or younger, who are helping to shape the future. Young is one of 10 engineers honored this year for devoting their skills and education to help create a better world. 
IEEE-USA serves the public good and promotes the careers and public policy interests of nearly 190,000 engineering, computing and technology professionals who are U.S. members of IEEE.