Thomas Receives Young Investigator Award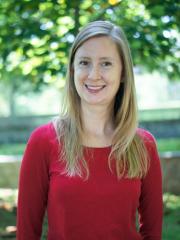 Woodruff School Assistant Professor Susan Napier Thomas was selected to receive the 2018 Young Investigator Award from the Society for Biomaterials.
The Society for Biomaterials is a multidisciplinary society of academic, healthcare, governmental and business professionals dedicated to promoting advancements in all aspects of biomaterial science, education and professional standards to enhance human health and quality of life.
The Young Investigator Award recognizes an individual who has demonstrated outstanding achievements in the field of biomaterials research. Candidates for the SFB Young Investigator Award must be within 10 years of receipt of their terminal degree (PhD or equivalent) and, if they work in an academic institution, must not be tenured at the time of nomination. The awardee is selected from formal nominations submitted, accompanied by the curriculum vitae of the candidate, three supporting letters of recommendation, reprints of previously published work, and a manuscript in the style of the Journal of Biomedical Materials Research.
Dr. Susan Napier Thomas' laboratory investigates mechanisms of cancer progression including metastasis and, in particular, the role of lymphatics in directing immune suppression within the tumor microenvironment. Her lab also develops drug delivery strategies and technologies to enhance cancer immunotherapy. She trained as a Whitaker postdoctoral scholar at École Polytechnique Fédérale de Lausanne and received her Ph.D. from The Johns Hopkins University before joining Georgia Tech as an Assistant Professor in November 2011.