ME Alumnus Turns Procrastination Into Lucrative Career
Georgia Tech alumnus turns procrastination into a lucrative career as a comic strip creator.
Throughout his academic career — including his time as a Mechanical Engineering major at Georgia Tech — Jorge Cham found himself faced with an obstacle most students know all too well: procrastination.
But instead of completely wasting his time while he put off his studies and class projects, Cham often found himself doodling and making cartoons.
Procrastinating and Creating
And then during his first term at Stanford, where he pursued his doctorate in robotics, it all clicked.
"Grad school was basically kicking my butt every day," Cham says.
"While hanging out with friends and procrastinating about doing my coursework, I had an idea to turn my grad school experiences into a comic strip."
Cham created his first strip in October 1997, and quickly his irreverent and insightful takes on academic life were picked up by the school paper, The Stanford Daily.
Cham continued to draw and write comics while earning his Ph.D., and eventually named the strip PHD: Piled Higher and Deeper to reflect its unique focus.
After graduating, he landed a job at CalTech, where he worked as a robotics instructor and researcher for a few years.
However, Piled Higher and Deeper continued to build in popularity — with many college newspapers across the country, including The Technique, picking it up in syndication — and Cham decided to focus on the comic strip full time in 2005.
Putting Technology to Work
Unlike old-school comic artists, Cham does all his work electronically.
"I create the comics on my computer," he says.
"They don't actually see paper until they are published by print publications."
Piling it Higher and Deeper 
Today, he runs his own website, lectures at campuses worldwide about "The Power of Procrastination," and has even made two PHD movies.
If that weren't already enough, he recently co-authored the book, "We Have No Idea." In the book, Cham and particle physicist Daniel Whiteson explain everything we DON'T know about the Universe, from Cosmic Rays and Dark Matter to time travel and the Big Bang.
His strips have appeared in publications such as Nature, Science, The Chronicle of Higher Education and more, and have been referenced by the likes of USA Today, The New York Times and The Washington Post.
Cham publishes on average one to two comics a week on phdcomics.com and has archived more than a thousand of them, all of which you can read for free.
It's a perfect place to visit when you want to be distracted from your work.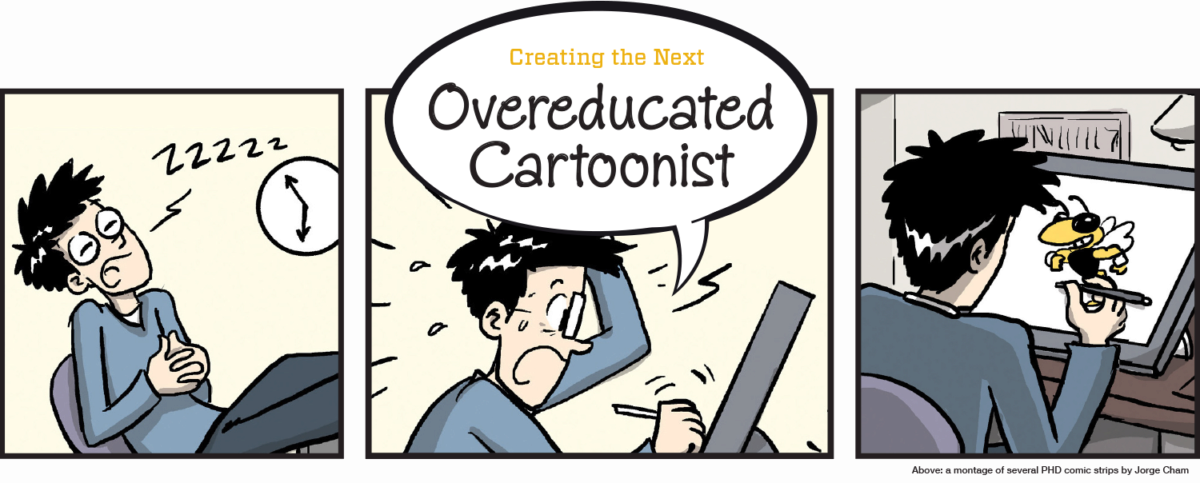 Read More
- Roger Slaven/Comic by Jorge Cham, ME '97/Originally published September 2016 Georgia Tech Alumni Magazine