ME Alumnus Company Inventaprint Partners with Capstone Design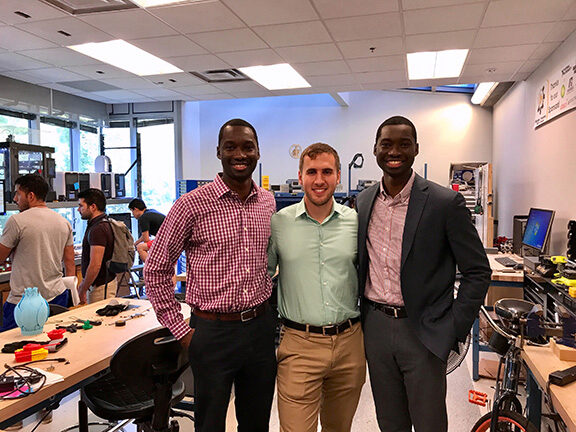 Inventaprint, Inc., a new sponsor for the Woodruff School's Capstone Design Course, has offered exclusive service to all Georgia Tech Capstone Design students. The company, started by Georgia Tech alumni Richard Mokuolu, BSME '12, and Roland Mokuolu, BSCE '12, connects inventors and businesses with vetted manufacturers to simplify the creative process and achieve lower manufacturing costs.
"As fellow Yellow Jackets, my twin brother, Roland Mokuolu, and I are excited to help democratize the innovative process by providing access to manufacturing," says Richard. "That's why we founded Inventaprint. We look forward to help bring the students' innovative Capstone Design ideas to life!"
Inventors themselves, Richard and Roland knew first hand how hard it was to find a manufacturer who could accommodate lower volume orders, while still creating high -quality products. After continuing to run up against this problem, the brothers set out to track down the best manufacturers around the country—from the plains of Kentucky to Hong Kong. Through their search they found good, honest people who valued quality as much as they do and so Inventaprint was born.
Each Georgia Tech academic semester, Inventaprint will offer exclusive subscription discounts worth thousands of dollars, to full-time students in good standing participating in the Capstone Design course. Inventors upload their CAD files to job postings, initiating a bidding process where vetted manufacturers review files and offer recommendations on materials and tolerances based on their expertise. The process then allows inventors the opportunity to have their parts manufactured by a trusted builder that aligns with their vision and budget.
Manufacturers carry top-notch certifications and support both low and high volume orders. All manufacturer communication, drawing reviews, orders, re-orders, payment and shipping takes place on the Inventaprint platform and the intellectual property developed during the process remains the property of the inventor.
"We are excited regarding our partnership with Inventaprint," said Dr. Amit Jariwala, Director of Design and Innovation at the Woodruff School. "We hope that their online platform will help our students gain an additional real-world experience in the process of transforming a design into a product."