Alumnus Dr. Fronk Receives ASHRAE New Investigator Award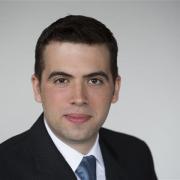 ME alumnus Dr. Brian Fronk (Ph.D. '07, M.S. '14), advised by Dr. Srinivas Garimella, has been selected as the recipient of the American Society of Heating, Refrigeration and Air Conditioning Engineers (ASHRAE) New Investigator Award for 2017-2018.
Eligible faculty members must be nominated by a department head or chair and be within five years of starting a full-time tenure-track or tenured faculty position at the nominating institution within five years of having received a Ph.D. or equivalent degree.
When considering the nominated faculty, ASHRAE weighs each candidate's competence in engineering, potential for growth as a professional researcher, and potential for significant development as an educator and academic leader in the training of future engineers in ASHRAE's areas of interest.
Dr. Fronk's research interests are in the areas of microscale heat and mass transfer, two-phase flow, natural refrigerants, advanced thermal energy systems, and sustainable energy portfolios has resulted in over 20 archival journal and conference publications. While at Georgia Tech, Dr. Fronk was the recipient of the IJR Very Highly Commended Paper award (2010-2011), the ASHRAE Graduate Student Grant-in Aid award (2011-2012), and the ASME Graduate Teaching Fellowship (2011-2013). Dr. Fronk has held prior positions at Carrier Corp., where he worked in the areas of CO2 compression and transport refrigeration, and as an instructor of energy system design and analysis at Georgia Tech in Atlanta and thermodynamics at the Georgia Tech international campus in Metz, France. Dr. Fronk currently serves as Assistant Professor in the School of Mechanical, Industrial, and Manufacturing Engineering at Oregon State University. 
ASHRAE, founded in 1894, is a global society advancing human well-being through sustainable technology for the built environment. The Society and its members focus on building systems, energy efficiency, indoor air quality, refrigeration and sustainability within the industry. Through research, standards writing, publishing and continuing education, ASHRAE shapes tomorrow's built environment today. ASHRAE was formed as the American Society of Heating, Refrigerating and Air-Conditioning Engineers by the merger in 1959 of American Society of Heating and Air-Conditioning Engineers (ASHAE) founded in 1894 and The American Society of Refrigerating Engineers (ASRE) founded in 1904.