Capstone Design - The AGCO Experience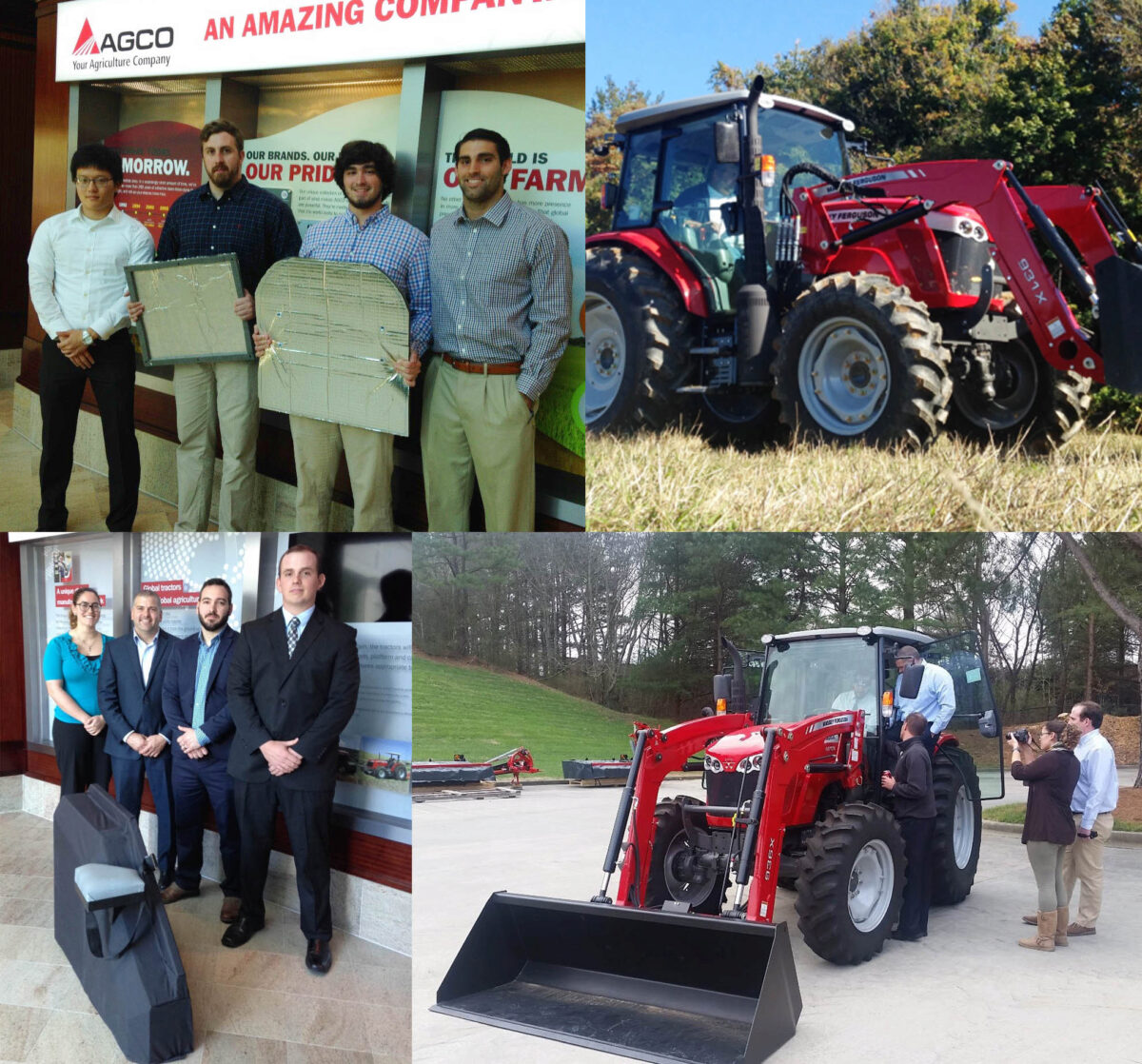 Over 1,000 students, formed into 200 teams, from 11 different disciplines at Georgia Tech, participated in the Spring 2016 Georgia Tech Capstone Design Expo. Held on April 26, the event was the largest exhibition of undergraduate student innovation at Georgia Tech to date.
AGCO Corporation, headquartered in Duluth GA, is a global agricultural equipment manufacturer considered a world leader in design, manufacture, and distribution of agricultural solutions. AGCO leveraged the Capstone Design program, sponsoring two participating Capstone teams, in order to explore creative solutions for two sensitive issues faced by their customers in the tractor market. With $7.5B annual sales in the past year and 20,000 employees worldwide, AGCO's R&D Department focuses on agricultural innovations.
Team Sigao, consisting of George W. Woodruff School of Mechanical Engineering students John Barnett, Rusty Scott, Cole Write, Kenny McCary, Bradley Thomas and Kwon Sang Lee, was advised by Professor Kenneth Cunefare to design a solution to reduce noise in tractor cabs. The noise level in a tractor cab can reach as high as 82db and having long exposure to such high noise levels can cause hearing loss. AGCO believed that its customers could gain a safer and healthier environment while operating AGCO equipment if the tractor cab noise level could be reduced.
The team was challenged with finding a solution which would help reduce cabin noise levels without significantly impacting the overall manufacturing cost of the tractor. The team visited the company's facilities to study tractors and measure noise levels using advanced sound meters. After analyzing the data, the team designed cost-effective passive sound damping methods which could reduce cabin noise by over 10%. The team developed specifications for different damping components, including shape and material composition as well as installation guidelines for their proposed solution, and presented their results at AGCO company headquarters. AGCO engineers were thrilled to learn that the proposed solution could achieve a noise reduction of 9db. According to AGCO's technical liaison Product Manager for Tractors, Brandon Montgomery, "This project was very beneficial to [AGCO] since it offered us a practical idea to solve an important issue. What was more interesting was to learn that noise was coming from an area of the cab that we were not even expecting. AGCO is working hard to implement the ideas into production so our customers can benefit directly from the hard work completed so far. The team did an excellent job."
The second team, AgCompanion, was comprised of students from the Woodruff School of Mechanical Engineering and the School of Industrial Design. Students Jimmy Thomas (ME), Lena Oliver (ID), Brian Gerdes (ME/ID minor), Nick Oliver (ME) and Nikki Gantos (ME) were advised by Professor Wayne Li to design a trainer seat for a compact utility tractor. AGCO had determined that their customers would like to have someone ride safely with the operator and that there was both a functional and emotional need to have an instructor seat in the cab. The student team conducted numerous tests within the tractor compartment and interviewed several current and potential customers to identify the core problem and design constraints.
The team quickly realized that it had to design a viable solution under the tight constraints of space and cost. They iterated through several alternatives before arriving at a simple solution to install an instructor seat on the left of the tractor operator. Engineering analysis was performed to make sure that the seat could withstand the desired loads and a prototype was fabricated to demonstrate the result. Chris Howell, AGCO's VP for Tractor Product Management was quite pleased and congratulated the team for being able to design a feasible solution for a challenging problem.
Both student teams gained hands-on practical design experience and exposure to industry while working closely with AGCO's Product Management and Engineering personnel. The company's location proximity helped the teams have quick access to engineers and the equipment. Dr. Ravi Godbole, who directed the projects within AGCO notes, "Participating in Capstone Design helps us in several ways – firstly, some fresh student perspectives to augment our own internal R&D efforts and secondly, access to the incredibly talented pool of engineering students and faculty."
Estimating the tangible impact of these projects is not easy. The company's conservative estimates are that these novel improvements could yield an additional annual revenue of $2M, while providing them with a significant value proposition over their competition.
All senior students in Mechanical Engineering culminate their undergraduate educational experience with the Senior Capstone Design course in order to provide firsthand experience at solving real world problems in a team environment. Students typically work in teams of four to six individuals and each team is advised by a faculty member. Companies interested in submitting a project for consideration can contact Dr. Amit S. Jariwala, at 404-894-3931 or via email at: amit.jariwala@gatech.edu.