Mighty Mascots
They're not just outstanding students; they're Georgia Tech tradition-keepers. Armando Gonzalez and Aaron Burtz are two of just a handful of students who have ever donned black tights, a fuzzy head, and antennae to embody Georgia Tech's mascot, Buzz.
"It's hot," Burtz joked when asked about his memories as mascot. "Really, though, I'll remember pre-game and seeing the faces of the youngest fans light up when they see Buzz."
Burtz admits that sometimes he wasn't sure if they were mesmerized or terrified. Either way, being a secret part of one of the Institute's most iconic traditions has been an emotional journey.
"You can see on people's face the moments when they fell in love with Tech, and that's really special," Burtz says.

Gonzalez says Buzz's antics were some of his favorite moments. He recalls being "in-suit" and cutting in line for Chick-Fil-A at the Student Center.
"They forgive me just a few seconds later," Gonzalez says. "We just have fun with it. You know people feel that energy."
They both finished their time as Buzz together, earning degrees as Spring 2020 graduates – Gonzalez studied computer science and Burtz mechanical engineering.
Typically, the identities of the students who've worn the suit aren't unveiled until they graduate from the Institute — when another mascot carries them across the stage piggyback-style to receive their degree. Unfortunately, with the COVID-19 crisis postponing in-person events, that opportunity will be delayed for these gentlemen.

In the meantime, Gonzalez has moved to the New York metro area where he'll be working with Disney in software engineering.
"I'll be working with the Disney+ and ESPN+ platforms," Gonzalez says. "It's a cool place to be right now."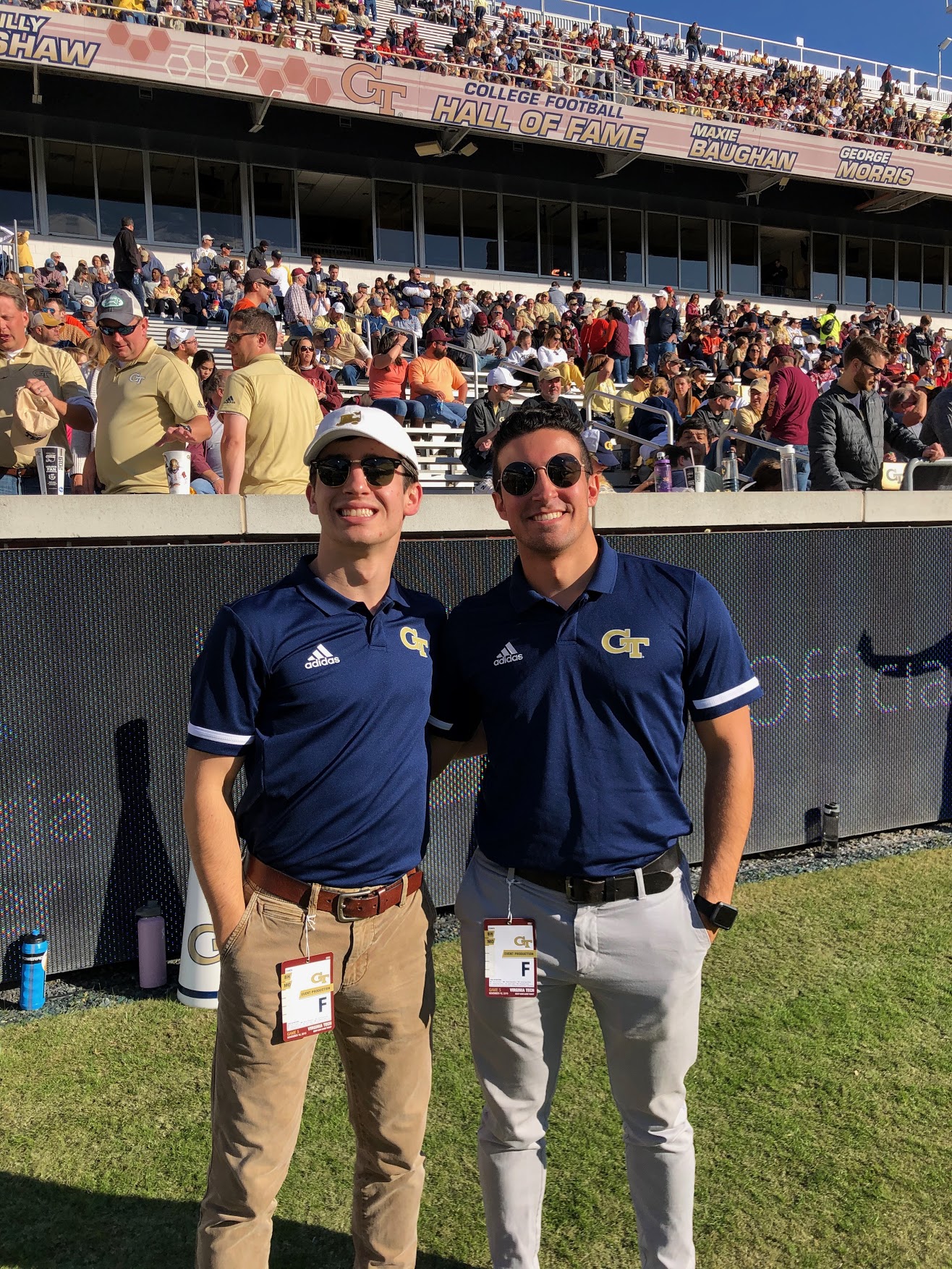 Engineering major Aaron Burtz (L) and computer science major Armando Gonzalez (R) both spent many days and nights during their time at Georgia Tech donning the iconic Buzz mascot uniform.
During his time at Tech, apart from serving as Buzz and as captain of the Georgia Tech cheerleading team, Gonzalez worked full-time for six terms. It's one of the things he's most proud of.
For Burtz, the job of FASET leader allowed him the chance to help new students make their transition to Georgia Tech. Also outside of the suit, he researched thrombosis in pediatric extracorporeal membrane oxygenation, a form of life support used in young patients. Over the summer, he'll be developing a startup he began with Tech classmates while taking part in Georgia Tech's CREATE-X program. And, in the fall, he won't be straying far from Tech.
"In October, I'll start working with Accenture in Tech Square," said Burtz.
Both he and Gonzalez hope to return for the Class of 2020 Commencement ceremony that's to be rescheduled to a to-be-determined date — and when that happens, we look forward to seeing them on Buzz's back.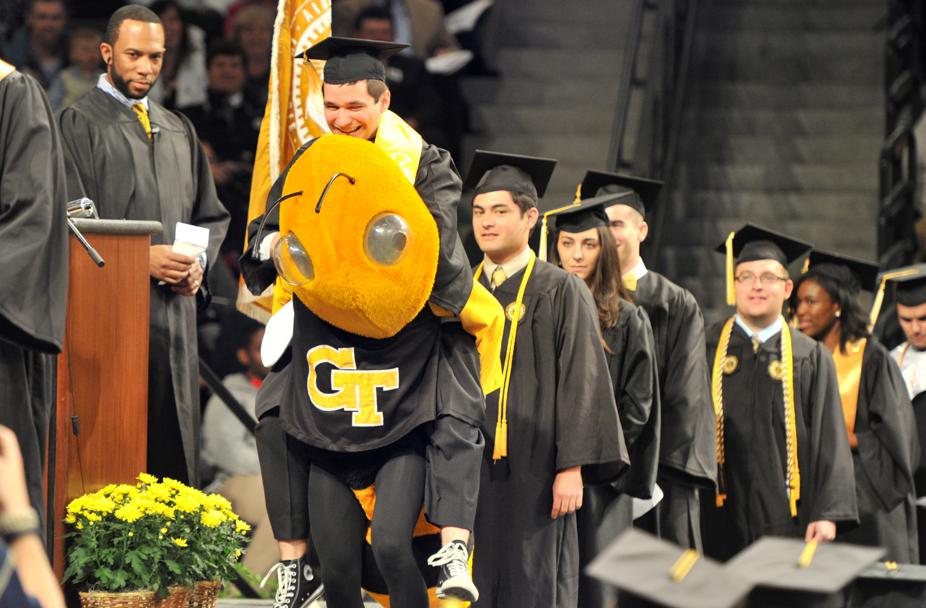 Watch: