ME Students Juggling Their Way Through Tech
An oft-repeated phrase you hear on campus tours or during first-year orientation at Georgia Tech is that if you can't find a student club to match your interest, start one and people will join it.
That's more or less how the Georgia Tech Juggling Club came into existence.
"We started the club as a way to hang out with jugglers and find other people who juggle on campus as well as teach new people who are interested," said co-founder and second year mechanical engineering major Gerry Daher, who is from Cleveland, Ohio. "It's way more fun to juggle with other people. We were lucky- there were actually a lot of really talented jugglers hiding at Tech."
For a club that was just started in November, they're having a lot of fun and turning a lot of heads. Before the campus shut down due to the coronavirus outbreak the club would meet on Monday evenings on Tech Green when the weather permitted, hanging out, practicing throws, and teaching new members. That ended up being their best recruiting tool as curious onlookers would stop to see what was happening.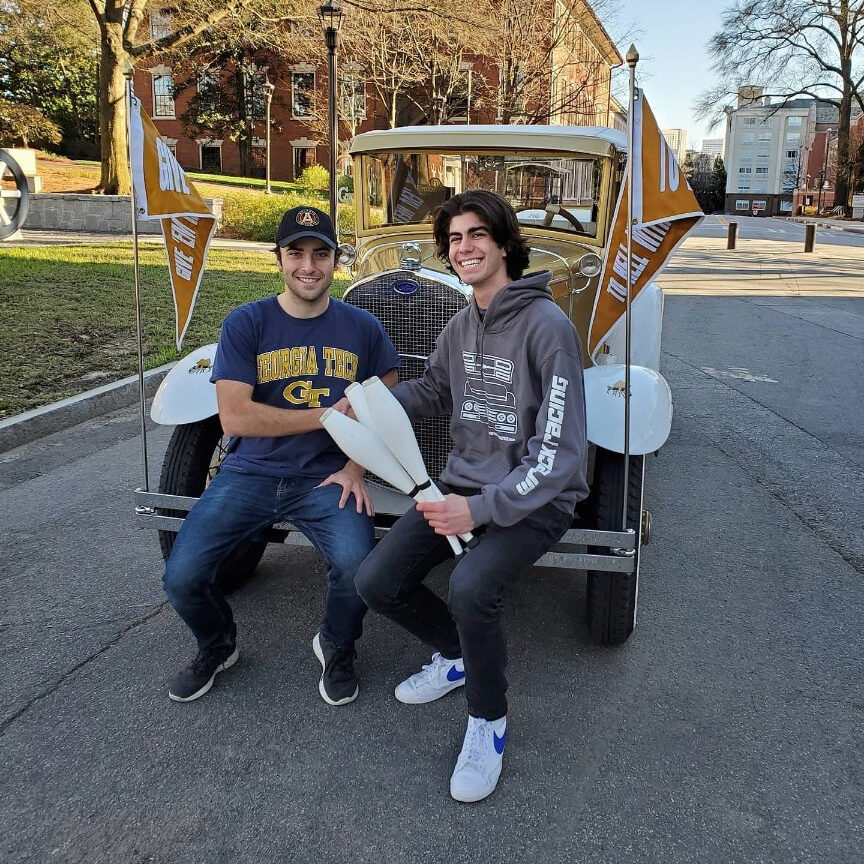 GT Juggling co-founders Jared Carbone (CS) and Gerry Daher (ME)
The club is open to anyone, whether they're juggled or not. Daher started juggling in high school, but some members had never attempted juggling before joining.
"Almost anyone can juggle, it just takes practice and perseverance," said Daher. "No one is born able to juggle three balls."
Born able? Maybe not, but for fellow mechanical engineering major Ethan Rosman from Maryland it certainly runs in the family. His father is a professional comedy juggler who taught him how to juggle when he was seven. He's been hooked ever since, often performing with his father and sister doing shows, events and parades.  
Juggling is how Rosman met Max Poff, who is now a fourth year mechanical engineering student. Their paths crossed at a juggling convention before either one was a Georgia Tech student, and when Rosman was a first-year student he teamed up with Poff and the duo won the homecoming talent show.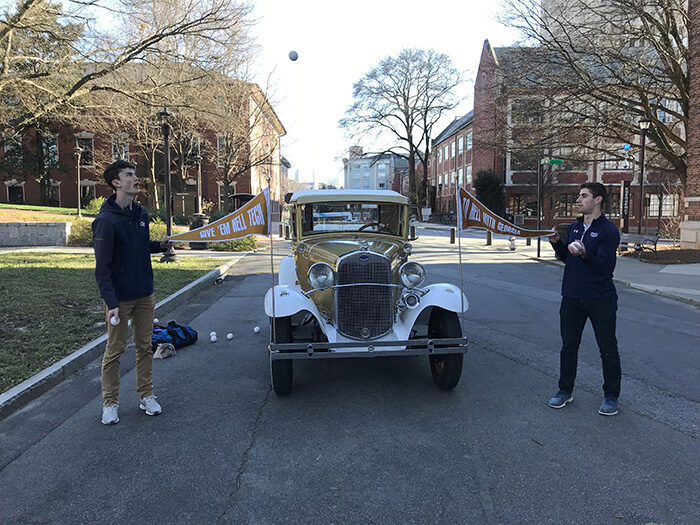 Max Poff (left) and Ethan Rosman (right) juggling in front of the Wreck
"I was surprised Tech didn't already have a juggling club, but I was very excited when I heard that one was starting," said Rosman. "It's awesome to build a community and see a lot of people learning to juggle."
Not only is it a fun social activity and a great way to meet fellow students, but juggling can be a way to travel and meet people from all over the world.
Max Poff's forays into juggling started online growing up in Cincinnati. After posting videos to YouTube he made a group of friends who played virtual juggling games. Then he went to a convention and met many of them in real life. 

"I was totally hooked," he said. Since then he has travelled to Quebec City in Canada and Las Vegas for conventions, and he has won medals competing at the World Juggling Federation (WJF) and the International Jugglers Association (IJA).
"Juggling is awesome because you can't cheat," says Poff. "If you see someone running a seven ball pattern, you instantly know how much time and effort they put into getting there."
The club is hoping their newly unveiled hype video, filmed before the quarantine, will generate interest and help them grow their numbers when everyone returns to campus.
"I can't wait to get back on campus and hang out with everyone again," said Daher. "In the future, we're hoping to get involved in some athletic events, and possibly do a halftime show."
Until then, enjoy their hype video, which includes scenes from campus and downtown Atlanta that you may not have seen in a while.
 
Georgia Tech Juggling Club | A-Town: Up & Down