Electric Racing Team from Georgia Tech Wins International Competition
For the second year in a row,
HyTech Racing
has brought the first-place trophy from Formula Hybrid back to Georgia Tech. The team outperformed its previous record, running in the Acceleration and Autocross events for the first time at this competition and placing first in the Autocross event with a 44.092 second run. With their 368 lb vehicle, the lightest at the competition, HyTech was the only team to finish the 44 km Endurance course this year, beating the University of Vermont's previous 01:25:15 record with a 01:15:56 track time and becoming the second electric team to ever complete the 44 km Endurance course in Formula Hybrid history.
HyTech Racing is Georgia Tech's Formula Student electric vehicle engineering team. On this team, students from a wide array of disciplines, including mechanical engineering, aerospace engineering, electrical engineering, and computer science, work together year-round to design fully electric race cars.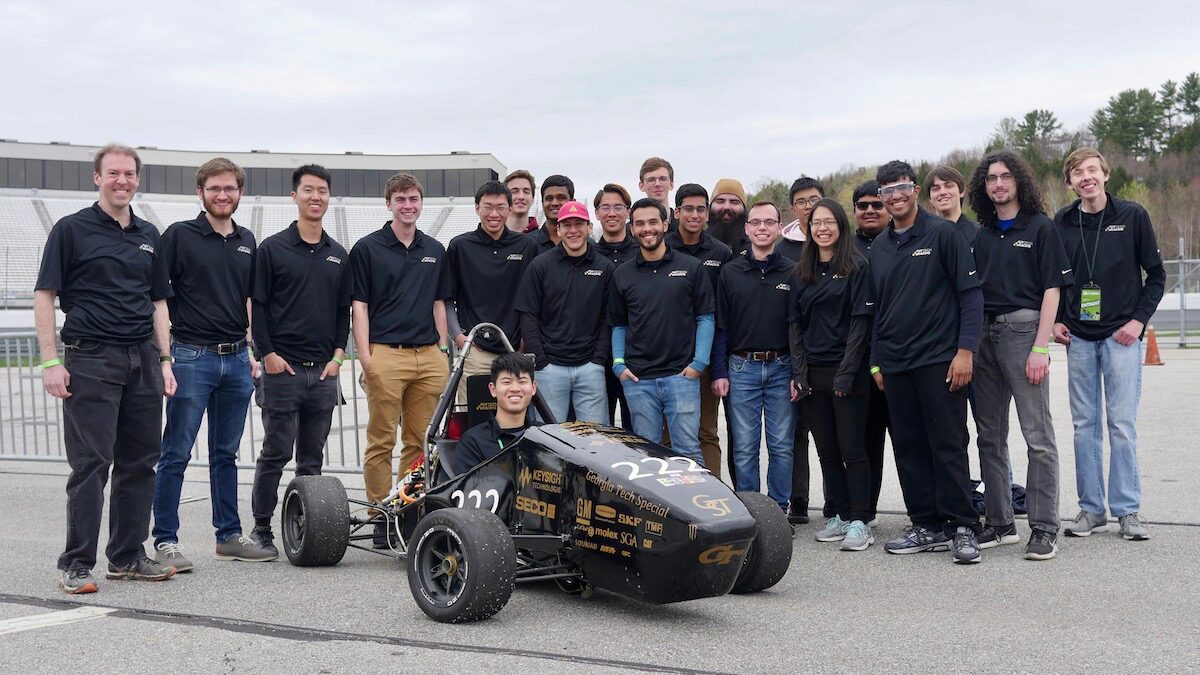 "The work that is happening on teams like HyTech is an important part of the experiential learning here at GT," said Dr. Samuel Graham, Eugene C. Gwaltney, Jr. Professor and Chair of Georgia Tech's Woodruff School of Mechanical Engineering.
Working on this multidisciplinary team, students learn to work effectively with deadlines and budgets, solving real-world engineering and business problems before graduating into the workforce with valuable experience applicable to their industry. This experience makes them very desirable to employers, who recruit heavily at Georgia Tech's Student Competition Center where the team is based.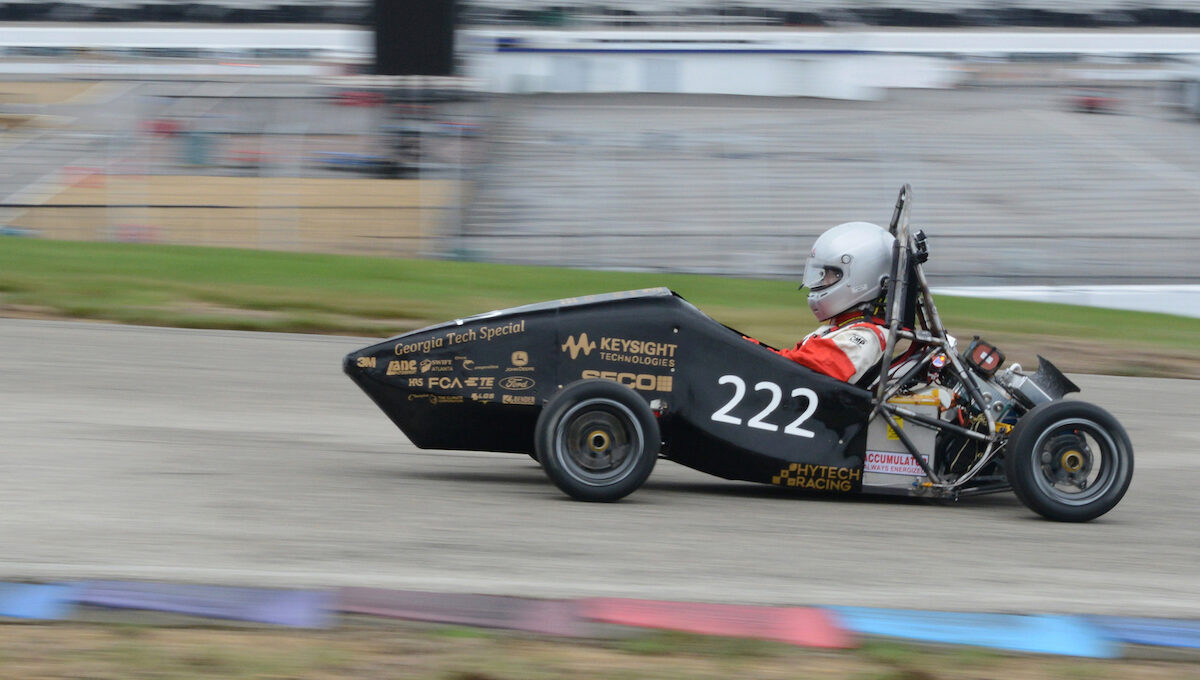 Closing out its 13th competition year, Formula Hybrid brings together students from around the world each May at the New Hampshire Motor Speedway to identify the best-engineered and best-performing electric and hybrid open-wheel Formula racing-style vehicles conforming to the competition rules. Before testing the dynamic performance of the vehicle, each team must pass through a rigorous scrutineering process. Engineers, many from the automotive industry, inspect each vehicle to ensure that it meets competition rules and can be safely operated.
The competition also measures the engineering behind each team's vehicle. Georgia Tech's team defended the design methodologies behind its new vehicle, where significant engineering effort was put into reducing the weight of components compared to the team's vehicles from previous years.
"There's an old adage in racing that goes 'more power makes you faster in the straights, losing weight makes you faster everywhere'," said Sam Gilmer (mechanical engineering), Chief Engineer of HyTech Racing. "Being light means your tires are more efficient and you have less momentum and accelerate more quickly."
After building a 413 lb vehicle last year, the team worked towards a goal of building a 380 lb vehicle in 2019, exceeding this goal with an official vehicle weight of 368 lb.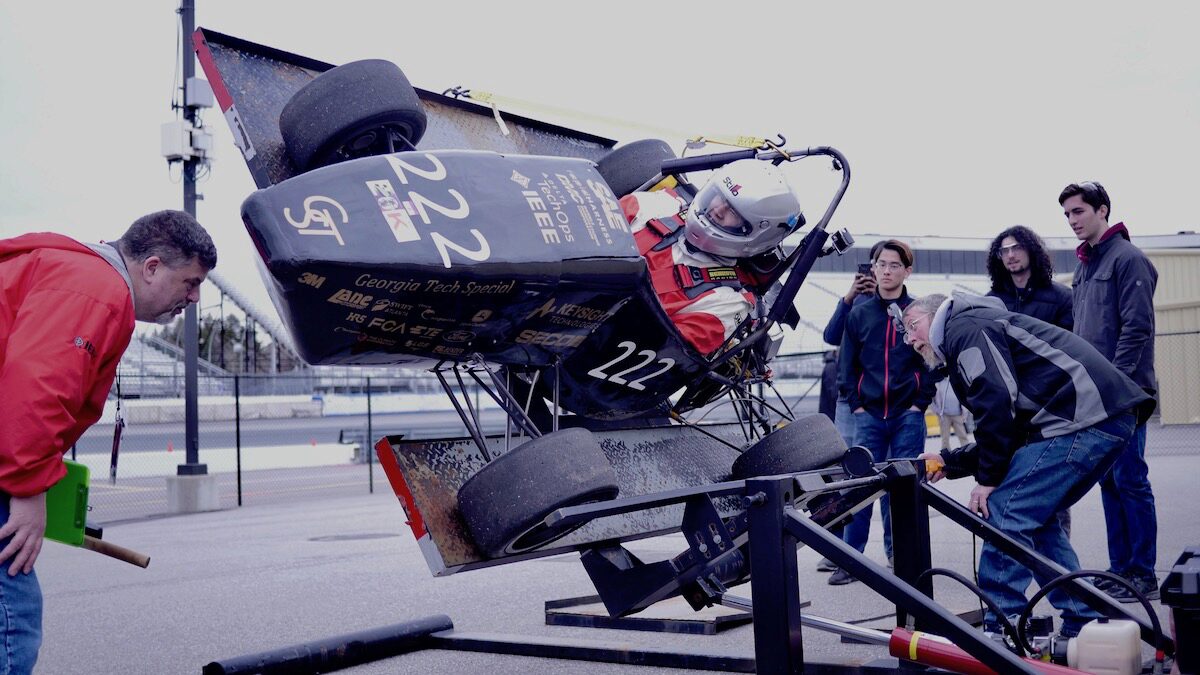 While the team won the design portion of the competition, it also defended its project management strategy, placing second in the category.
"Working with over 60 students to engineer such a complex vehicle takes a significant amount of planning and oversight," said Nathan Cheek (computer science), Team President. "We focused this year on making a very lightweight and tightly packaged vehicle, so facilitating communication between subteams was critical for ensuring that everything would fit together and work together."
Vehicle performance is measured through a number of dynamic events. First, each vehicle's acceleration capabilities are measured at the 75 meter Acceleration track. Second, vehicle handling is put to the test on the Autocross course. Finally, the ability of each vehicle to run reliably is tested through the 44 km Endurance event. HyTech placed second in the Acceleration event with a 5.28 second time and won the Autocross event with a 44.092 second run. On the Endurance course, the team beat out Princeton University, The University of Vermont, and Tufts University, completing more than twice the number of laps as the second-place team. 
HyTech Racing finished the Formula Hybrid competition with a 277 point lead, taking home 919 points out of 1,000.
"Next year we are going to focus on making the car even lighter and better performing using data we gathered from this year's success," said Yvonne Yeh, incoming Team President for the 2020 school year. The team plans to work iteratively, building a new vehicle with updates only to the systems that will most improve the car's performance.
"It's important to update these vehicles methodically year-to-year," said Nathan Cheek. "Making calculated engineering updates to specific vehicle subsystems is the best way to ensure we have plenty of testing time on our new vehicle before taking it to a competition."