Georgia Tech Team Wins 2020 VIP Consortium Innovation Competition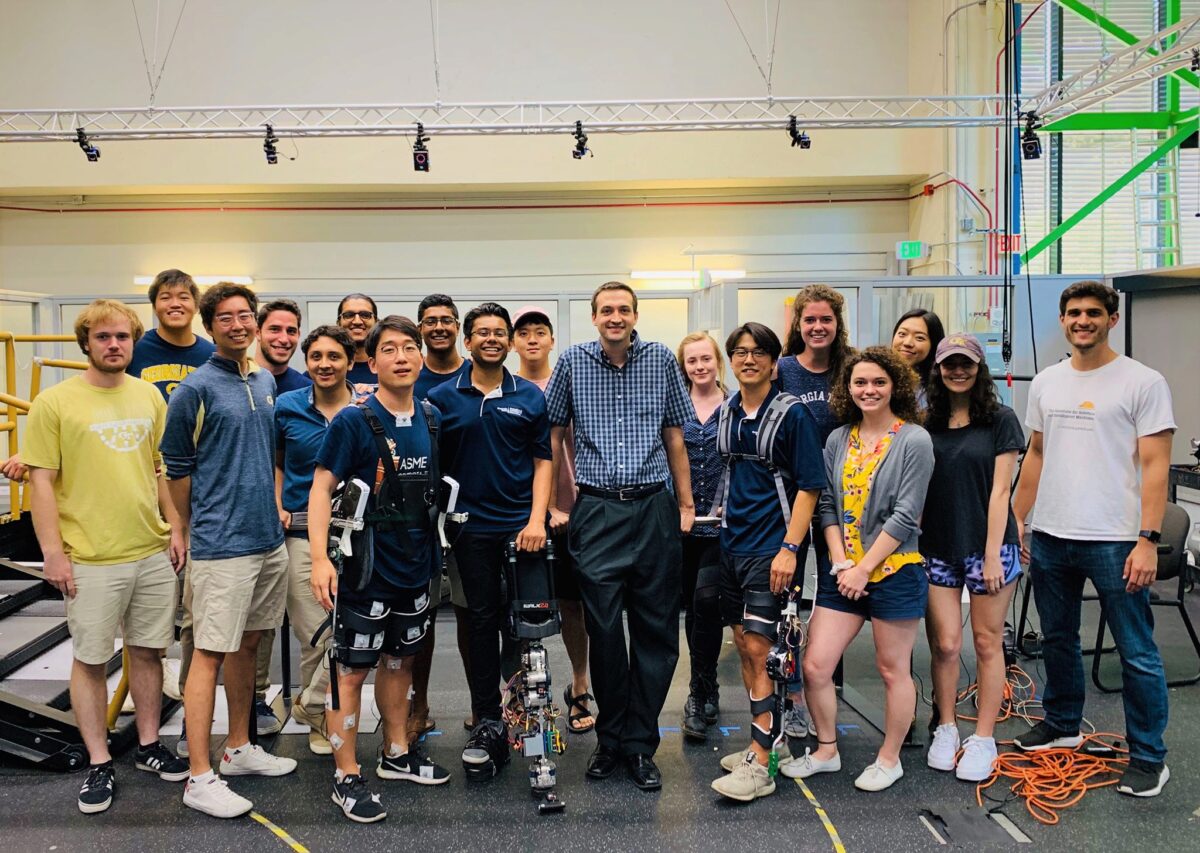 An EPIC Lab picture from Fall 2019
August 19, 2020
An interdisciplinary Vertically Integrated Projects (VIP) team based in Georgia Tech's George W. Woodruff School of Mechanical Engineering has won the 2020 VIP Consortium Innovation Competition. The Robotic Human Augmentation VIP Team, which focuses on improving mobility of people with lower limb motor impairments, highlighted their work on a robotic lower limb built by the team with components manufactured in the Woodruff School's Montgomery Machining Mall.
The team won a campus-wide competition in December, and then advanced to win the United States- Southeast regional competition in May that earned them one of five berths in the global competition where they faced another American team from the northeast, one from Europe, one from Asia, and one from the southern hemisphere.
All of the teams were from schools that participate in the VIP Consortium, global alliance of universities advancing Vertically Integrated Projects (VIP) programs. Through VIP, undergraduate and graduate students participate in ambitious, long-term projects led by faculty; faculty benefit from their VIP teams' contributions to ongoing scholarship and exploration efforts; and universities gain a scalable model for high-impact, project-based learning. Through the consortium participants collaborate to share effective practices, evaluate and improve the VIP model and disseminate experiences and findings.
For the competition each team created a video presentation which was required to provide an overview of their work using a PechaKucha format (20 slides/20 seconds per slide) addressing the following "Heilmeier" questions:
What are you trying to do? Articulate your objectives using absolutely no jargon.
How is it done today, and what are the limits of current practice?
What is new in your approach and why do you think it will be successful?
Who cares? If you are successful, what difference will it make?
What are the risks?
How much will it cost?
How long will it take?
What are the mid-term and final "exams" to check for success?
You can see how the Robotic Human Augmentation VIP Team answered those questions by watching their video.
The team works within Assistant Professor Aaron Young's EPIC (Exoskeleton and Prosthesis Intelligent Controls) Lab at Georgia Tech. Its primary goal is to use robotic augmentation technology to restore human movement to individuals with mobility disability.
"I am very proud of these students and the work they put in on this project," said Young. "VIP gives students a chance to explore areas that may fall outside of what they study in the classroom, and it also pushes them to apply what they have learned to real-life situations helping people. It has been exciting to see their hard work get recognized at each phase of the competition."
The winning video was based on work performed by the prosthetic knee and ankle subteam within Young's lab, with the VIP participants including Ian Cullen, Daniel de Matheu, Hyeri Lee, Gabriel Wilson and video editors Alice (Ji) Bok and Luke Donovan.
In addition to Young, mechanical engineering Ph.D. student Krishan Bhakta advised the group.
"The main thing we learned from putting the video together is how to synthesize scientific information in a clear and succinct manner that can be conveyed to a general audience," said Bhakta. "The goal of our research is to make our wearable devices more intuitive, and so it is also our responsibility to clearly convey instructions and ensure ease of use of these devices from the user's perspective. I really enjoy mentoring students and it is a great feeling seeing these student's succeed as it shows that they are learning something from me and can continue to apply it in their future endeavors."
After winning the initial Georgia Tech VIP competition, team member Ian Cullen said "The VIP program is appealing to me because it is very simple to join a research team, and you get plenty of real-world experience working on an interdisciplinary team to solve actual design challenges. I've learned a lot from this program that I wouldn't have learned from just my classes, such as prototyping and design iteration."
Georgia Tech currently has 82 VIP teams working on a wide range of interdisciplinary projects. Interested students can check out the VIP teams list and contact team advisors for more information.