Design & Manufacturing Discussion with GM Chevy Bolt Drive Unit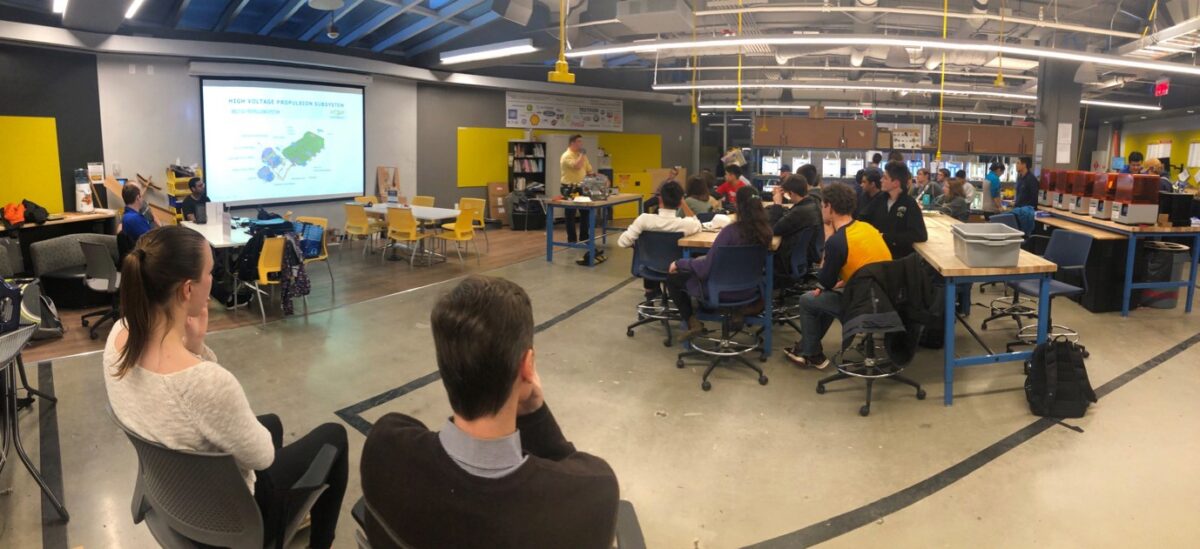 Story by Tamir Gonen Cohen
On February 18 2020, 50 Georgia Tech Mechanical Engineering students had the opportunity to see a live demonstration of a Chevy Bolt electric engine.
A division of General Motors company, Chevrolet is a primary vehicle manufacturer in North America and Chevrolet-branded vehicles are also sold in most automotive markets worldwide.
The event was organized by Dr. Christopher Saldana, an associate professor in the George W. Woodruff School of Mechanical Engineering.
The event consisted of live teardown and interactive discussion on the design, manufacture and assembly of the drive unit for a Chevrolet Bolt electric vehicle. The discussion also extended to the future of electrification at General Motors, including the upcoming GMC Hummer EV. 
The discussion highlighted the manufacturing and design considerations of electric vehicles through an understanding of how the components of this primary propulsion subsystem assembly come together.
Industry professionals demonstrated the breakdown and rebuild of the engine. Students were able to see the parts and understand how the engine is constructed, as well as gain hands-on experience.
The panel participants:
A Georgia Tech mechanical engineering graduate, Seth Schofill is a development and validation engineer at General Motors in Pontiac, Michigan. He was also a member of Solar Jackets.
Currently pursuing a M.S. in computer science from Georgia Tech, Sabareesh Hariharan is a design release engineer at General Motors in Warren, Michigan. He also achieved an M.S. in mechanical engineering from Tech in 2016.
James Williamson is a senior manager of vehicle safety data analytics for General Motors in Warren, Michigan. He graduated from Georgia Tech with a B.S. in aerospace engineering, going on to earn a M.S. at MIT, also in aerospace engineering.
A design release engineer in body engineering for General Motors in Warren, Michigan, Sam Viness is currently pursuing a M.S. in systems engineering from Purdue University. He graduated from Georgia Tech with a B.S. in mechanicaleEngineering.
Special thanks to all the participants.