García One of Four Georgia Tech NAE Inductees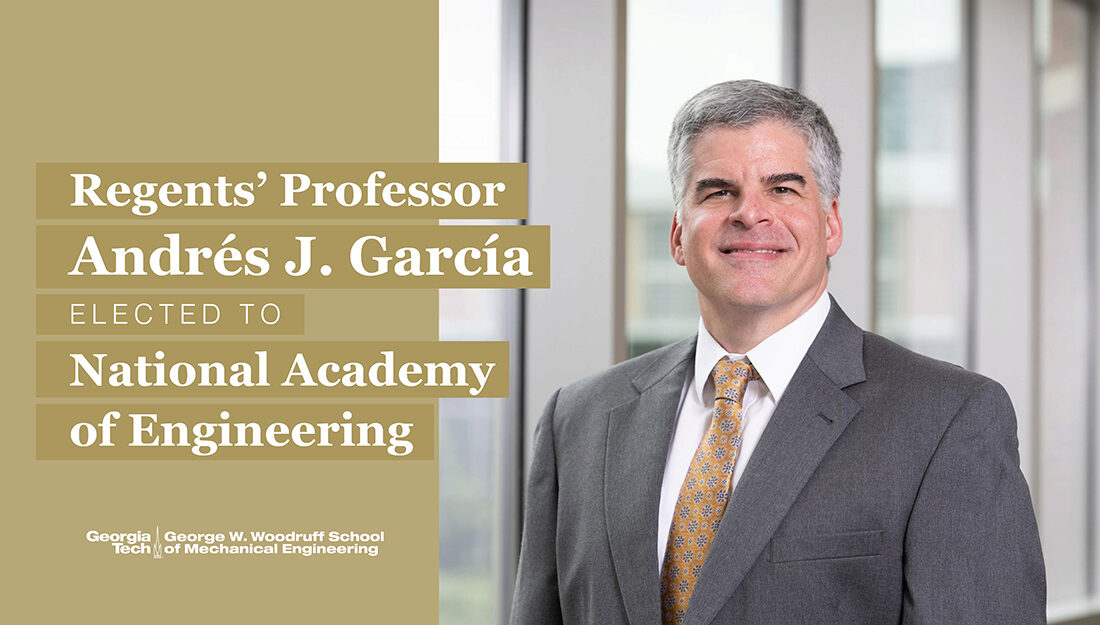 February 10, 2021
Two Georgia Tech Faculty, Two Alumni Elected to National Academy of Engineering
Four Georgia Tech engineers have been elected to the National Academy of Engineering (NAE), one of the highest professional distinctions awarded to an engineer. Faculty members Andrés García and Glaucio Paulino, as well as alumni Christopher Jones and Roger Krone, join 103 new members and 23 international members based on their outstanding contributions to engineering.
Andrés García is a Regents' Professor in the George W. Woodruff School of Mechanical Engineering and the Executive Director of the Parker H. Petit Institute for Bioengineering & Bioscience, as well as the Petit Director's Chair in Bioengineering and Bioscience. García's research efforts focus on integrating innovative engineering, materials science, and cell biology concepts and technologies to generate novel insights into the regulation of adhesive forces and using those insights to develop cell-instructive adhesive materials for tissue repair in regenerative medicine applications. Garcia's work has led to multiple biomaterials innovations, which were recognized when he was recently named a Fellow of the National Academy of Innovators.
García earned both his master's and Ph.D. from the University of Pennsylvania and was elected by the NAE for "contributions to molecular engineering of biomaterial surfaces and cell adhesion force technology to characterize stem and cancer cells."
"This is a great honor and I am humbled to be joining the NAE," said García. "I am very thankful to my family and friends for their support, my trainees for their hard work and dedication, and my colleagues at Georgia Tech and throughout the academic community who have served as collaborators, mentors, and endless sources of encouragement. Finally, thank you to Georgia Tech for giving me the opportunity to pursue my passion in such an incredible environment."
García joins fellow Woodruff School faculty member and 2020 inductee Thomas Kurfess in the NAE.
"Andrés García is an outstanding researcher who has made seminal contributions in the field of bioengineering" said Samuel Graham, Eugene C. Gwaltney, Jr. School Chair of the George W. Woodruff School of Mechanical Engineering. "I am both proud and extremely happy for Andrés. This is a well-deserved honor that recognizes the impact and achievements of his career."
Paulino is world-renowned for his contributions to topology optimization and applied mechanics. He created the first stable formulations of topology optimization using polygonal and mimetic-based virtual elements, including deep-learning enhanced multi-resolution and multiscale approaches connected to additive manufacturing processes that have been widely used. He was one of the early investigators to apply topology optimization to the medical field by designing patient-specific large craniofacial segmental bone replacements to help cancer patients and those with massive facial injuries and bone loss.
"Getting elected to NAE was such a great blessing and amazing surprise," said Paulino, the Raymond Allen Jones Chair in the School of Civil and Environmental Engineering. "The idea of becoming an NAE member was always a dream, however, today the dream turned into reality.  I am humbled by this recognition and honored to join such a group of distinct colleagues from academia and industry."
"I'd like to extend my deepest congratulations to our College faculty members Andrés García and Glaucio Paulino on their induction into the National Academy of Engineering," said Raheem Beyah, dean and Southern Company chair of the College of Engineering at Georgia Tech. "Their forward-thinking research in molecular engineering and topology optimization, respectively, is making an indelible mark on the future of engineering specific to medicine. This is a proud moment for the College, and I look forward to the advances they will make in their fields and the impact that will have on our nation."
Christopher Jones, who graduated from the Daniel Guggenheim School of Aerospace Engineering with a Ph.D. in 1986, currently serves as chief of operations for The Leadership Compass. After graduating from Georgia Tech, Jones served in the U.S. Airforce for nearly 30 years, as well as giving years of service to Northrop Grumman. Jones was elected to NAE for his leadership of defense logistics, sustainment, training, and system readiness in support of U.S. national security.
Roger Krone, who also graduated from the School of Aerospace Engineering in 1978, is chairman and CEO of Leidos, a Fortune 500® information technology, engineering, and science solutions and services leader working to solve the world's toughest challenges in the defense, intelligence, homeland security, civil, and health markets. Krone has held senior program management and finance positions at The Boeing Company, McDonnell Douglas Corp., and General Dynamics.
"We are also proud of aerospace engineering alumni Christopher Jones and Roger Krone, for their impressive contributions to industry and government," said Beyah. "Their induction into the Academy for technical leadership in industry engineering puts into practice the academic rigor of the College, acknowledging the impact that our engineers have on government and commercial enterprise."
Read more about Georgia Tech's History of NAE Prestige.