Students Impress at Annual Hack-a-Thing Competition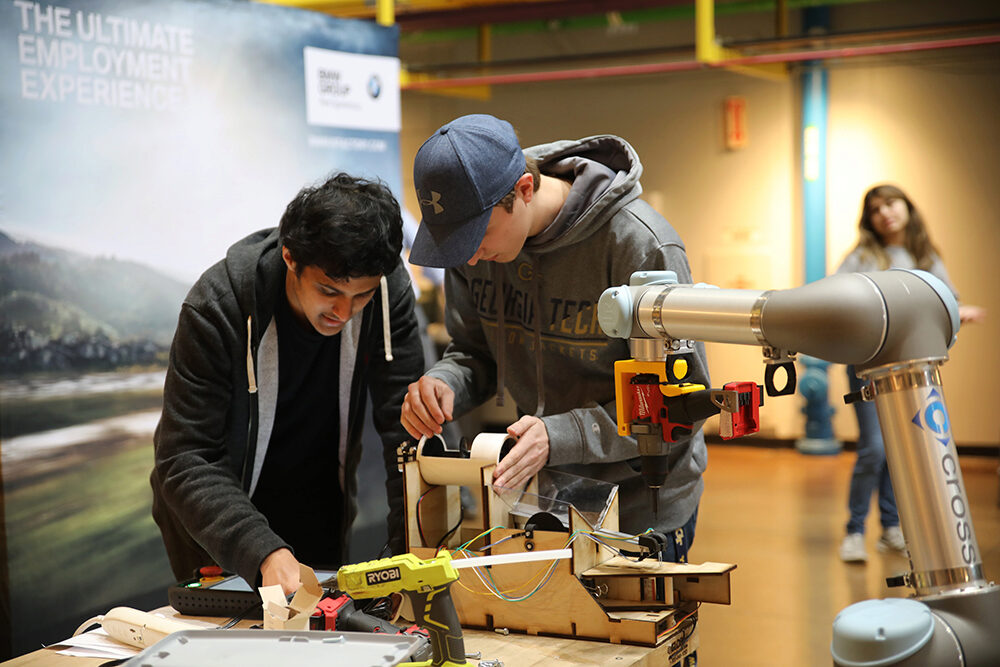 By Tamir Gonen Cohen
January 31 2020 marked the culmination of the 4th annual Hack-a-Thing competition. 
Hosted by the Invention Studio, Hack-a-Thing is a competition where students of all majors form teams to tackle problems and build devices to increase the efficiency of industrial automation. 
Sponsored by BMW, Texas Instruments and Milwaukee Tool, the competition runs from August to January and involves three preliminary stages and a final competition. It also involves industry talks, discussion panels and workshops with the sponsors. A total of 60 students from 6 different majors participated in the competition events. 
The 2019-2020 competition involved two separate challenges: Sift 'n Screw and Pick 'n Sort, with a total of $30,000 in prizes across both challenges. 
The goal of Sift 'n Screw challenge was to enable a UR-5 Robot Arm to pick up a single screw at a time from a bulk container, so that it can be used to fasten parts. The Pick 'n Sort challenge involved collecting and sorting four different sizes of plugs into separate groups so that they can be fed back to production.
After an intense day of competing, the Sift 'n Screw competition was won by Hacratina (team members: Ryan Britton (Computer Engineering) and Vishnu Red (Computer Science)). The TI first place award went to The Acceptable Engineers (team members: Akash Harapanahalli (Computer Engineering) and Andrew Hellrigel (Electrical Engineering)).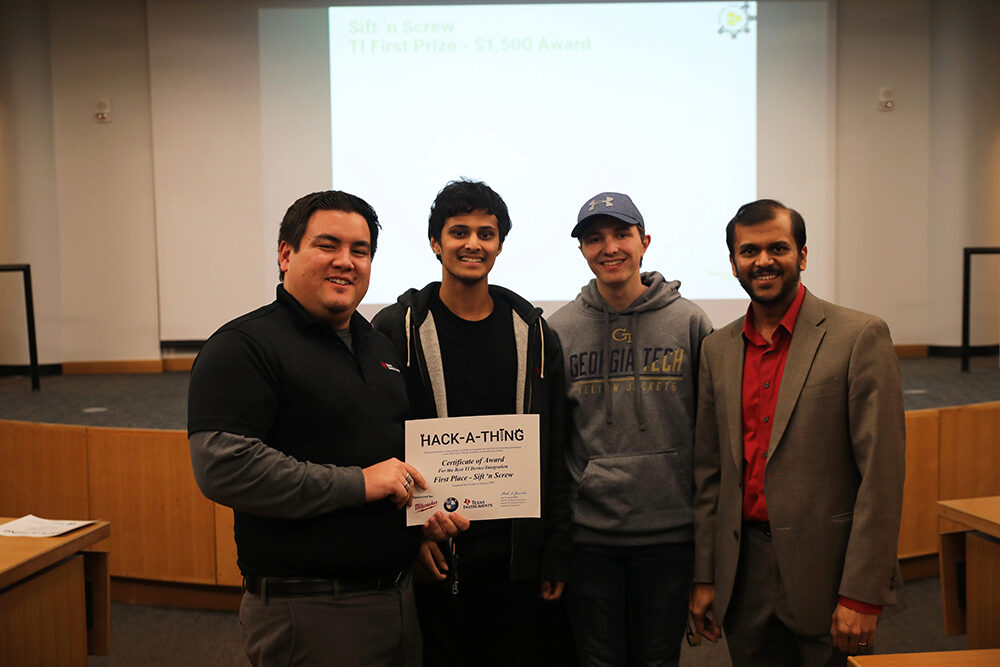 Teams pictured left to right: Hacratina, The Acceptable Engineers
Pick 'n Sort was won by Yeet Masters (team members: Michael Ehme (Mechanical Engineering) and Steven Hynes (Mechanical Engineering)), with the TI first place award going to Spindle Sort (Ira Soltis (Mechanical Engineering) and Samuel Stentz, Computer Science)).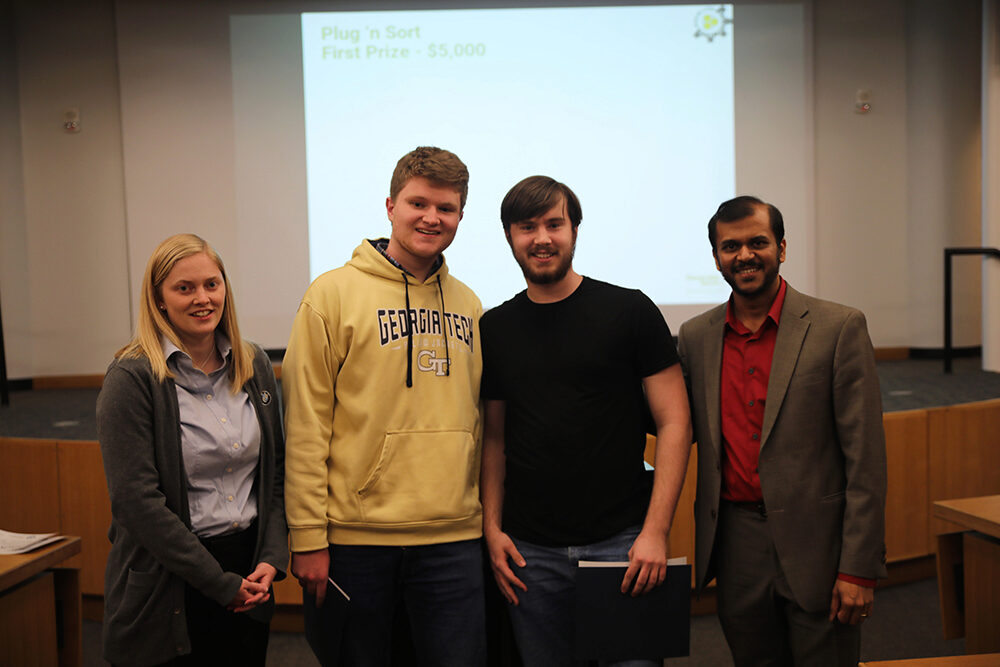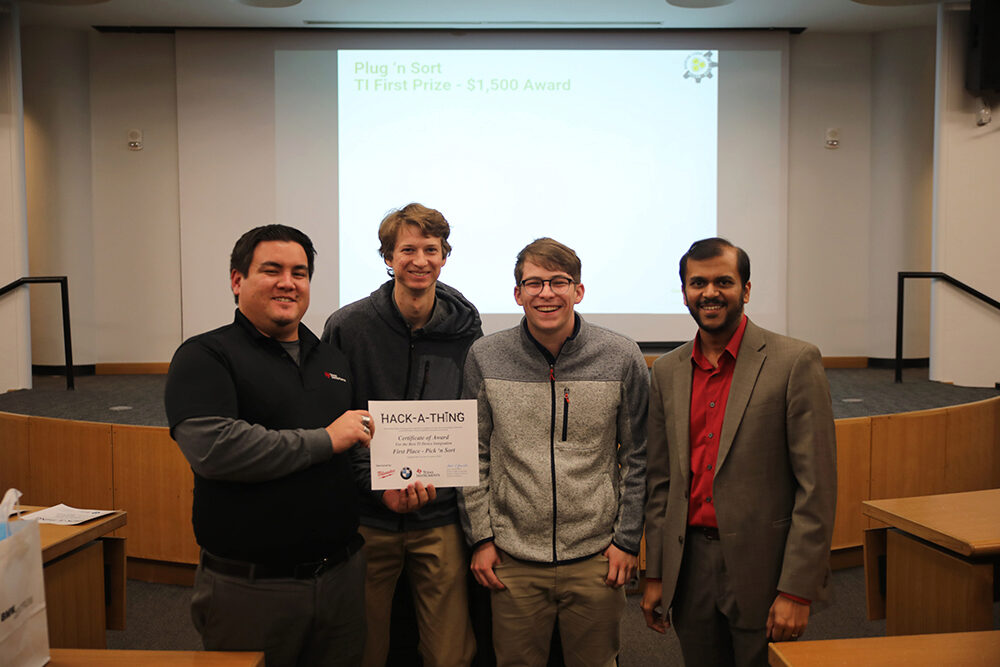 Teams pictured left to right: Yeet Masters, Spindle Sort
1st place winner Ryan Britton from team Hacratina, talked about working as part of a team of two. He explains that diversity and reliability was the most crucial aspect. "We both had strong skills in different areas, so it was important to be able to depend on one another to do their job well."
Britton's favorite thing about the competition was the flexibility of the Invention Studio volunteer Prototyping Instructors and their willingness to help. He explains: "Their [the volunteers] accessibility made the last few weeks not too worrisome or stressful, and it was more about the fun!"
Britton's advice for people preparing to compete next year is to be ready for things to go wrong and learn to adapt. "Make sure you can anticipate problems, and adjust accordingly."
Speaking of his biggest takeaway from the competition, 1st place winner and Yeet Masters team member Michael Ehme said that he learned that simple solutions often work best. 
Ehme recalls that he signed up to participate in Hack-a-Thing because he enjoys the competitive aspect and wanted to test his skills. His favorite part was "being given free range to experiment and use different technologies."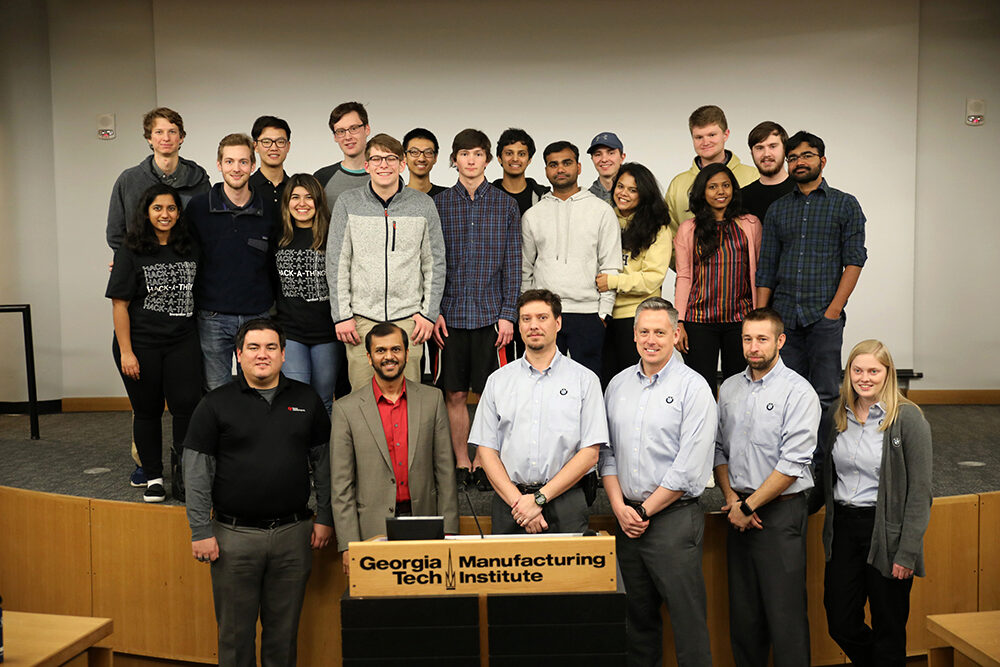 Special thanks to BMW, Texas Instruments and Milwaukee Tool for sponsoring.