Woodruff Graduates Honored at CoE Alumni Awards
On Saturday, April 6 the Georgia Tech College of Engineering held it's annual alumni awards banquet, honoring  select alumni who have contributed to the profession, advanced in their careers, and enhanced the lives of others both personally and professionally. These outstanding alumni are reviewed by each of the eight schools within the College and formally submitted for selection. The measure of the College's success is not seen only in educating students, but in those students' achievements and contributions after leaving campus. Those being recognized, as well as those who have been honored at past ceremonies, are stellar examples of the success and leadership the College hopes to inspire.
Four Woodruff School alumni were honored at the event- two were inducted into the Academy of Distinguished Engineering Alumni and two were selected to join the Engineering Hall of Fame.
Academy of Distinguished Engineering Alumni

Óscar Gallego
B.M.E. '91
European Director
Digital & Chairman of 
the Board Spain Digital
General Electric, Oil & 
Gas, Digital (BHGE)
Óscar received his bachelor's degree in mechanical engineering from Georgia Tech in 1991 while simultaneously receiving his degree in mathematics and science from St. Andrews. He also earned an EMBA from the European University in Belgium and a Ph.D. in Economics & Business Science Cum Laude Unanimous from the Universidad Pontificia Comillas in Spain. In 1992 Óscar started working in manufacturing for Procter & Gamble in Belgium and came back to Spain as Global Account Manager for DHL. During this time he also worked as a consultant for Arthur D. Little. In 2001 he joined Hewlett Packard for 14 years and received a Global Account 2014 President's Quality Award. He left HP to co-fund as CEO a 3D printing start-up and received the 2016 EU BS Entrepreneur Award. Currently, Óscar is a European Director for General Electric Oil & Gas Digital (BHGE) and Chairman of the Board for General Electric Spain Digital. Óscar works part time as Professor at IESE, Universidad de Deusto and ICADE. He volunteers as Board Director of Tetramax, Industry 4.0 lead at DigitalES, Consejeros Invest President and a mentor in IMPACT (European accelerator).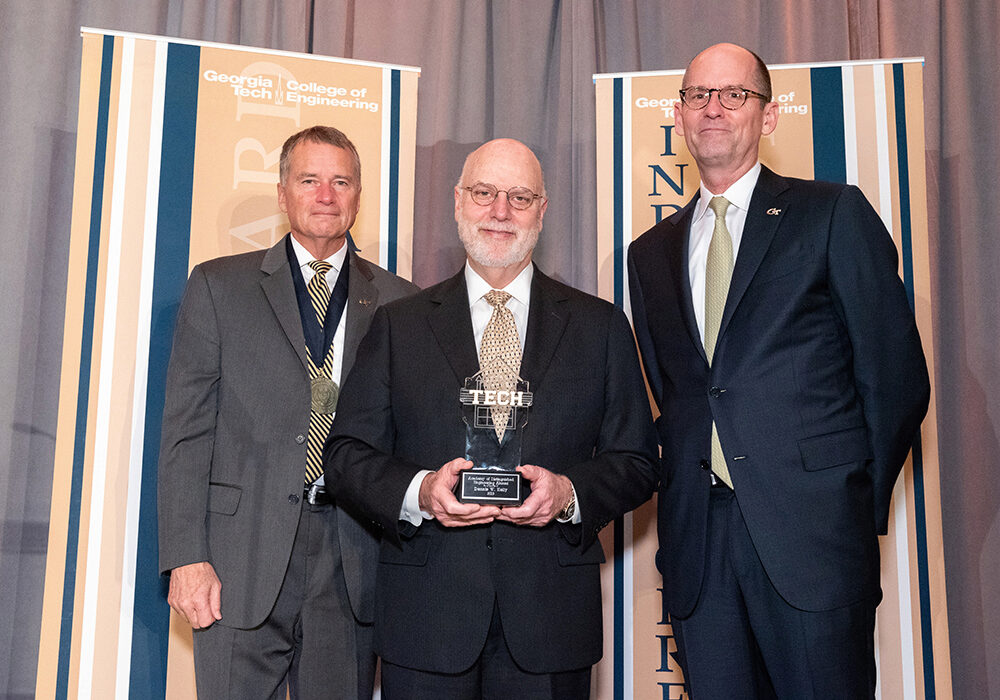 Dennis W. Kelly
B.M.E. '76
Inaugural Dean 
Q. William Hammack 
School of Business at 
Oglethorpe University
Dennis received his bachelor's degree in mechanical engineering from Georgia Tech in 1976, and he earned his master's degree in business administration from Harvard University in 1981. Immediately after graduation from Georgia Tech, Dennis held managerial positions with Procter & Gamble. He is currently the Inaugural Dean of the Q. William Hammack School of Business at Oglethorpe University. Prior to his appointment at Oglethorpe, Dennis served for seven years as the director of the Smithsonian's National Zoological Park and Conservation Biology Institute in Washington, D.C. and Front Royal, Virginia. In 2016 and 2017, Dennis served as the Chair of the Board of Directors of the Association of Zoos and Aquariums. He held the position of CEO of Zoo Atlanta from 2003 to 2010, and prior to Zoo Atlanta, he was President, CEO and Vice Chairman of Green Mountain Energy Co. He also held executive positions within Coca-Cola. Dennis is a veteran of the U.S. Army and currently serves on the board of the Woodruff School of Mechanical Engineering.
Engineering Hall of Fame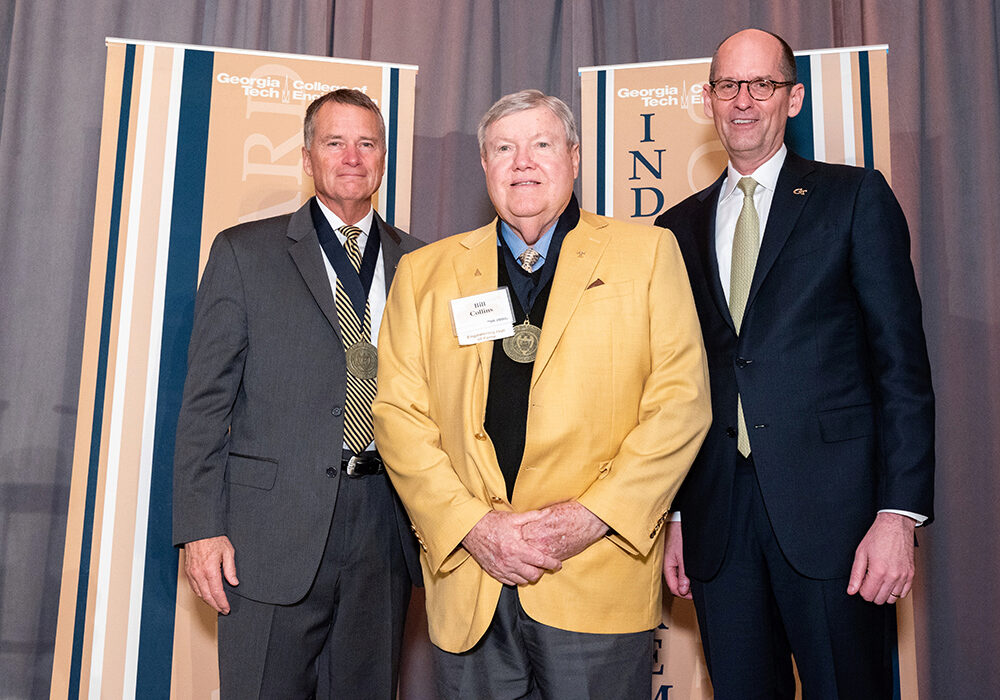 William R. Collins, Jr.
B.M.E. '57,
M.S.Mgt. '63
CEO
Collins and Arnold 
Construction, LLC 
(Retired)
Bill earned his bachelor of mechanical engineering in 1957 and an M.S. in management in 1963 from Georgia Tech. He is a retired CEO of Collins and Arnold Construction, LLC, a company that builds retail and commercial facilities throughout the South. Born and raised in Atlanta, Bill served a stint in the U.S. Army before going to work for The Pinkerton and Laws Company for 32 years. He was president and chairman when he left in 1992 to start his own company. His previous business endeavors include ownership of 26 Burger King Restaurants, farming 6,000 acres, and ownership of over 15 self-storage facilities. An emeritus member of the Georgia Tech Foundation's board of trustees, Bill has received the Joseph M. Petit Alumni Distinguished Service Award and the Academy of Distinguished Engineering Alumni. He has also served on the Governor's Board of Community Affairs. Collins and his wife, Jackie, reside in Milton and have three children, five grandchildren and one great-grandchild. Two of his children, his son-in-law, two grandchildren and both of their spouses are graduates of Georgia Tech, and another granddaughter is currently a first year student at the Institute.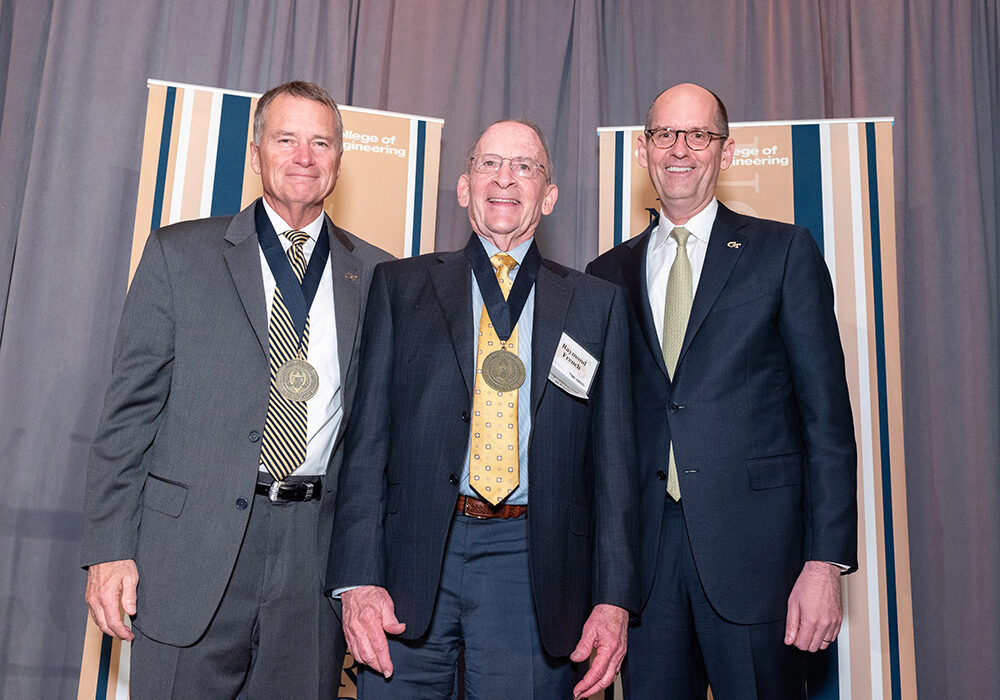 B.M.E. '61
Director of Space 
Programs
Lockheed Martin 
Corporation (Retired)
Before receiving his bachelor's degree in mechanical engineering in 1961 from Georgia Tech, Ray was awarded an academic scholarship to Stanford University Engineering graduate school. He earned a master's degree with a specialization in thermodynamics from Stanford in 1962. Ray immediately began work on the Apollo Lunar Landing Program, continuing the Aerospace Engineering career that he began under the Georgia Tech Industrial Co-Operative Engineering Program in Dallas, Texas. In the mid-1960s he led a corporate/NASA engineering/software team that created a solution to a mission critical thermodynamics problem on the Apollo spacecraft — which performed flawlessly on all Apollo missions from 1968–1972. Ray's subsequent four-decade career in Aerospace Engineering and Corporate Executive Management included additional leadership positions in manned spaceflight programs beyond Apollo, including the NASA Space Shuttle and the International Space Station, which is currently in earth's orbit. His other program management activities included those for earth orbital rocket launch vehicles, orbital teleoperation maneuvering spacecraft and ballistic missile interceptors. In 1999 Ray retired from his position as Director of Space Programs for a division of Lockheed Martin Corporation in Dallas, Texas. He and his wife, Elaine, have been married 57 years and currently live in the San Diego area.