Sitaraman to Deliver Zeigler Outstanding Educator Lecture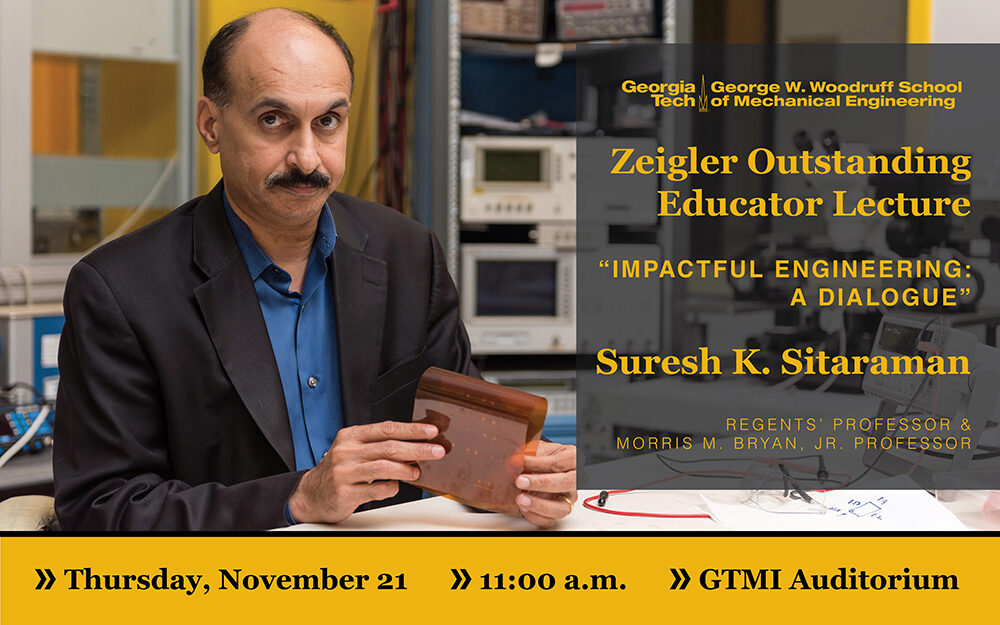 Regents' Professor and Morris M. Bryan, Jr. Professor Suresh K. Sitaraman will deliver the Zeigler Outstanding Educator Lecture on Thursday, November 21. Sitaraman was chosen by colleagues in the Woodruff School and will deliver a lecture titled "Impactful Engineering: A Dialogue"  at 11 am in the GTMI (Calloway Building) lecture hall. A reception will follow.
About Suresh K. Sitaraman

Dr. Suresh K. Sitaraman is a Regents' Professor and a Morris M. Bryan, Jr. Professor in the George W. Woodruff School of Mechanical Engineering at Georgia Tech. His research focuses on micro- and nano-scale structure fabrication, testing and characterization as well as physics-based modeling and reliable design, as applied to rigid and flexible microsystems. Dr. Sitaraman is the Lead Faculty for Flexible Wearable Electronics at Georgia Tech for NextFlex, a Manufacturing Innovation Institute and directs the Computer-Aided Simulation of Packaging Reliability (CASPaR) Lab. Prior to joining Georgia Tech in 1995, Dr. Sitaraman was with IBM Corp. Dr. Sitaraman has co-authored more than 290 journal and conference publications and has mentored a vast array of post-doctoral fellows as well as doctoral, master's, bachelor's, and high-school students. He has managed several research programs totaling millions of dollars funded by US federal agencies, industry, and other sources.
Dr. Sitaraman's work has been recognized through several awards and honors. Among them, he was named the NextFlex Fellow in 2018, and he received the Outstanding Achievement in Research Program Development Award (Team Leader) from Georgia Tech in 2017, the ASME/EPPD Applied Mechanics Award in 2012 and the Thomas French Achievement Award from the Department of Mechanical and Aerospace Engineering, The Ohio State University in 2012. Dr. Sitaraman has also received the Sigma Xi Sustained Research Award in 2008 and the Outstanding Faculty Leadership Award for the Development of Graduate Research Assistants, Georgia Tech in 2006. His co-authored papers have won the Commendable Paper Award from IEEE Transactions on Advanced Packaging in 2004 and the Best Paper Award from IEEE Transactions on Components and Packaging Technologies in 2001 and 2000. Dr. Sitaraman was named the Metro-Atlanta Engineer of the Year in Education in 1999. He received the NSF-CAREER Award in 1997. Dr. Sitaraman serves as an Associate Editor for IEEE Transactions on Components, Packaging, and Manufacturing Technology. Dr. Sitaraman is an ASME Fellow
Zeigler Outstanding Educator Award
The Jack M. Zeigler (BME 1948) Woodruff Outstanding Educator Award was created in 1999 to recognize an outstanding educator among the academic faculty of the Woodruff School of ME at Georgia Tech. This is a lifetime achievement award that a person can receive one time. The winner is announced at an annual spring School event and receives $5,000 in discretionary funds to use for professional development items such as travel, computers, and support of students. The winner is invited to deliver the Jack Zeigler Outstanding Educator Lecture at an assembly of the Woodruff School. The winner is selected by a committee appointed by the Woodruff School Faculty Advisory Committee.